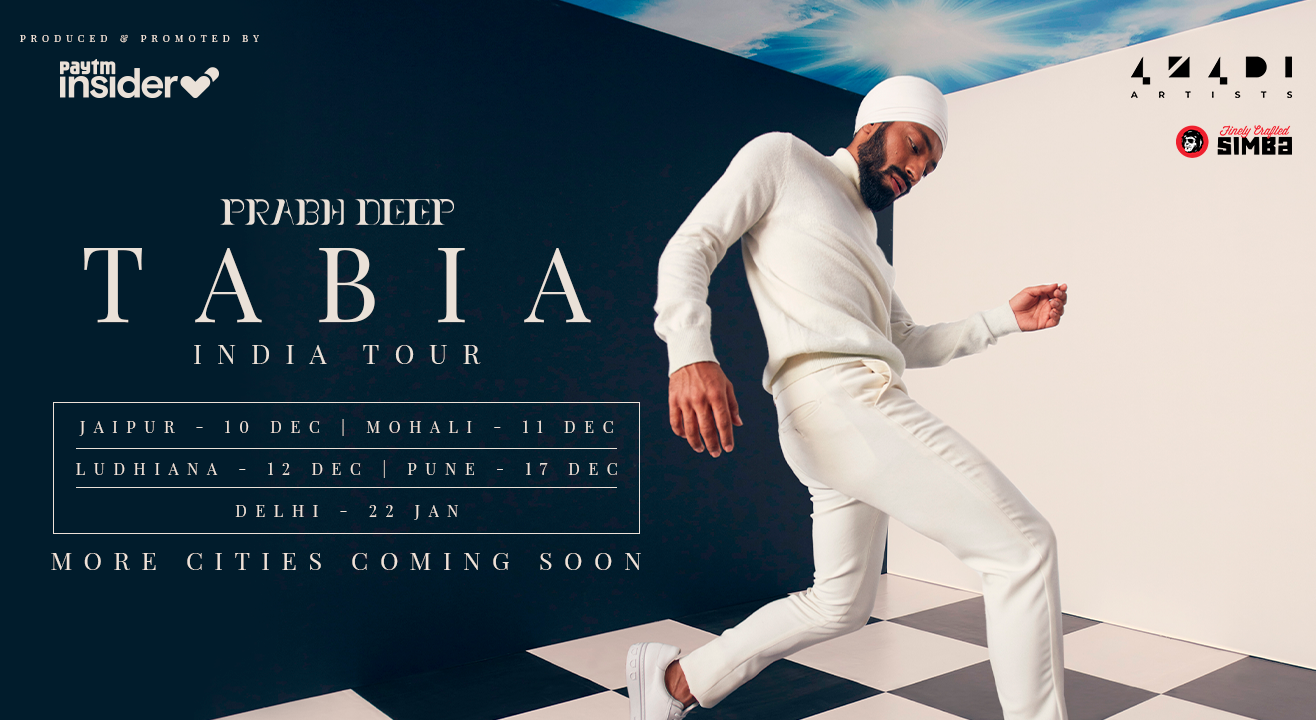 Make some Noise! Prabh Deep Tabia India 2021 Tour is here!!
Prabh Deep's Tabia India Tour! Tickets on Insider.in only
Invite your friends
and enjoy a shared experience
From the release of his seminal debut album Class-Sikh to Tabia, his critically acclaimed crossover album, the Delhi-based Prabh Deep, has evolved into one of the best storytellers in the game today. AND what do the best in the biz do? Give us a chance to experience it LIVE.


Seriously! Ever since we heard Tabia, there's been only one thought in our minds. It's that if this sounds sooo good, what is it gonna be like LIVE? So here it is: Prabh Deep 2021 Tabia India Tour. Scroll down to check if your city is on the list.

Class-Sikh
Prabh Deep started with, Class-Sikh, which was a deeply autobiographical project. In subsequent releases, like K I N G EP l, he showcased his ability to craft intricate and vivid narratives that spoke to larger audiences.
Post Class-Sikh
Prabh Deep's appeared on songs with fellow Azadi Records labelmates; Ahmer and Tienas and released a critically acclaimed crossover 2021 release - Tabia. These served to highlight Prabh's sonic dexterity - shifting his sound from the dark and glacial environment in 'Class-Sikh' to one that explored a more nuanced amalgamation of jazz, hip-hop and soul.
Prabh Deep recently began foraying into urban street culture, cementing his status as a trend-setter amongst India's hip-hop community and simultaneously making a splash on the international stage.
2021 India Tour
Now, in the later half of 2021, Prabh Deep is about to embark on a tour and we can't wait to see what he's got in store for us, this time! See you at the show!!

It's Showtime
Time to unplug those headphones and head out; because LIVE music is BACK after a big break. So… recharge your batteries, tell your friends and dust off your concert tees -
It's time to welcome your favourite artists back on stage.
Upcoming Shows:
Jaipur- 10th December
Mohali - 11th December
Ludhiana- 12th December
Pune - 17th December
Delhi - 22nd January
Stay tuned for more Cities & Dates!
Subscribe to receive our newsletter!
Find the best experiences happening out there in your city or enjoy handpicked content while sitting comfortably at home. Paytm Insider is your go-to place to figure out what to do today!