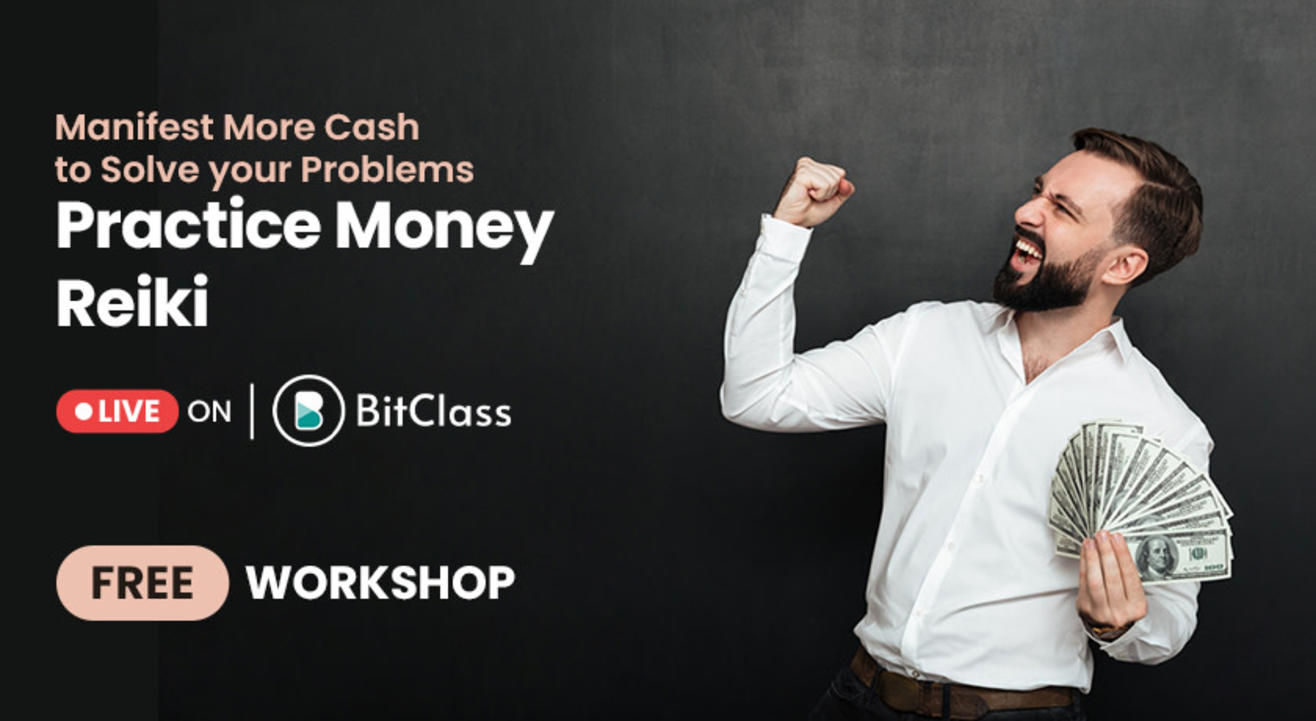 Practice Money Reiki | Manifest More Cash to Solve your Problems
September 15 | 6PM - September 22 | 7PM
Enjoy this event from your home
Event Guide
Masterclass
Learn from an expert
Invite your friends
and enjoy a shared experience
Practice Money Reiki | Manifest More Cash to Solve your Problems
September 15 | 6PM - September 22 | 7PM
Enjoy this event from your home
Event Guide
Masterclass
Learn from an expert
Invite your friends
and enjoy a shared experience
Event Guide
Masterclass
Learn from an expert
Invite your friends
and enjoy a shared experience
About this Course
Money is one of the most important parts of one's life.
Everyone in their lives goes through financial issues, and many of them fail to understand why it is so.
Here is the "FREE Money Reiki Workshop" which will help you overcome every financial setback.
Money Reiki is a healing therapy that heals all the money-related issues in all spheres of life where finance is involved whether it be earning well or saving it. Money reiki works with the spiritual energy of money, this energy is more about the clearing of the energies related to money.
This Money Reiki will help in breaking the blockages and free up energy to get enough money.
The energy of money is entirely different from the energy of prosperity or abundance, it helps you manage your money more effectively.
Money Reiki is a simple healing therapy that can be learned and applied to cleanse the deep-rooted beliefs around money. This basically works at a soul and energy level
Find the reasons for the existing money-related problems in your life.
What will you learn?
What is money Reiki?
How does money Reiki work?
Why do you need to learn money Reiki?
How can money Reiki be helpful?
Features of Money Reiki
What benefits you'll get?
Consistent practice of money reiki will help you grow financially
Heal your financial situation on different levels
It will clean and eliminate your limiting beliefs regarding money
Brings in the transformation from a lack mindset to having the mindset
Develops growth in career and profession
Help others by making it your source of income
It gives relaxation and promotes healing at all levels. It gives peace, prosperity, and patience in the self, it will add recovery faster if added to your daily routine. As the law of attraction states, it is all available in the universe and you receive as much as you allow.
Register Today for FREE and heal yourself financially in every aspect!
Practice Money Reiki | Manifest More Cash to Solve your Problems
September 15 | 6PM - September 22 | 7PM
Enjoy this event from your home
Event Guide
Masterclass
Learn from an expert
Invite your friends
and enjoy a shared experience