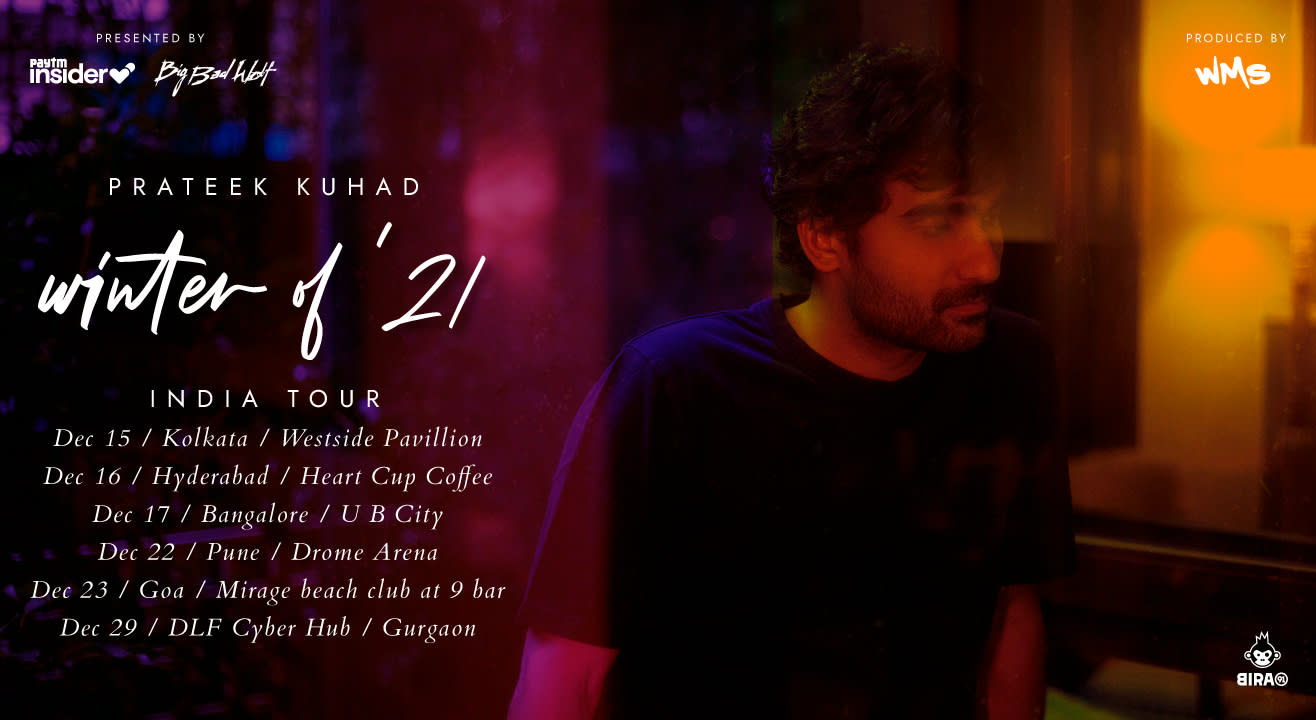 What we've all been waiting for! Prateek Kuhad Winter of '21 India Tour
Prateek Kuhad Winter of '21 India Tour - It is finally happening. And we cannot keep calm! Prateek Kuhad is all set to do a tour in 6 major cities this December 2021. All show details here.
Invite your friends
and enjoy a shared experience
He has fans screaming at every show, singing along to every song with him. Be it his music, his heart-tugging lyrics or the rollercoaster of emotions that one feels through his voice, Prateek Kuhad sure has taken the world of music by storm. Hailed by Rolling Stone India as "one of the country's leading singer-songwriters," his soulful voice is best experienced live, while imagining yourself snuggled up in a blanket with a mug of hot chocolate on a cold winter evening.
While we can't promise the 'hot chocolate', we can promise Prateek Kuhad on a cold winter evening LIVE in your city...
Find the city he's performing in right here:
About Prateek Kuhad

Prateek Kuhad became one of the most-streamed Indian artists on Spotify, within weeks of the streaming service's launch in India. He also appeared on Barack Obama's playlist of 2019. However, it isn't just the way Prateek Kuhad connects to his audience with his strongly evocative real lyrics.

It's also about the fluidity of his songs, that lends an easy transcending note to his music. The connection is intact throughout, and even as you seamlessly travel through one song to the next, you find the emotions still striking all the right chords in your heart. Regardless of where you are in the world, his music will stick with you forever.

Particularly for the young crowd, Prateek Kuhad represents an enigma - a magician who is so efficient in putting the emotions of an entire younger generation into soulful renditions of chimes. The songs play along with you as you feel yourself drifting into a parallel world of pleasantly dizzy moments, that you would perhaps want to live forever.
Subscribe to receive our newsletter!
Find the best experiences happening out there in your city or enjoy handpicked content while sitting comfortably at home. Paytm Insider is your go-to place to figure out what to do today!