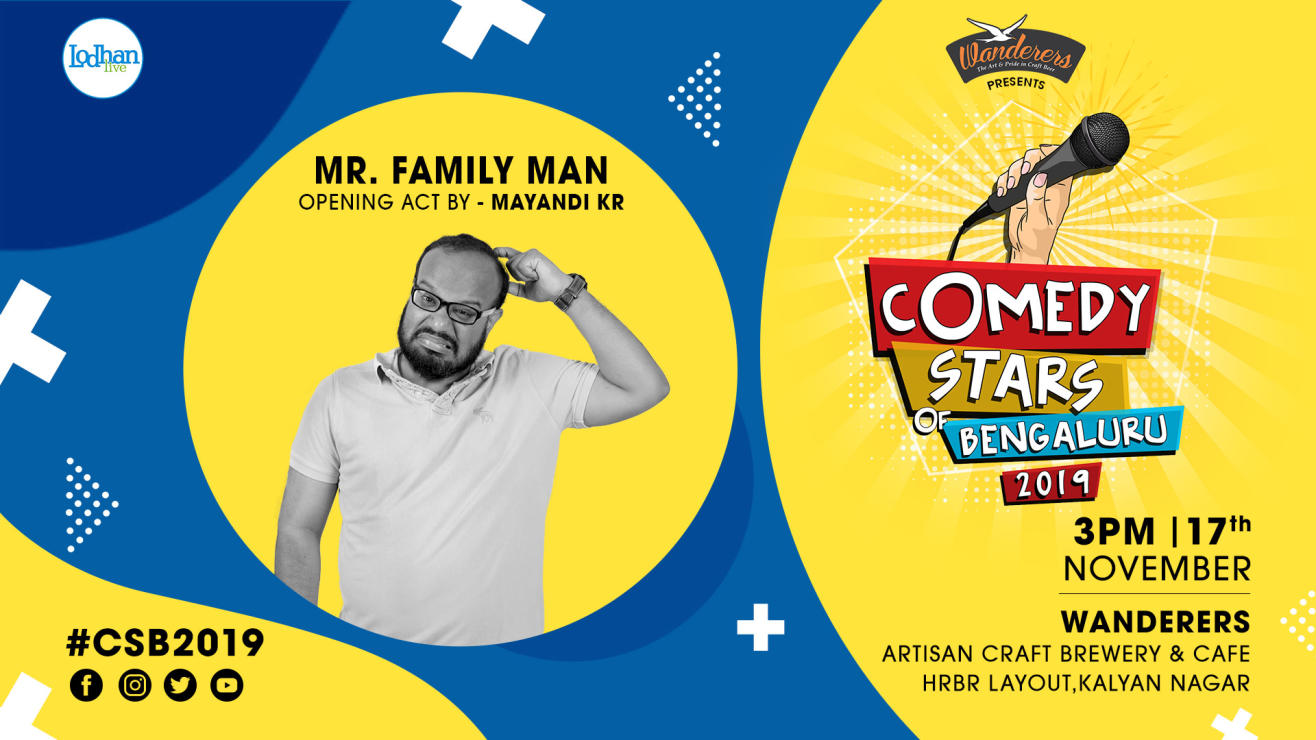 Comedy
Praveen Kumar's Mr. Family Man
About
Comedy Stars of Bengaluru 2019: #CSB2019
Bengaluru has always been a cosmopolitan city, with a myriad of languages, you speak to an auto driver in Kannada, talk to a panwadi in Hindi and speak English in the heart of the city. The languages and people exist in harmony, for the most part. So even the stand-up comedy scene in Bengaluru is diverse, with English, Hindi, Kannada and Tamil shows happening all across the IT capital. What would happen if we try to capture this essence and streamline it into a two day comedy festival? Yup, that's what we are going to do. This year Comedy Stars of Bengaluru is back with a cosmopolitan twist. The performers you know and love (a little too much of course) all under one roof for 2 days.
Come celebrate Bengaluru with us as our comedians will have you in splits, in the language of your choice.
Mr. Family Man
Being a Superman may be easy.. being a Spiderman may be simple.. but being a Familyman is the most difficult thing ever.. Solving a problem without any repercussions, taking responsibilities without any pressure and growing a tummy without any worry... a family man is what the world needs now.. Come.. let's dive into the life of one such Family man, Praveen Kumar.
Mr Family Man is Praveen's fifth standup special and his most personal one yet! The show will be in fully Tamil - depending on where you live! And of course, in Praveen style, the show is completely clean and is open to the entire family.
Opening act by Mayandi Kr
Language: Tamil
Venue
Wanderers
419, 7th Main Rd, HRBR Layout 2nd Block, HRBR Layout, Kalyan Nagar, Bengaluru, Karnataka 560043
GET DIRECTIONS