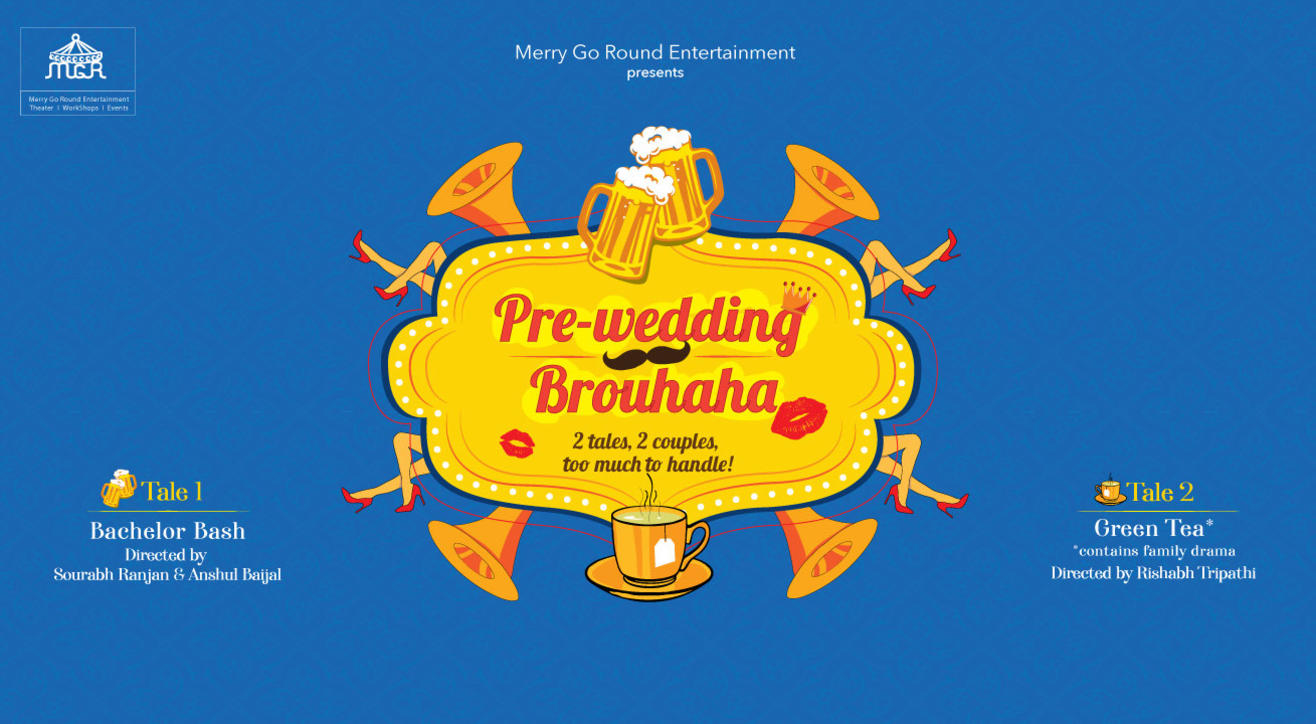 Drama
About
2 tales, couples too much to handle!
Tale 1 : Green Tea *Contains family drama
This play is a contemporary take on marriage related drama in the Indian society which will take you on a nostalgic ride of love, laughter and compromise.
In the city of Nawabs, Mr. Srivastava, having found a suitable match online, invite the boy's family home for the marriage discussion. As they proceed, lots of insecurities, expectations and secrets unravel. Will Vinay Saxena prove to be the perfect groom and convince Prashasti Srivastava for this proposal? Inspired from Jagdish Chandra Mathur's "Reedh Ki Haddi", Green Tea directed by Rishabh Tripathi presents different perspectives with no filter. Filled with a cast of very strong opinions, it's hard to judge who is right and who is wrong. Cast: Pooja Kumar, Anshul Baijal, Mrinal Bahuguna, Yash Marwah, Mudmayee Chaturvedi, Ria Pandit, Karan Chugh, Rishabh Ahuja, Shakun Gupta.
Tale 2: Bachelor Bash
Everybody aspires to live the bachelor life again and again. For every bachelor, there is a thick as blood type flatmate. This play is about two such flatmates Raj (an IT professional) and Aakash (a copywriter). One evening Raj get a decent proposal from his girlfriend and then Aakash makes a plan to celebrate it. The next 24 hours is then mayhem. Scandal in a bar, hangovers. a missing bai, a robbery and an encounter with the prospective in-laws. An original story by Tarun Dangwal, directed by Sourabh Ranjan and Anshul Baijal, this play explores the dynamism of the so called underground section of the society with a few humorous twists and turns in the tale. Cast : Prerna Bhatnagar, Siddharth Sharma, Anshul Baijal, Mayank Batra, Nitish Abrol, Anuj Chattha, Sanch Choudhary, Ankit Kumar, Rishi Yadav, Srishti Chhabra, Payal Goel.
Artist Line-up and their description
Directors-
Rishabh Tripathi Left his corporate job to follow his passion i.e. acting writing & direction. Rishabh has been instrumental in close to ten big, successful productions.
Anshul Baijal An entrepreneur by profession and an actor by passion, Anshul got bit by the acting bug a couple of years back. He has been part of various MGR productions including Anshan, Funny Money, Modern Ramlila as an actor and backstage support.
Sourabh Ranjan a talented individual who is been active in the creative domain for past 5 years.He has been part of various shortfilms and further worked with Merry Go Round theatre group -as an actor, director and writer.
Cast-
Pooja Kumar A working professional who can usually be found laughing with strangers, torn between coffee and tea, imagining situations which would never happen. Pooja has been a part of various productions both on stage as well as off stage such as Bachelor Bash, Funny Money etc.
Mudmayee Chaturvedi A full time technology professional with heart for literature and arts, Mudmayee is following her passion for stage, dramatics and writing. She has performed key roles in other Merry Go Round productions like Anshan and Funny Money.
Ria Pandit A digital marketeer in the automotive space, Ria has been associated with Merry Go Round Group since 2018. She was also part of MGR's satirical production "Anshan"
Mrinal Bahuguna Working as a creative in advertising, has a flair for acting and film direction. Actively involved in theatre with Merry Go Round.
Yash Marwah Joined MGR theater group in 2015 and since then have worked in more then 10 shows and couple of short films.
Karan Chugh A soon to be mechatronics engineer following his passion in theatre. Karan has played a significant part in the success of 3 different productions.
Anuj Chattha By profession, a Central Govt. Employee working in Delhi Police Department and associated with Merry Go Round for last one year.
Sanch Choudhary From Delhi now living in Gurgaon, working in Delhi Police and associated with Merry Go Round.
Siddharth Sharma Loves traveling, playing football and he is doing comedy skits right from the school. He has joined Merry go round last year to learn theatre professionally and bachelors is his first play.
Prerna Bhatnagar – A budding artist with Merry go Round
Rishabh Ahuja – A budding artisit with Merry Go Round
Venue
LTG Auditorium, Delhi
1, Copernicus Marg, Mandi House, Opp. Doordarshan Bhavan, Near Connaught Place, New Delhi, Delhi 110001