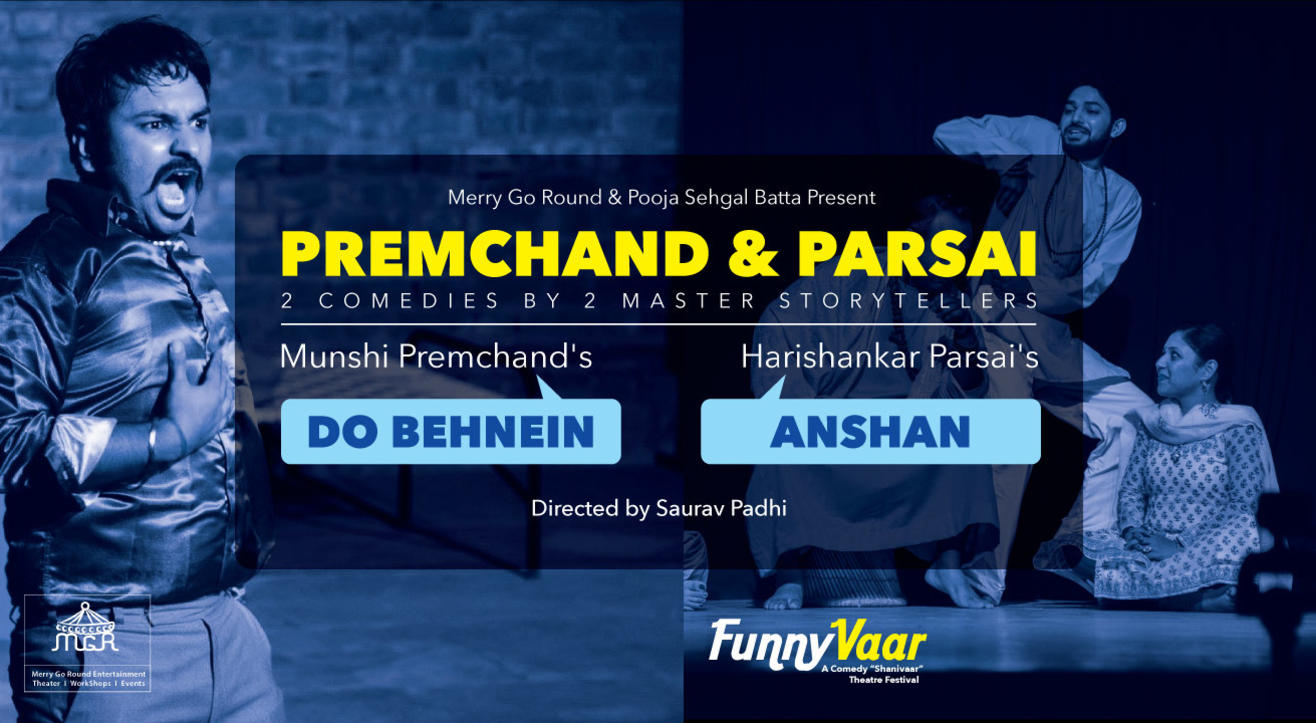 Theatre
Premchand aur Parsai (Comedies)
About
Use the code GET25 to avail a 25% discount on checkout
Munshi Premchand and Harishankar Parsai are two Hindi laurates who are known for their unique style of comedy and storytelling. Merry Go Round and Pooja Sehgal Batta present to you 2 comedies by these 2 master tellers in one show – "Premchand aur Parsai"
Munshi Premchand's Do Behnien

"Witty characterization of two sisters pursuing their separate lives. See the two clash in the inimitable, humorous, sarcastic style and language of Premchand. It's unique adaptation to fit into today's world maintaining the era and style of Premchand with a relevant & pertaining question ' Where is Happiness?' "
Harishankar Parsai's Anshan –

Anshan or hunger strike has deep roots in the Indian society and Indian psyche. In addition to Gandhi, various others have used the hunger strike option during the Indian independence movement and post independence also. But if one does hunger strike to usurp the other's wife? Sounds crazy – isn't it. Yes, Bannu is keeping fast unto death to get his love interest, married Savitri. In this hunger strike, he gets support from various Baba , Swami and social & political leaders and his hunger strike becomes a national issue. This is a social and political satire that makes a mockery of hunger strike and the system.
Artist Line-up and their description
Director– Saurav Padhi
Writer and Adaptation– Jagdip Singh and Tarun Dangwal
Actors and Crew
Ankit Kumar: Ankit is theatre artist and is associated with MGR theatre group in Gurgaon. He has acted in plays like Bachelor Bash.
Supriya Mattoo: Supriya is an active member with Merry Go Round Entertainment. She has worked in three stage-shows and short-films that are; 'Kite Flying quick tricks by "Pro" Flying Girl Squad', 'Merry Go Round Entertainment celebrates Hindi Diwas' and the 48 Hour Film Project.
Sourabh Ranjan: He was the Convener of dramatics club NIT-Hamirpur followed by joining Merry Go Round group in Delhi. He has done various plays, the most credible being Anshan by MGR. Has also tried to shape his passion through short movies as YouTube videos as well.
Rishi Yadav: he is a theatre actor who is currently associated with Merry Go Round. He has performed in plays like Bachelor Bash, Anshan as well as short films by Merry Go Round.
Dhanesh Mewara– A talented actor as well as director, Dhanesh has acted in plays like Do Behnein, Anshan and also has done short films. He is a sharp production person also with a keen eye for detailing and a cool head on shoulders during production challenges.
Mudmayee Chaturvedi– An IT professional by profession and a talented actor by passion. Mudmayee is actor and writer with Merry Go Round. Seldom you find talent who are professionals and have strong command over the Hindi language and literature.
Payal Goel– An upcoming actor with Merry Go Round. She has done plays like Bachelor Bash at Canvas Laugh Club.
Karan Chugh– A very talented young performer who has got solid foundations in acting as well as audio video productions.
Meeti Juneja– An upcoming theatre artist and intense actor.
Aparna Garg– An upcoming theatre actor based in Gurgaon who loves being on stage.
Sachin Khandelwal– After being in the corporate life for long, Sachin is now loving the stage too as an actor.
Yash Marwaha– A people's person by profession a writer and actor by passion. Yash has already worked in plays like Do Behnein and done couple of videos with Merry Go Round.
Ria Pandit– A digital person who now is performing offline live on stage.
Anshul Baijal– An upcoming artist who is also an entrepreneur and has worked in the hit play Bachelor Bash and now in Harishankar Parsai's Anshan
Abinash Kumar- Abinash is a theatre artist and is associated with some of the leading theatre groups in NCR region. Previously he acted in plays including Khabsoorat Bahu and Chitralekha. He is an actor and production controller with Merry Go Round.
Aparna Garg– A very talented stage Actor and writer.
Aniket Sen– A very talented performer with multi facets. He is an actor, designer, visualiser, Director of Photography for films and film editor. Has worked in films and theatre productions of Merry Go Round.
Rishabh Tripathi- Left his corporate job to follow his passion i.e. acting writing & direction. Rishabh has been instrumental in close to ten big, successful theatre and film productions. Now an actor, director, creative manager and trainer with Merry Go Round Entertainment (Gurgaon)
Niti Singh: She is an artist associated with Theatre groups in Delhi and NCR. She has acted in10 shows previously of Do Bhenein, Sundari, Anshan and Bachelor Bash. She has also acted in a Swedish Film(The Most Beautiful Hands Of Delhi). She is an actor and director with Merry Go Round Entertainment Gurgaon.
Neha Aggarwal– An actor with Merry Go Round has been associated with the stage for the past 3 years.
Shrishti Chabra- Srishti is a theatre actor who is currently associated with Merry Go Round Entertainment theatre group. She has done plays- Do behne, Anshan and Proposal in Punjabi with the group and has also worked in a "short film - kite flying".
Mrinal Bahuguna– A designer and visualiser who is bitten by the stage bug.
Saurav Padhi- An Actor, writer and director with Merry Go Round Entertainment, Saurav has been in the theatre circuit for nearly a decade and is also a theatre trainer. He has trained close to 100 talents (beginners as well as advanced) and directed theatre productions as well as short & Ad films.
Venue
LTG Auditorium, Delhi
1, Copernicus Marg, Mandi House, Opp. Doordarshan Bhavan, Near Connaught Place, New Delhi, Delhi 110001