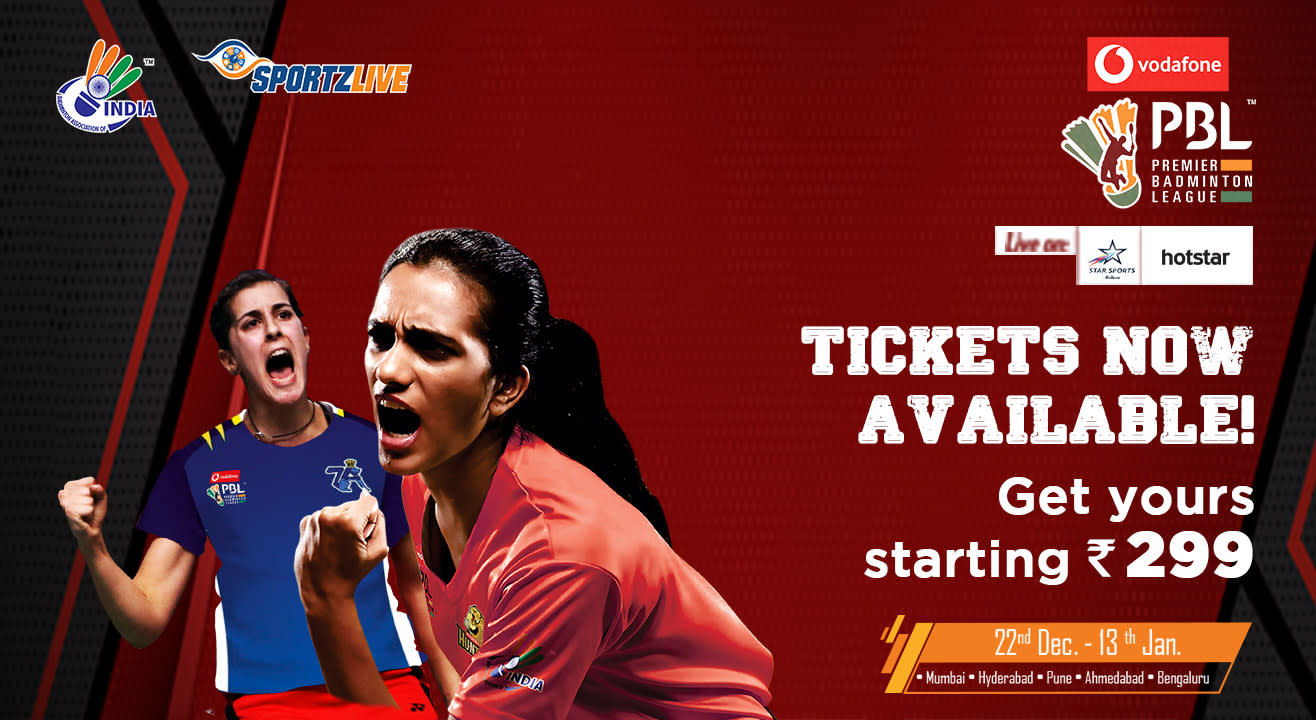 Badminton
Vodafone Premier Badminton League 2018-19: Tickets, Schedule, Teams and More
The league will be conducted between December 22nd to January 13th across Mumbai, Hyderabad, Pune, Ahmedabad and Bengaluru. Tickets now available for Mumbai. Get them below!
The Vodafone Premier Badminton League (V-PBL) is one of the top badminton leagues in the world. Its playing field features the top Indian and international badminton talent in the world, including multiple Olympic Medal Winners. Besides showcasing the best of international and Indian talent, the tournament has also been successful in widening the base of the game. The 4th edition will begin on 22 Dec 2018. Tickets to the Mumbai leg are out. Get them below!

Vodafone Premier Badminton League, Mumbai
Offer: Get free movie movie voucher worth ₹150 on purchase of 2+ tickets.
Sign up for the Hyderabad, Pune, Ahmedabad and Bengaluru legs below
Indian badminton has a strong legacy from the past with players like Prakash Padukone and Pullela Gopichand who have put India on the global badminton map. The Vodafone Premier Badminton League has reached more than 50 million badminton fans in India through TV, On ground activities, various social media and other platforms in the past 3 seasons. Over the past few years, Indian players like Saina Nehwal, P.V Sindhu, Kidambi Srikanth and many others have performed commendably internationally. There is no doubt that the sport is continuously growing and gaining popularity all over the country. The exceptional fan following received during V-PBL, proves that the Indian audiences want more badminton action.
The league comprises of franchises from Delhi, Mumbai, Lucknow, Bengaluru, Chennai, Hyderabad, Ahmedabad, Guwahati and Pune. The V-PBL have been successfully executed over the past 3 seasons, and is back with Season 4, bigger and stronger.
Vodafone Premier Badminton League Teams
Ahmedabad Smash Masters, Awadhe Warriors, Bengaluru Raptors, Chennai Smashers, Delhi Dashers, Hyderabad Hunters, Mumbai Rockets, North Eastern Warriors, Pune 7Aces.
Watch the highlights from the final of last season
Have questions regarding this event or your order?
Please mail help@insider.in or call us at +91-22-61548585 / +91-9136622662.

For corporate (bulk and hospitality) bookings
Please mail corporatebookings@insider.in, or call us at +91-22-33604736.
Subscribe to receive our newsletter!
Find the best experiences happening out there in your city or enjoy handpicked content while sitting comfortably at home. Insider is your go-to place to figure out what to do today!