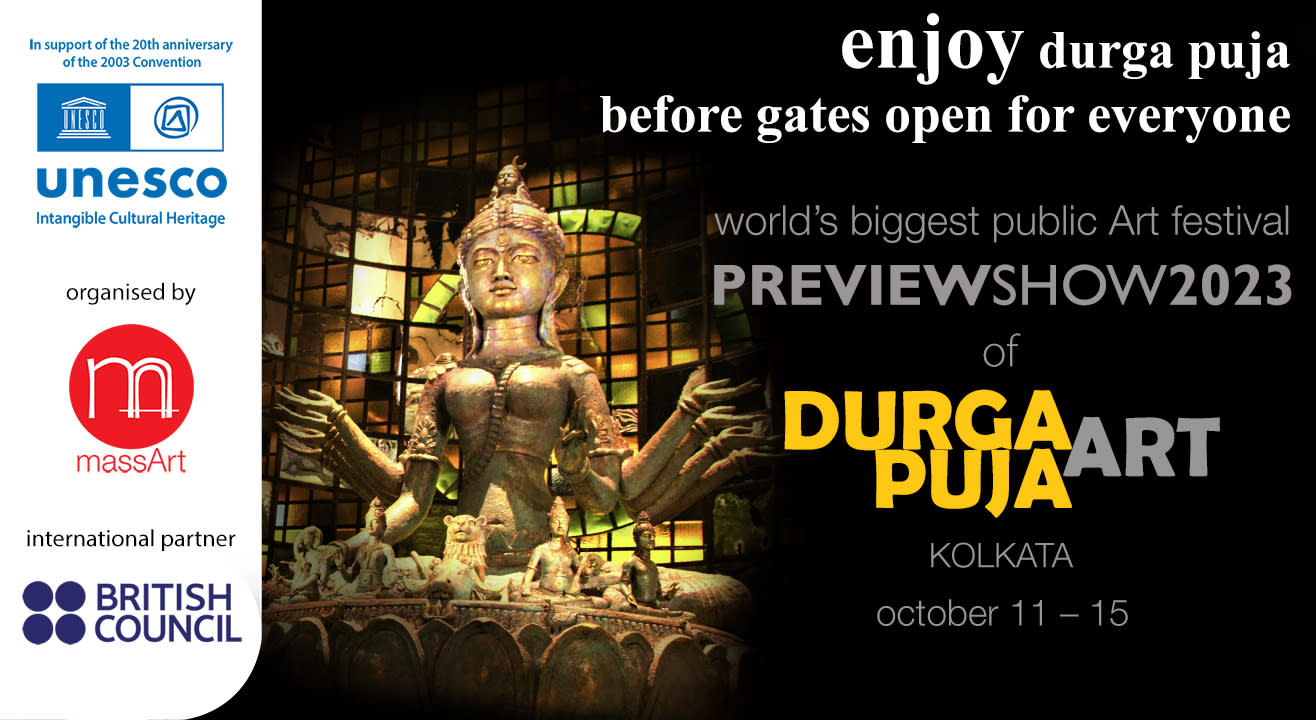 Preview show 2023 of Durga Puja Art | Durga Puja 2023
Multiple Locations, Kolkata
Invite your friends
and enjoy a shared experience
Preview show 2023 of Durga Puja Art | Durga Puja 2023
Multiple Locations, Kolkata
Invite your friends
and enjoy a shared experience
Invite your friends
and enjoy a shared experience
About Preview Show 2023 of Durga Puja Art
Preview show 2023 of Durga puja Art -- an initiative of massArt in support of the 20th anniversary of the 2003 convention of UNESCO's intangible cultural heritage and British Council as international partner, is the world's biggest public Art festival. Since the last decade this public Art has become global. Soon after UNESCO's recognition, Kolkata Durga puja has gained a wide publicity. More and more national and international Art loving people are now coming to Bengal to have a glimpse of this spectacular Art show -- just before the start of puja and the gates open for masses.
Witness Durga puja Art before Durga puja.
Be part of it, you as well.
NAME OF PUJA PANDALS
ARJUNPUR AMRA SABAI CLUB
DUM DUM TARUN DAL
DUM DUM PARK BHARAT CHAKRA CLUB
DUM DUM PARK TARUN SANGHA PUJA COMMITTEE
TALA PRATTOY
HATIBAGAN SARBOJANIN DURGOTSAB COMMITTEE
KASHI BOSE LANE DURGA PUJA SAMITY
CHOREBAGAN SARBOJANIN DURGOTSAB SAMITY
BELIAGHATA 33 NO PALLI BASHI BRINDA
RAJDANGA NABA UDAY SANGHA
JODHPUR PARK 95 PALLY SARBOJANIN DURGOTSAB
GARIAHAT HINDUSTHAN CLUB
SAMAJ SEBI SANGHA
BALLYGUNGE CULTURAL ASSOCIATION1
TRIDHARA AKALBODHAN
CHETLA AGRANI CLUB
BEHALA FRIENDS
BEHALA NUTAN DAL
BARISHA CLUB
THAKURPUKUR STATE BANK PARK SARBOJANIN
NAKTALA UDAYAN SANGHA
Preview show duration is from October 11 - Oct 15. Time : 5 PM - 6 AM (Next Day morning )
There are 21 pandals you can visit between the said window and between the said timings.
Please come to any of the 21 pandals to redeem your e ticket from the Paytm Insider counter near the entrance and get your digital RFID card.
After getting the card you can visit all of the 21 pandals.
Preview show 2023 of Durga Puja Art | Durga Puja 2023
Multiple Locations, Kolkata
Invite your friends
and enjoy a shared experience