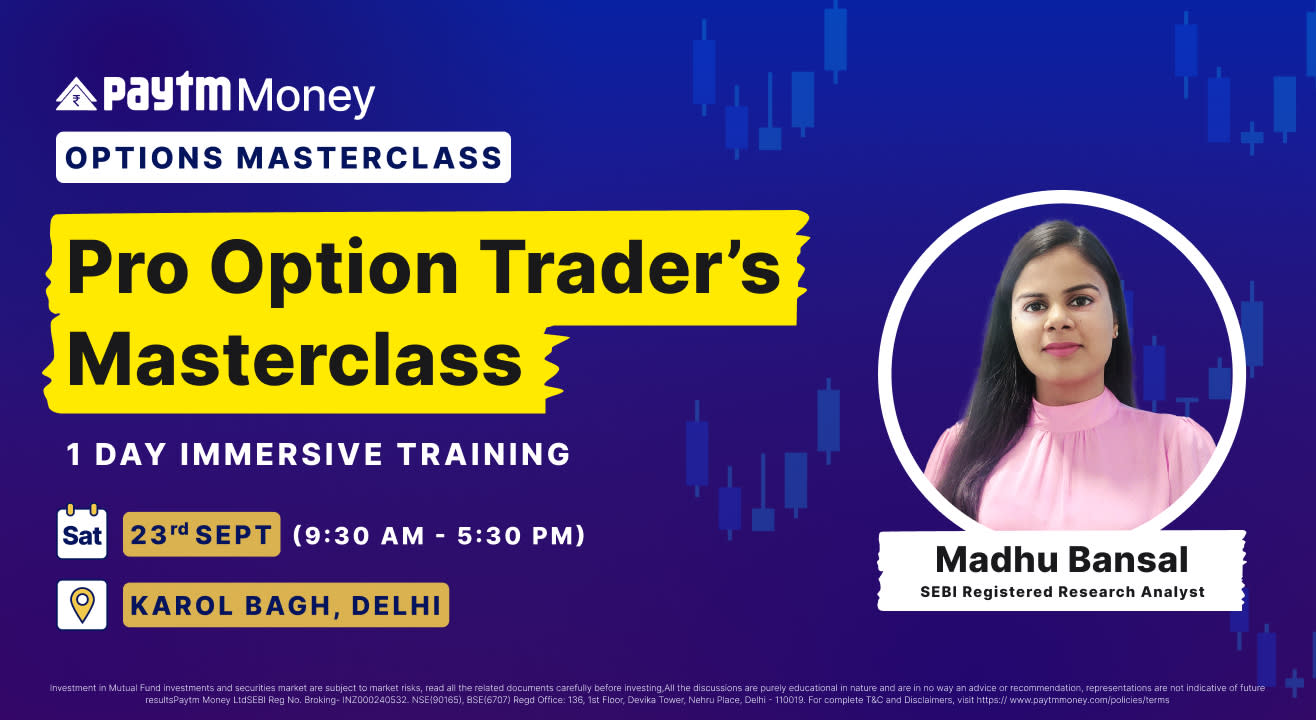 Pro Option Trader's Masterclass | Delhi
September 23 | 9:30AM - 5:30PM
Hotel Amrapali Grand - New Delhi , Patel Nagar , 4 Star Hotels, Delhi
Event Guide
Masterclass
Learn from an expert
Invite your friends
and enjoy a shared experience
Pro Option Trader's Masterclass | Delhi
September 23 | 9:30AM - 5:30PM
Hotel Amrapali Grand - New Delhi , Patel Nagar , 4 Star Hotels, Delhi
Event Guide
Masterclass
Learn from an expert
Invite your friends
and enjoy a shared experience
Event Guide
Masterclass
Learn from an expert
Invite your friends
and enjoy a shared experience
We are delighted to present Professional Option Trader's Masterclass aims to provide an in-depth and practical understanding of how to become a successful option trader. If you are an options trader and not getting the desired results, this Masterclass will help you understand and fix those deficiencies and will provide you with the right strategies to become a successful options trader. With the right contract, strikes, adjustments, and risk management, a trader can earn consistent income with reduced risk, irrespective of the market conditions. Traders will identify trading opportunities in trending and sideways markets.
This Masterclass will help you apply the strategies during practice sessions with the instructor and he will help you create your trading system and risk management with proper position sizing and adjustments. And that's just about what we'll learn in this masterclass and more!
Topics to be covered:
Anticipate market direction with option indicators like Open Interest, PCR, etc.
Option Greeks
Momentum trading strategies with single-leg options - buying and selling calls and puts with technical charts and trading systems.
Delta neutral strategies for generating regular income - Straddle, Strangle, Iron Butterfly, and Iron Condor
Strategy selection matrix
Strategy adjustments
Risk management and trade management
What's in it for you?
Learn from professional traders with decades of experience in trading and coaching
Understand powerful option trading strategies that can be used across different market conditions
Learn how to use the strategies with practical examples on the trading platform
This masterclass includes:
LIVE expert-led training
Certificate of successful completion
Added Bonus :
Enjoy full access to all the material presented during the session
An exclusive doubt-clearing session with a live trading demo in live market
Requirements to attend the masterclass:
You will have to carry a laptop with preferably a mobile hotspot
Be able to read & understand English
An undying flare to learn and act upon it
A tendency to stick to discipline in trading
Already know the basics of options trading? Cool. Don't? Not a problem!
Event Disclaimers
Investments in the securities market are subject to market risks; read all the related documents carefully before investing. Paytm Money Limited. SEBI Reg No. Broking - INZ000240532. NSE (90165), BSE (6707). Registered Office: 136, 1st Floor, Devika Tower, Nehru Place, Delhi - 110019. For complete disclaimers visit www.paytmmoney.com.
Representations are not indicative of future results. All the discussions are purely educational in nature and are in no way an advice or recommendation.
Hotel Amrapali Grand - New Delhi , Patel Nagar , 4 Star Hotels
2, 16, E Patel Nagar Rd, Block 4, Near, Karol Bagh, New Delhi, Delhi 110008, India
GET DIRECTIONS
Pro Option Trader's Masterclass | Delhi
September 23 | 9:30AM - 5:30PM
Hotel Amrapali Grand - New Delhi , Patel Nagar , 4 Star Hotels, Delhi
Event Guide
Masterclass
Learn from an expert
Invite your friends
and enjoy a shared experience