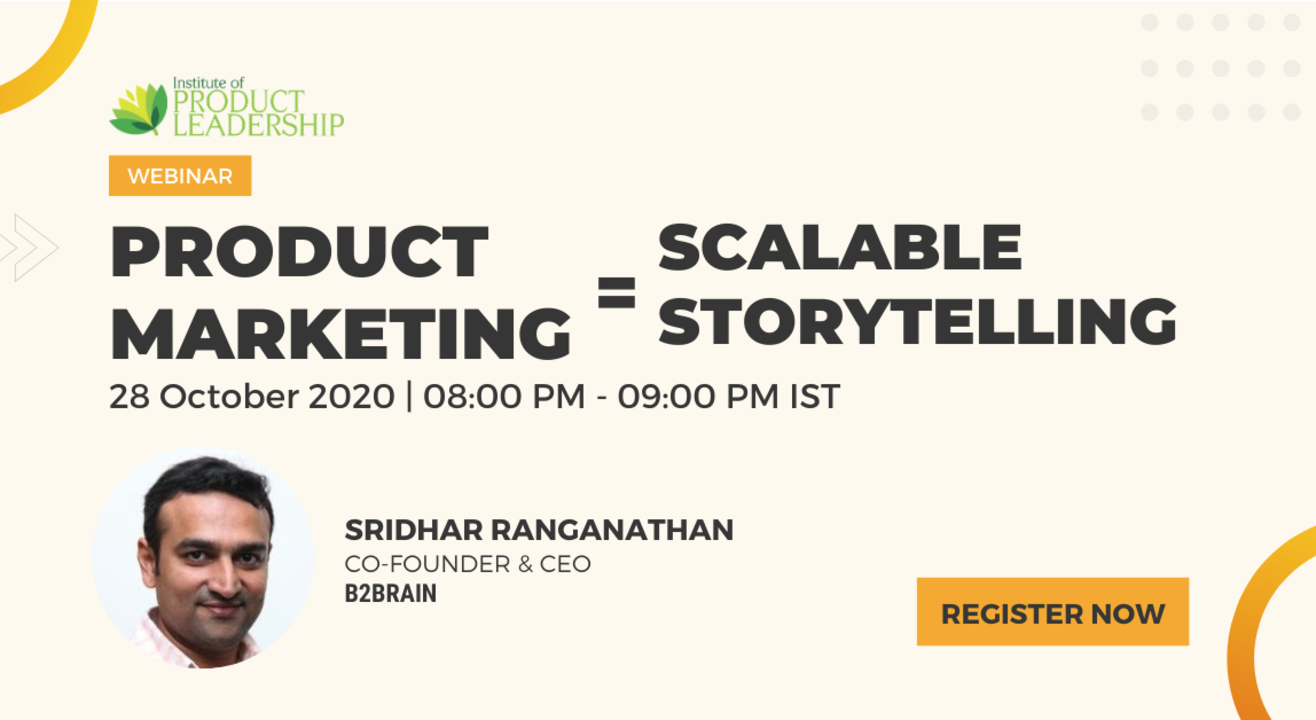 Product Marketing = Scalable Storytelling
Enjoy this event from your home
Event Guide
Digital Event
Watch on Zoom
Live Performance
Enjoy a unique experience
Invite your friends
and enjoy a shared experience
Product Marketing = Scalable Storytelling
Enjoy this event from your home
Event Guide
Digital Event
Watch on Zoom
Live Performance
Enjoy a unique experience
Invite your friends
and enjoy a shared experience
Event Guide
Digital Event
Watch on Zoom
Live Performance
Enjoy a unique experience
Invite your friends
and enjoy a shared experience
User's attention is scarce. There is fierce competition for user's attention and it will be tougher in the days to come. In this situation, companies need to go beyond talking about their basic features and appeal to the user's emotional mind - excite, inspire and captivate.
Nothing does this better than compelling, relatable and cogent stories.
Good storytellers give an unfair advantage to their organisation in the market, and against competition.
Product Marketing is that function in organisations that is responsible for taking the genesis of an idea, weaving a beautiful story that users would like to hear, and make them take positive action.
KEY TAKEAWAYS
Success and failure stories in product marketing.
How an awareness of Product Management and Product Marketing can be your unfair advantage.
Lessons in storytelling, from my experience at Zoho, Yahoo, InMobi, B2Brain.
ABOUT THE SPEAKER
Sridhar Ranganathan is passionate about making people more effective.
As cofounder and CEO of B2Brain.com, he and his team are working on giving an unfair advantage to sales professionals by providing contextual intelligence on their target accounts.
Sridhar was previously the first VP of Product and then VP of Corporate Development at InMobi. He built and managed the Yahoo! Maps, Yahoo! Local and Yahoo! Jobs products at Yahoo! India, prior to InMobi. He came to Yahoo! from Zoho where he product managed network management products as well as built the usability function.