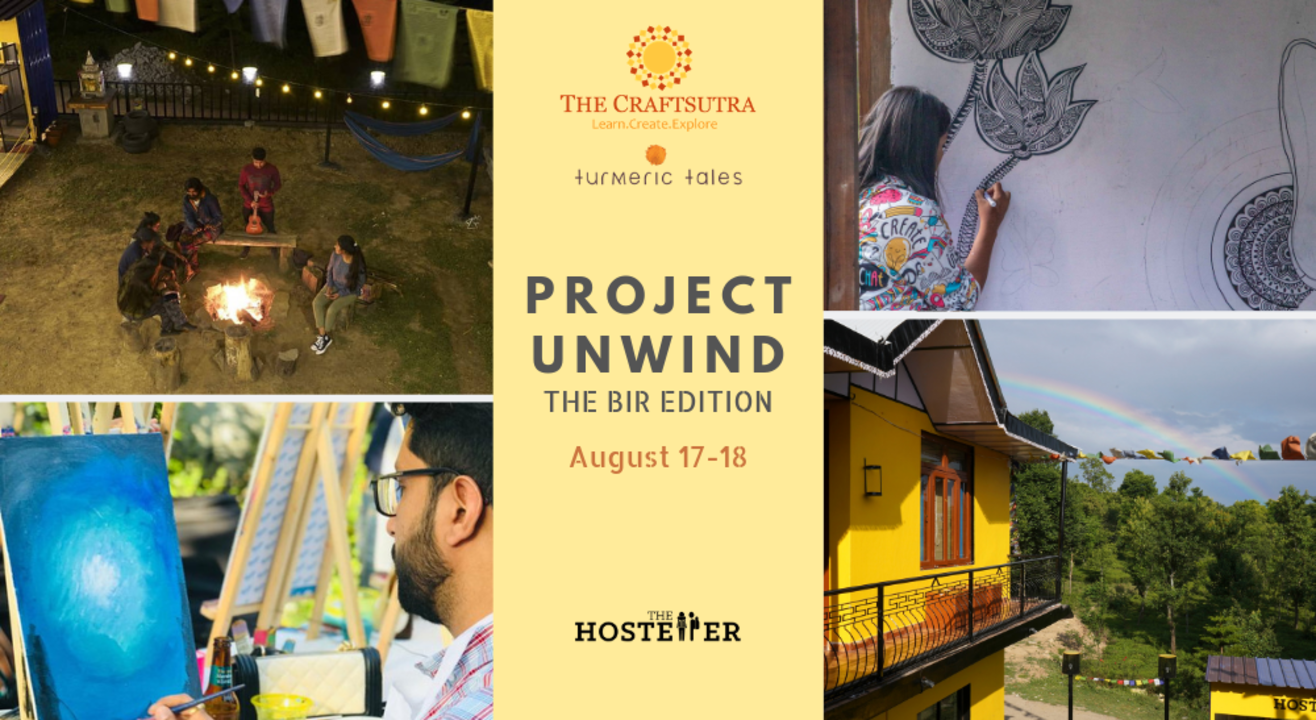 Tour
Project Unwind - Weekend Retreat In Bir
About
Project Unwind is a two-day escape from the city for anyone who needs a break, enjoys meeting new people, loves trying new activities or just wants a not-so-boring weekend, basically love With 'The Craftsutra', at this excursion, you get to dive into many artistic adventures and get to unleash your inner artistic potential.
Sharing your art and other anecdotes with like minded travellers and admiring the nature would make this experience even more amazing and give you the much-needed relaxation away from the daily hustle-bustle.
Please note departure from Delhi on 16 Aug at 7.30PM and return from Bir on 19 Aug at 7.00AM
ROUTE : Delhi – Bir – Delhi
Itinerary:
Day 1
Art Therapy Session: Let yourself loose and let the creative juices flow while you paint blindfolded on canvas using your fingers. With therapeutic zen music in the background, this will be a guided session with the experts.
Sunset Cycling Tour: Cycle through the Bir Tibet Colony, check out local shops and visit a world-famous monastery. We will end the tour at the Bir paragliding site to witness the best sunsets in the whole of Himachal Pradesh.
Sherabling Monastery Visit: Immerse yourself in Tibetan culture and witness a spiritual experience like no other, at the world-famous Sherabling Monastery.
Glow-in-the-dark Paint Party: Light up the night with an epic paint party... neon style! The best part? Everything (and we mean everything!) counts as your canvas! Coupled with live music, drinks, food and a bonfire ♥
Day 2
Secret Sunrise Tour: An early morning hike from Ahju village to a secret, undiscovered site in Bir, from where you can get a clear view of the entire valley..
Breakfast With A View: What's a trip to the hills without an epic breakfast at a cozy, rustic cafe? Instagram photographers, this is your moment to shine.
Amma Recycling Workshop: Learn how to upcycle/recycle plastic waste with "Amma" a self-taught crusader of Bir whose fight against plastic waste is an inspiration. Create multi-purpose floor mats by utilising single-use plastic.
Community Cooking: Experience the joy of the age-old Indian tradition of community cooking as you bond with your fellow travel mates over flavours, stories, taste-buds and more, all in the midst of a green, calm landscape.
Inclusions:
The above costs include travel, accommodation, all meals and all the activities.
Who we are:
'The Craftsutra' is a platform that connects learners with artists, we create Artsy experiences where people can engage in a variety of Art/craft forms, discover things about themselves and meet other art enthusiasts. We believe that anyone can create Art and look forward to offering people the opportunity to paint, create, learn and explore art in a way like never before.
Find us on Facebook, Instagram @The Craftsutra