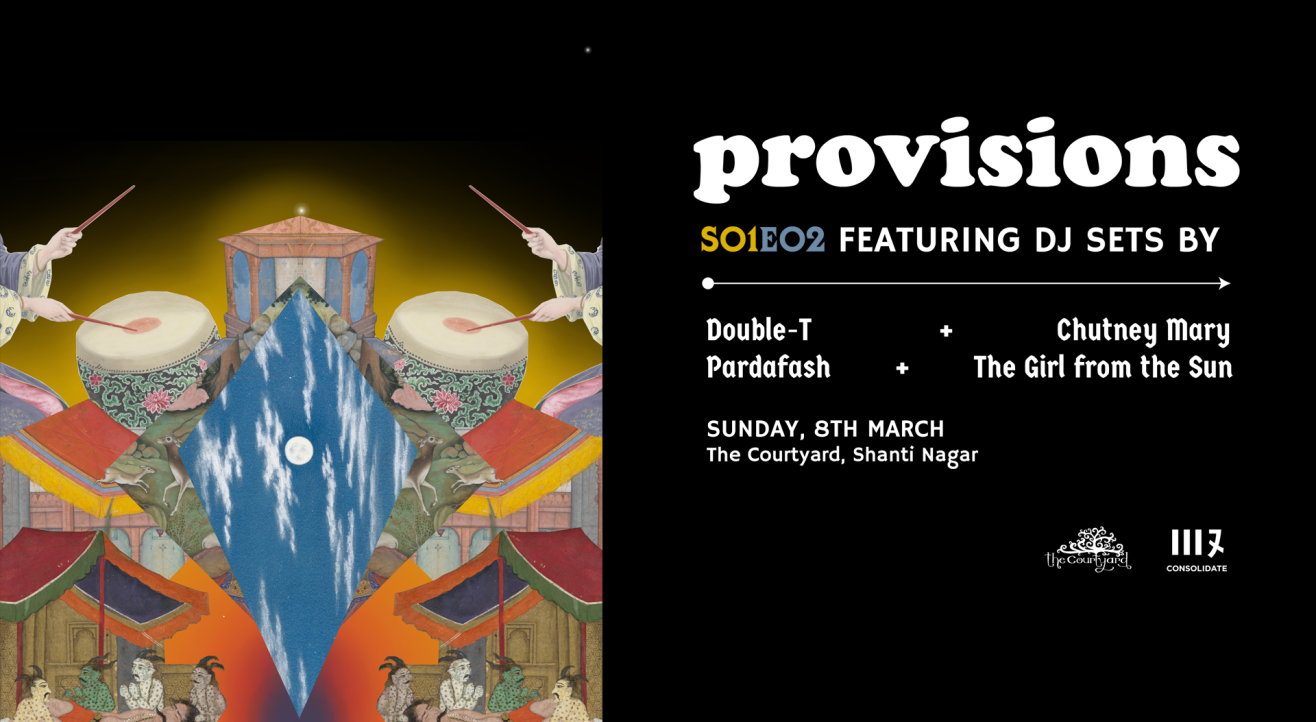 Music
Provisions - DJ sets curated by Consolidate S01 E02
About
The second episode of Provisions is scheduled for the 8th of March (Sunday) at The Courtyard, Bengaluru. From 6 pm onwards, Double T, Chutney Mary, Pardafash and The Girl From The Sun will be curating music from across the spectrum, drawing on a plethora of genres and styles to soundtrack the evening.
Provisions is hosted by members of Bengaluru-based music collective Consolidate and their friends. The plan is throw a relaxed, informal party in the green courtyard space in Shanti Nagar where you can come hear playlists curated by local artists. The idea isn't so much to create a seamless experience as it is to create a space where artists and audiences alike can express themselves and take chances.
DOUBLE T:
DoubleT is the DJ alias of Tanisha Thyagarajan, a textile designer based in Bangalore. Over the years she attended countless gigs that influenced her to pick up DJing herself and find her rhythm of expression. Her sets are power packed with genres ranging from vogue, jersey club and more.
CHUTNEY MARY:
Chutney Mary is a small coastal town girl, now a city woman. She believes she is an amazing rapper and DJ and doesn't give a fish if you think otherwise.
She is the badass alter ego of anti-disciplinary artist and good girl Avril Stormy Unger.
PARDAFASH:
Pardafash is a producer and a member of Bangalore based electronic music collective 'Consolidate'. Having written and performed music both as a solo artist, and previously with her band Machli, this set marks her first foray into DJing. She is a multidisciplinary artist who is interested in curating a selection of new and unreleased tracks made by independent musicians and producers in India.
THE GIRL FROM THE SUN:
The Girl From The Sun aka Arundathi Manakkad took classical carnatic music classes at the age of 7 and dabbled with various musical instruments and styles well up until her college years. Shortly after, she learnt how to DJ and is currently mentored by Stalvart John. She plays disco with influences of soul and funk and classic house with soulful vocals, she likes experimenting with different genres and draws her inspiration from a plethora of genres including alternative, disco, rock, electronica, house, punk rock, afro and rap. She doubles as a visual designer and often uses art as a tool to visually illustrate a track. She has showcased her work with Kranti Art Theory, Vh1 Supersonic and REProduce in the past. She regularly makes art for Indian musicians including the Three Oscillators, Malfnktion, Hedrun, Mahesh, Cinema Of Excess, and others. In 2018 one of her tracks 'Black and white stripes' was featured in the 'Deviants' list by the Toto Music Awards. In 2019 she won the female empowerment scholarship by Synthfarm and was a part of the Synthfarm residency in West Bengal.
Venue
The Courtyard
105, KH Road (Lalbagh Double Rd Opp. Corporation Bank, Raja Ram Mohanroy Extension, Shanti Nagar, Bengaluru, Karnataka 560027
GET DIRECTIONS