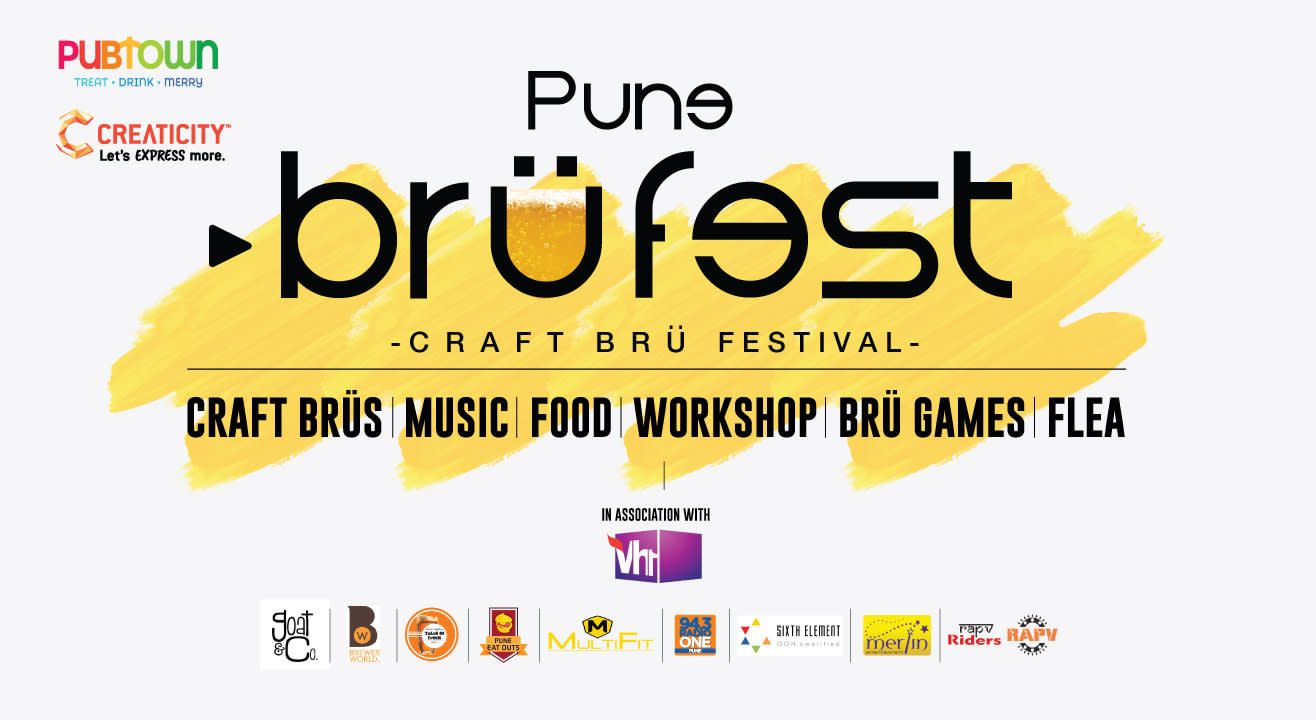 Drinks & More
About
Pubtown Presents the Pune Brufest , supported by Multifit gymnasium, Tales of Froth, Pune Eatouts, Brewer World , Radio one and Sixth element.
Prost!

So its craft brü time again for all you connoisseurs out there.

The Pune Brüfest is set to celebrate the common love for freshly brewed beverages.

Pubtown and Tales of the Froth bring to you a unique craft brü event with pop-up breweries, workshops and restaurants, all under one unique roof, at Creaticity, formerly Ishanya.


8 restaurants & breweries will proffer their delightful offerings of handcrafted delights to every chugger's dream, at one space in Pune. Enjoy a multitude of events, from sampling a giant pop-up taproom of Maharashtra's best breweries, to a flea market with shopping and merchandise, to brew games and a craft brewing lecture workshop.


Craft Brew and Flea Fest

Every brew junkie's ultimate dream – come sample the flavours crafted by breweries at their pop-ups and sip as many as you like.


Brew Games - Brulympics

Get your game face on and be ready to trip over brew and drinking games. Get your teams and participate in the Pubtown Brülympics - go for glory, go for gold!


Leadership Lecture Series

Learn how the most prominent breweries began, how their founders tripped, fell and succeeded. Witness eminent brewers, entrepreneurs and restauranteurs from Bangalore, Delhi, Mumbai and Pune help you know your brü better through their interactive lecture talk series.


Brewing Workshops

Attend a craft brew workshop at a live brewery and craft your own brew at the hands-on brewing workshop. Mix, grind & mash ingredients to create classic and unique flavours all by yourself.
Live Music

Brews and music together make for a great, happy vibe. Let the live music (and brew) keep you swinging and swaying.
Gourmet Foods

Savour gourmet restaurant foods from the Pubtown outlets and enjoy a weekend of food, fun and frolic.


All of this and so much more, specially crafted for brew enthusiasts like you at Pubtown, Creaticity, formerly Ishanya, Yerawada on 21st & 22nd April, from 12 PM to 10 PM.


Stay tuned for more updates.

There's a lot that's brewing!
Cheers!