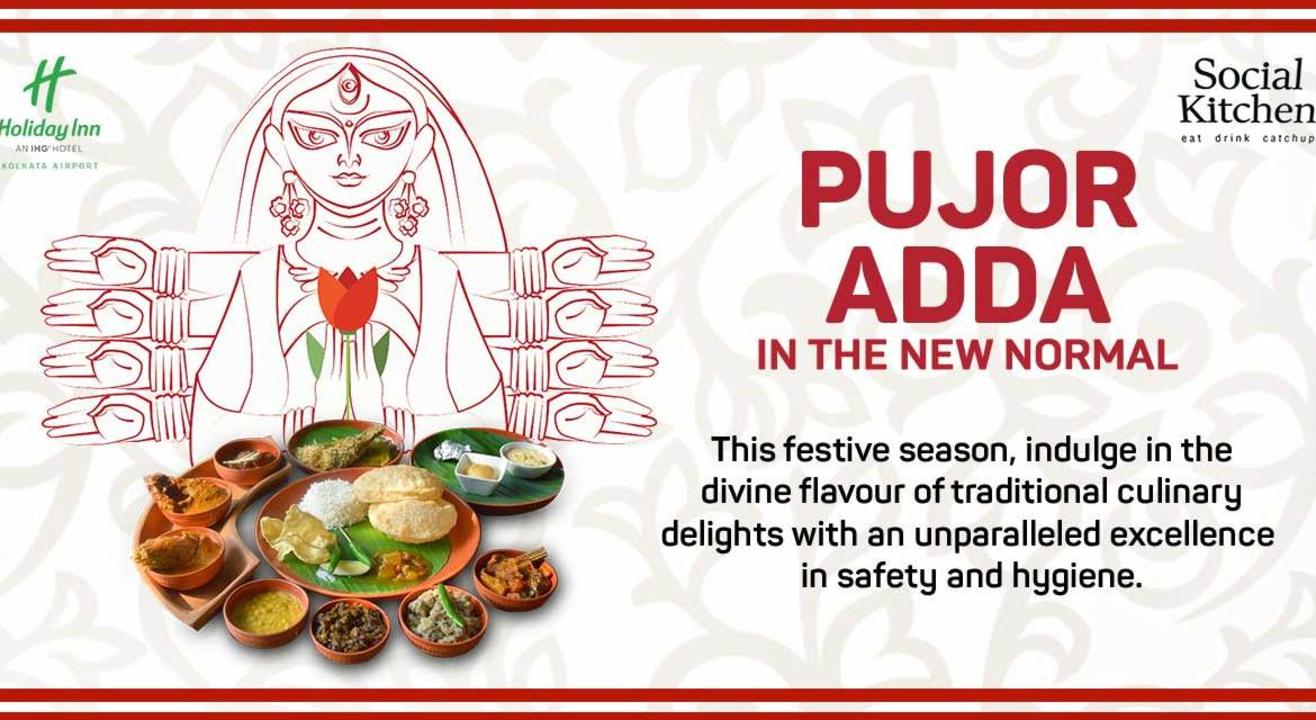 Pujor Adda @ Holiday Inn Kolkata Airport
Holiday Inn Kolkata Airport
Invite your friends
and enjoy a shared experience
Invite your friends
and enjoy a shared experience
About the Event
The biggest festival of Bengal is back again. In this new normal Durga Puja will not lose its colors and grandeur. Festivity drips from every single thing in this Durga Puja season, like the colorful lights, food, colorful new dresses. Durga Puja brings life to Bengalis and gives a relief from the regular drudgery.
Holiday Inn Kolkata airport is ready to welcome you in this Durga Puja with its magnanimity. Fantastic accommodation with Wi-Fi facility, along with greatest delicacies in Breakfast, lunch and dinner is waiting for you. The snacks and beverages of ours have no match.
Why mix with the crowd, when you can enjoy this Durga Puja with us. Enjoy your family time safely and with more precautions with Holiday Inn Kolkata airport.
Explore divine flavors of traditional Bengali cuisine with your family and loved ones with our Special Bengali Buffet at Social Kitchen.
So, why wait? Join our Pujo Adda in the new normal; Book as fast as you can.
May this puja brings happiness and prosperity to you.
Hygiene Practices
Our F& B has also evolved in a period of over last two months where we have adopted no touch door to door delivery mechanisms by following highest hygiene and safety standards and to ensure people do not miss our Gourmet delicacies.
At Social Kitchen, we have adopted all measures for practicing social distancing and contact less dining, where our guests can scan a QR Code, access our menus and make Payments digitally. We are adhering to all the SOP's issued by Ministry of Health and Family Welfare.
SHASHTI DINNER MENU
A BARER PET- PUJO
SASTHI DINNER MENU
SIPPERS
Barman's choice 2 varieties
SOUP
Roasted Roma Tomato Soup with Herb Bread
Chicken Laksa
SALAD BAR
Garden Fresh Green Salad
Kasundi Peyarar Chaat
Russian Salad
Tossed Zucchini and Vinegratted Chicken
Asian Egg Bowl
Dahi Vada
RAITA & CHUTNEY BAR
Subz Raita, Pineapple Raita, Boondi Raita
Aamsotto Khejur Tomator Chutney, Plastic Chutney, Anaros Chutney
JILIPI
Mango Jilipi
PRANER PUCHKA
Sadher Puchka with Tamarind Water
Sadher Puchka with Sweet water
Sadher Puchka with Hing ka paani
GOLA
Chuski
MAIDAN CHAAT
Ghoogni Singara chaat
Papri chaat
Jhalmuri
Bhelpuri
Aloo kabli
BILAITI CHAAT
Mexican Fajita and Tacos with Tangy Salsa
KABAB
Subz Sammi Kabab
Chapli Kabab
STARTERS
Cocktail Fish Kobiraji
Fowl Cutlet
Chilli Paneer Dry
PULAO
Gobindobhog Sada Bhat
Darokanath Motihari Pulao
BENGALI BREAD
Radha Ballabi
TANDOORI BREAD
Naan
Roti
Laccha Paratha
DAL
Narkeli Cholar Dal
NIRAMISH
Chanar Paturi
Bhaja Masala Aloo Dom
Posto Fulkopi
AMISH
Kochupata Chingri
Doi Katla
Dhonepata Kacha Lonka Bata Murgi
BIRIYANI
Kolkata Style Mutton Biriyani
GLOBAL CUISINE
Grilled Creamy Polenta
Tangra Style Chilli Chicken
Chilli Basil Noodle
MUKHO MISTI
Narikel Naru (Gur, Chini)
Komolabhog
Gurer Payesh
Bordhomaner Mihidana
Logongo Lotika
Brownie with Chocolate Sauce
Tiramisu
Nikuti Cheese Cake
Ice Cream 1 TYPE
Stick Kulfi
SAPTAMI LUNCH AND DINNER MENU
A BARER PET- PUJO
SOPTOMI LUNCH & DINNER MENU
SIPPERS
Barman's choice 2 varieties
SOUP
Veg Manchow Soup with Fried Noodle
Crème of chicken with garlic croutons
SALAD BAR
Garden Fresh Green Salad
Faldari Chaat
German Potato Salad
Chicken Beetroot Citrus Salad
Devil's Egg
Dahi Vada
RAITA & CHUTNEY BAR
Subz Raita, Pineapple Raita, Boondi Raita
Aamsotto Khejur Tomator Chutney, Plastic Chutney, Anaros Chutney


JILIPI
PRANER PUCHKA
Puchka with Tamarind Water
Puchka with Sweet Water
Puchka with Hing Ka Paani


GOLA
MAIDAN CHAAT
Ghoogni Singara chaat
Papri chaat
Jhalmuri
Bhelpuri
Aloo kabli
BILAITI CHAAT
Mexican Fajita and Tacos with Tangy Salsa
KABAB
Hara Bhara Kabab
Murgh Gilafi Seek
STARTERS
Gondhoraj Fish Finger
Mangsher Chop
Barbeque Cottage Cheese Square
PULAO
Gobindobhog Sada Bhat
Raj Nandini Pulao
BENGALI BREAD
TANDOORI BREAD
DAL
NIRAMISH
Chanar Kaliya
Kashmiri Aloo Dom
Fulkopi Koraisutir Dalna
AMISH
Lau Chingri
Tel Aar
Dakbanglow Murgi
BIRIYANI
Kolkata Style Mutton Biriyani
GLOBAL CUISINE
Cheesy Lasagne
Pan Seared Fish
Veg Hakka Noodle
MUKHO MISTI
Narikel Naru (Gur, Chini)
Rajbhog
Gurer Payesh
Gorom Malpua
Khirer Balulasi
Hot Chocolate Mud Pie
Fresh Fruit Gateaux
Death by Chocolate
Ice Cream 1 TYPE
Stick Kulfi
ASTHAMI LUNCH AND DINNER MENU
A BARER PET- PUJO
ASTAMI LUNCH & DINNER MENU
SIPPERS
Barman's choice 2 varieties
SOUP
Roasted Roma Tomato Soup with Herb Bread
Chicken Laksa
SALAD BAR
Garden Fresh Green Salad
Kasundi Peyarar Chaat
Russian Salad
Tossed Zucchini and Vinegratted Chicken
Asian Egg Bowl
Dahi Vada
RAITA & CHUTNEY BAR
Subz Raita, Pineapple Raita, Boondi Raita
Aamsotto Khejur Tomator Chutney, Plastic Chutney, Anaros Chutney
JILIPI
PRANER PUCHKA
Sadher Puchka with Tamarind Water
Sadher Puchka with Sweet water
Sadher Puchka with Hing ka paani
GOLA
MAIDAN CHAAT
Ghoogni Singara chaat
Papri chaat
Jhalmuri
Bhelpuri
Aloo kabli
BILAITI CHAAT
Mexican Fajita and Tacos with Tangy Salsa
KABAB
Subz Sammi Kabab
Chapli Kabab
STARTERS
Cocktail Fish Kobiraji
Fowl Cutlet
Chilli Paneer Dry
PULAO
Gobindobhog Sada Bhat
Darokanath Motihari Pulao
BENGALI BREAD
TANDOORI BREAD
DAL
NIRAMISH
Chanar Paturi
Bhaja Masala Aloo Dom
Posto Fulkopi
AMISH
Kochupata Chingri
Doi Katla
Dhonepata Kacha Lonka Bata Murgi
BIRIYANI
Kolkata Style Mutton Biriyani
GLOBAL CUISINE
Grilled Creamy Polenta
Tangra Style Chilli Chicken
Chilli Basil Noodle
MUKHO MISTI
Narikel Naru (Gur, Chini)
Komolabhog
Gurer Payesh
Bordhomaner Mihidana
Logongo Lotika
Brownie with Chocolate Sauce
Tiramisu
Nikuti Cheese Cake
Ice Cream 1 TYPE
Stick Kulfi
NABAMI LUNCH AND DINNER MENU
A BARER PET- PUJO
NOBOMI LUNCH & DINNER MENU
SIPPERS
Barman's choice 2 varieties
SOUP
Veg Manchow Soup with Fried Noodle
Crème of chicken with garlic croutons
SALAD BAR
Garden Fresh Green Salad
Faldari Chaat
German Potato Salad
Chicken Beetroot Citrus Salad
Devil's Egg
Dahi Vada
RAITA & CHUTNEY BAR
Subz Raita, Pineapple Raita, Boondi Raita
Aamsotto Khejur Tomator Chutney, Plastic Chutney, Anaros Chutney


JILIPI
PRANER PUCHKA
Puchka with Tamarind Water
Puchka with Sweet Water
Puchka with Hing Ka Paani


GOLA
MAIDAN CHAAT
Ghoogni Singara chaat
Papri chaat
Jhalmuri
Bhelpuri
Aloo kabli
BILAITI CHAAT
Mexican Fajita and Tacos with Tangy Salsa
KABAB
Hara Bhara Kabab
Murgh Gilafi Seek
STARTERS
Gondhoraj Fish Finger
Mangsher Chop
Barbeque Cottage Cheese Square
PULAO
Gobindobhog Sada Bhat
Raj Nandini Pulao
BENGALI BREAD
TANDOORI BREAD
DAL
NIRAMISH
Chanar Kaliya
Kashmiri Aloo Dom
Fulkopi Koraisutir Dalna
AMISH
Lau Chingri
Tel Aar
Dakbanglow Murgi
BIRIYANI
Kolkata Style Mutton Biriyani
GLOBAL CUISINE
Cheesy Lasagne
Pan Seared Fish
Veg Hakka Noodle
MUKHO MISTI
Narikel Naru (Gur, Chini)
Rajbhog
Gurer Payesh
Gorom Malpua
Khirer Balulasi
Hot Chocolate Mud Pie
Fresh Fruit Gateaux
Death by Chocolate
Ice Cream 1 TYPE
Stick Kulfi
DASHAMI LUNCH MENU
A BARER PET- PUJO
DOSOMI LUNCH MENU
SIPPERS
Barman's choice 2 varieties
SOUP
Roasted Roma Tomato Soup with Herb Bread
Chicken Laksa
SALAD BAR
Garden Fresh Green Salad
Kasundi Peyarar Chaat
Russian Salad
Tossed Zucchini and Vinegratted Chicken
Asian Egg Bowl
Dahi Vada
RAITA & CHUTNEY BAR
Subz Raita, Pineapple Raita, Boondi Raita
Aamsotto Khejur Tomator Chutney, Plastic Chutney, Anaros Chutney
JILIPI
PRANER PUCHKA
Sadher Puchka with Tamarind Water
Sadher Puchka with Sweet water
Sadher Puchka with Hing ka paani
GOLA
MAIDAN CHAAT
Ghoogni Singara chaat
Papri chaat
Jhalmuri
Bhelpuri
Aloo kabli
BILAITI CHAAT
Mexican Fajita and Tacos with Tangy Salsa
KABAB
Subz Sammi Kabab
Chapli Kabab
STARTERS
Cocktail Fish Kobiraji
Fowl Cutlet
Chilli Paneer Dry
PULAO
Gobindobhog Sada Bhat
Darokanath Motihari Pulao
BENGALI BREAD
TANDOORI BREAD
DAL
NIRAMISH
Chanar Paturi
Bhaja Masala Aloo Dom
Posto Fulkopi
AMISH
Kochupata Chingri
Doi Katla
Dhonepata Kacha Lonka Bata Murgi
BIRIYANI
Kolkata Style Mutton Biriyani
GLOBAL CUISINE
Grilled Creamy Polenta
Tangra Style Chilli Chicken
Chilli Basil Noodle
MUKHO MISTI
Narikel Naru (Gur, Chini)
Komolabhog
Gurer Payesh
Bordhomaner Mihidana
Logongo Lotika
Brownie with Chocolate Sauce
Tiramisu
Nikuti Cheese Cake
Ice Cream 1 TYPE
Stick Kulfi


Holiday Inn Kolkata Airport
Biswa Bangla Sarani, Near City Centre 2, Dash Drone, Newtown, Kolkata, West Bengal 700136
GET DIRECTIONS