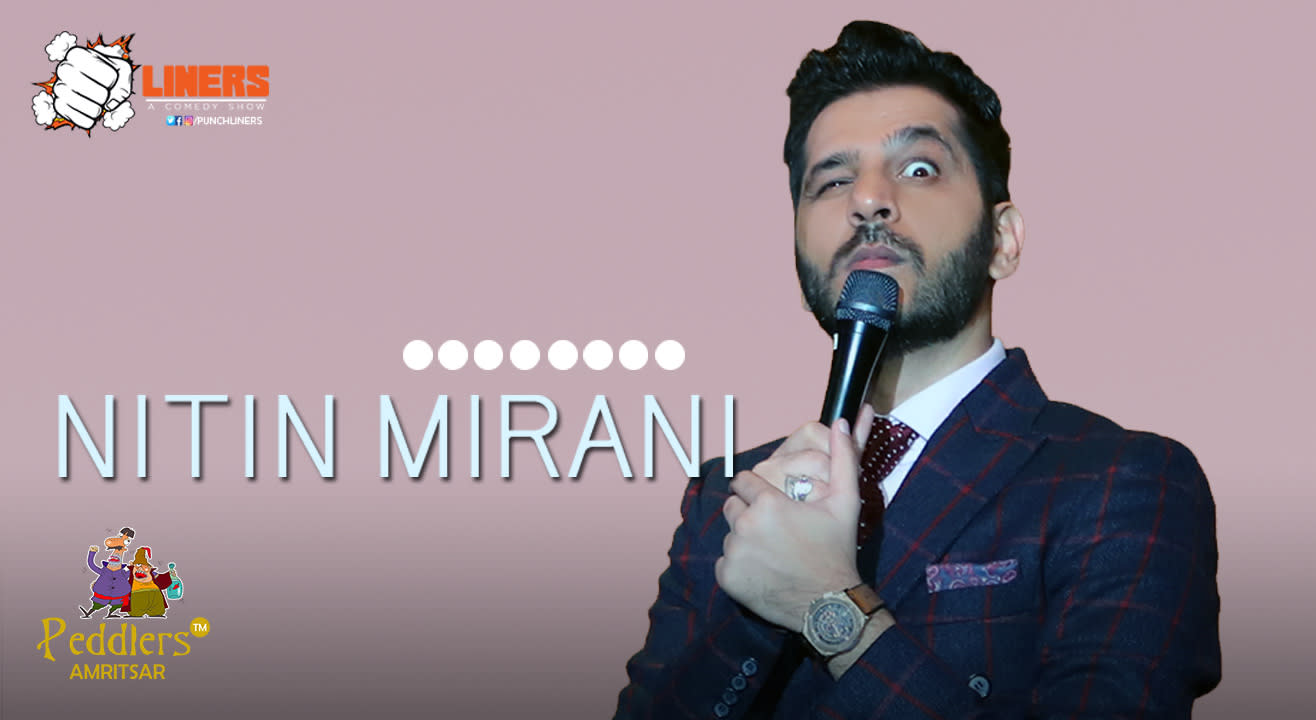 Comedy
Punchliners: Standup Comedy Show ft. Nitin Mirani in Amritsar
About
After performing to packed audiences in the middle east, India, Hongkong Maldives and even New York, Toronto and London.Nitin Mirani's and his brand Komic Sutra has now become a name that is trusted by people all over the world and specially expats from the U.A.E as it fulfils the desire for the new age style of "Glocal" humor and always delivers a fun-filled evening combined with a friendly, interactive and "Chilled out " atmosphere with the message "Laugh and Let Laugh
Mr. Komic Sutra - Nitin Mirani is one of the only Dubai-based Indian comedian/entertainers who is now world renowned and has performed to packed audiences in more than 1500 shows all over the globe. Having won the title of Laugh Factory USA's "4th Funniest Person In The World 2015" in LAS VEGAS where he represented U.A.E & India, Dubai's favourite funny man has been a comedy juggernaut.

So whether it is sharing the stage with Bollywood's Shahrukh Khan or recently Hollywood's Marlon Wayans, Eddie Griffin & Trevor Noah, Mirani has not only made them laugh out loud but also impressed and left them nodding in agreement that he is surely the one to "watch out for." A 4000 plus crowd in Dubai for the Kapil Sharma Show or Bollywood's Who's Who at the recently held Khidkiyaan Theater Festival in Mumbai, he has left them all in splits with his ability to entertain in English & Hindi proving once again NDTV'S testimonial that "he can make anyone laugh."
Nitin jokes about Delhi and designers!
Punchliners strictly revolve around comedy and host various shows across the city for entertainment. Teaming up with the country's best stand-up comedians, they always deliver on displaying well produced shows throughout the country.
Peddlers— an English pub, comes from the family of The Heritage Group, with no terms and conditions attached to it. The only rule that applies here are that of pubbing! Under the Big Ben, Peddlers was opened with a view to not only bring pubbing and rock culture in the city, but to 'infuse' rock amongst people. From cuisines ranging from English, Scottish, Irish, Indian, and Italian, with the perfect transfusion of choicest of drinks, the idea behind Peddlers is to introduce the city with the biggest names in rock and roll, alongside, making the "stars of tomorrow" shine.