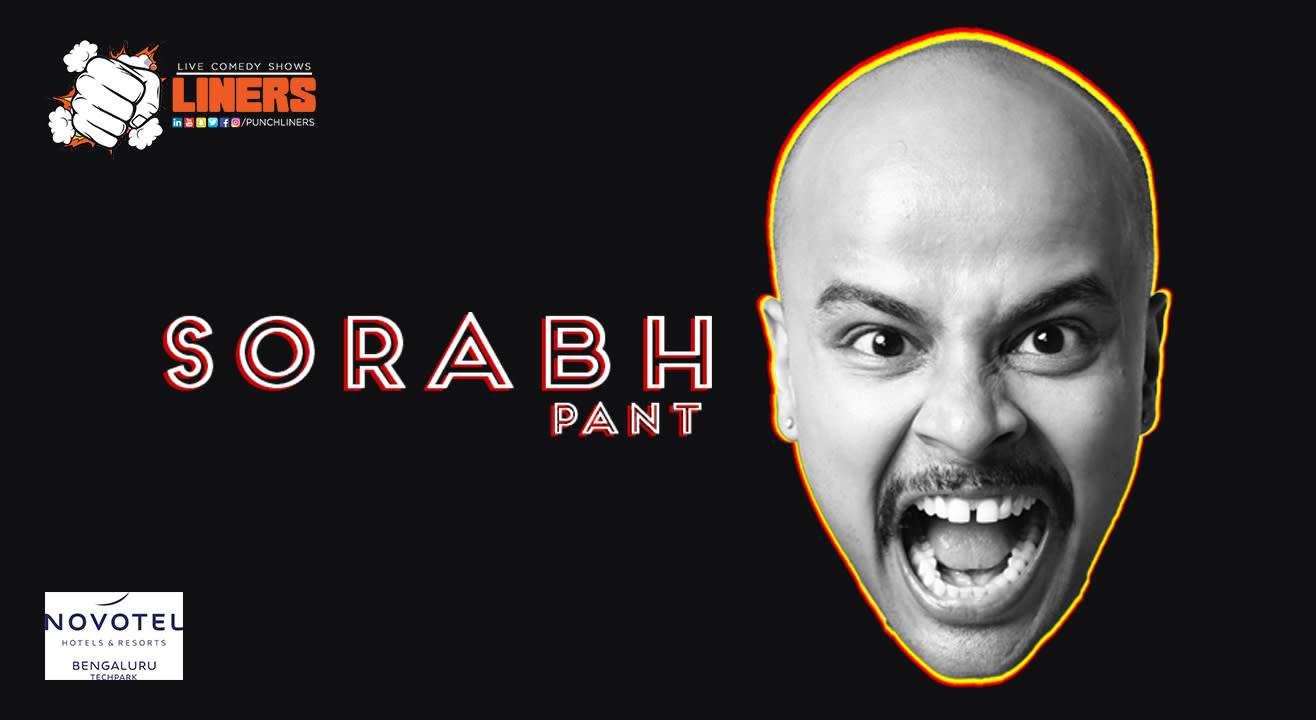 Comedy
Punchliners: Standup Comedy Show ft. Sorabh Pant in Bangalore
Novotel Bengaluru Techpark
About
Punchliners beings to you the crazy yet comically perfect Sorabh Pant!


Sorabh Pant is one of India's best and most traveled comedians – with over 1000 shows in 60 cities across 15 countries – though, he does it only for the frequent flyer miles. He's a comedian, an author and a full-time Vinod Kambli impersonator.


"One of India's top six comedians." – The Times Of India, Deccan Chronicle, Mid-Day and Hindustan Times.


So get your friends and join in the fun!
Seating arrangement: First come first serve basis
Does the venue have a rooftop or is it covered: Covered
Which categories have an AC?: Both
Are wheelchairs or an elevator facility available at the venue?: No

Recently described as "the second most brilliant Indian comedian I've seen, after Russell Peters" by Wayne Brady, Sorabh Pant is one of India's leading comedians, the kind to expend the last drop of energy and Glucon-D to make you laugh. Sorabh's done over 1000 shows in 60 cities across 15 countries, as well as 300+ corporate shows. The zany comic has opened for international biggies like Rob Schneider (You Don't Mess With The Zohan, Deuce Bigalow) and Wayne Brady ("Whose Line Is It Anyway?", Wayne Brady Show), and has had TV shows on Pogo, Star World, CNBC and ET Now. He also founded the East India Comedy, India's busiest comedy company, which has raked up 115 million YouTube views with shows like EIC Outrage and EIC vs Bollywood. And if all of this wasn't enough, he has also released two novels – The Wednesday Soul, Under Delhi and is working on a third (too much energy).
Sorabh talks about why he'd never sit on the Iron Throne!
Punchliners strictly revolve around comedy and host various shows across the city for entertainment. Teaming up with the country's best stand-up comedians, they always deliver on displaying well produced shows throughout the country.
For more than 40 years, Novotel contributes to the wellbeing of both business and leisure travellers: think spacious, modular-design guestrooms, balanced cuisine available 24/7, excellent meeting facilities, attentive staff, dedicated children's areas and rejuvenating wellness facilities. The Novotel group is a pioneer in sustainable development and all Novotel hotels participate in the Green Globe worldwide environmental certification program.
Venue
Novotel Bengaluru Techpark
Opposite RMZ Ecospace Business Park, Marathahalli Sarjapur Outer Ring Road, Bengaluru, Karnataka 560103