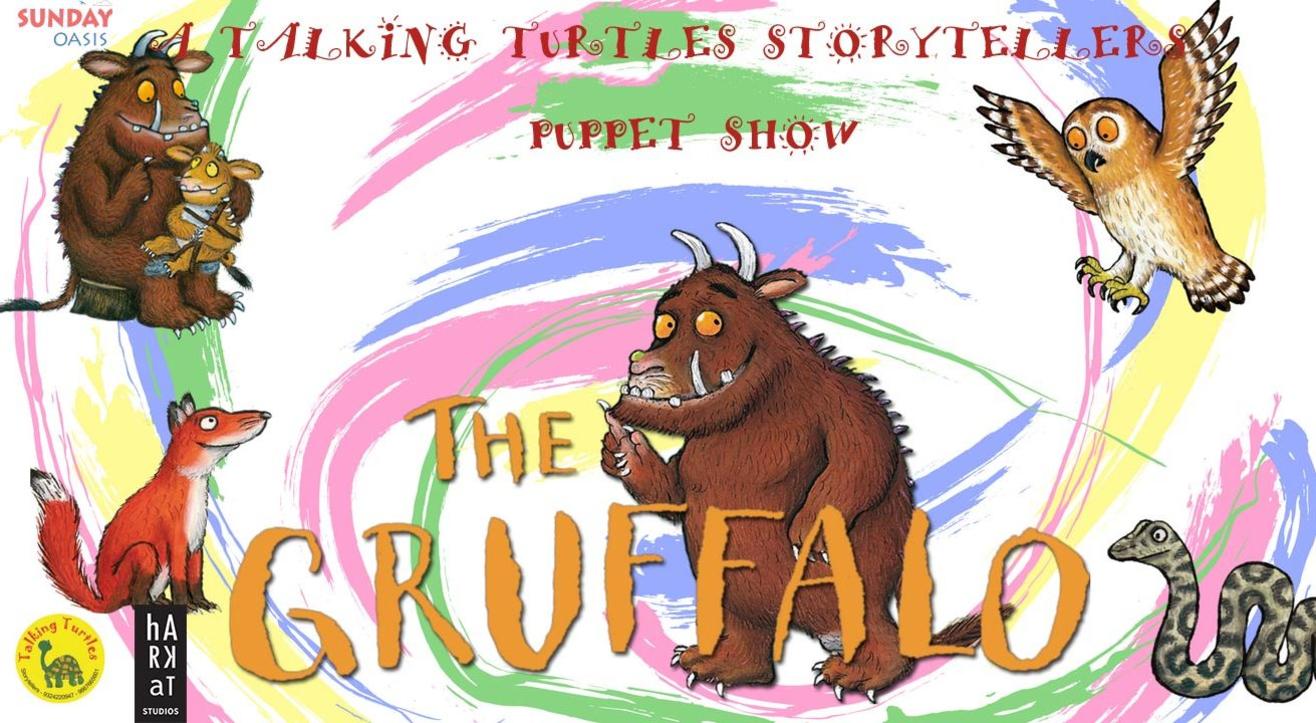 Theatre
Puppet Show - The Gruffalo by Julia Donaldson
Harkat Studios, Versova, Mumbai
About
The Gruffalo by Julia Donaldson is an exceptionally popular children's story.

Threatened in turns by a fox, an owl and a snake, a little mouse scares them all off by claiming that he is waiting for his monstrous friend, the Gruffalo. He believes the Gruffalo does not exist but the plot twist is that it does exist and it too wants to eat him. However, the mouse survives by tricking the Gruffalo into believing he is the most scariest creature in the wood.
Shreedevi Sunil : Talking Turtles' Storytellers, Mumbai was started by Shreedevi Sunil and Deepa Panchal in 2010. A major part of their work is with children, starting at the early age of 2 and upwards.They encourage children to explore the art of oral storytelling, using voice modulation, music, movement, puppets, storyboards, story cards. They have also conducted teacher training workshops, wherein we encourage them to use stories in classroom, to counter social issues and deliver lessons. Her work here is as a Creative head / Storyteller, this involves creating and adding to the storypool, selecting effective storytelling methodolgy, developing music and movement for a story. Mohit Kumarm : Mohit Kumar is a performing musician and a poet. He has been composing music and writing for the same for a long time. He has regular performances. He hosts open mics, other music and poetry events, and has been associated with The Hive since mid 2017. Currently he started his own venture called hooted1ce , which promotes art and culture as a community.
Harkat is an international boutique arts studio with a passion for film, new media, community art spaces and contemporary art. Based in Mumbai & Berlin, Harkat takes many forms and identities across disciplines & related creative industries. As an alternative performance & arts space, they have hosted more than 150 shows in the past year in the mediums of theatre, film, music, community projects & contemporary art. Harkat supports the new, unheard, upcoming, exciting, cutting edge, the political, the forgotten, nostalgic, melancholic, soul stirring, the beautiful & more. And that's what Harkat is. Harkat.
Venue
Harkat Studios, Versova, Mumbai
HARKAT STUDIOS, BUNGALOW 94, FIRST FLOOR, ARAM NAGAR 2, VERSOVA, ANDHERI WEST, 400061-MUMBAI
GET DIRECTIONS