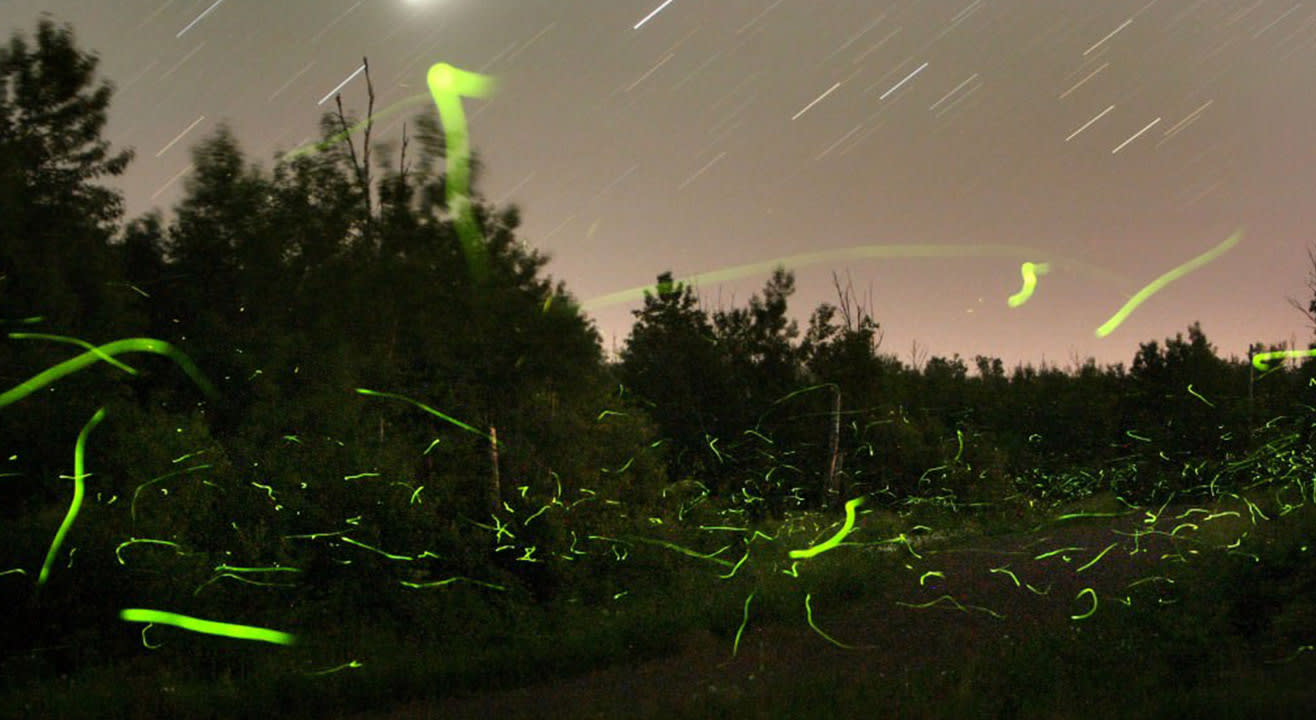 Trek
Witness nature's illumination at Purushwadi - Insider.in
Check out millions of fireflies hovering over the valley this season.

It sits in the forested Western Ghats, between rivers Kurkundi and Mula in the Akole district of Maharashtra. The tribal village of Purushwadi is a perfect destination for a quick getaway from the city's hustle and bustle. You'll get to experience a quaint lifestyle, traditional hospitality and friendly locals.

The village is largely untouched by external influences and is an ultimate destination to experience the tribal way of living. The dominant deity in the village is a goddess called "Zakubai". Legend has it that she was so powerful that she single-handedly took the responsibility of protecting this village along with nearby four villages. Even today, there are no other deities which can be seen here. The ones which were present earlier are kept on the bank of a river near a village called Khadki, with their faces down. Perhaps this is the reason for the matriarchal system of families.

Paradoxically the village is called 'Purushwadi' currently. It wasn't the case earlier. It was called 'Pur-unch-wadi', meaning the village on top of the mountains. The village is predominantly inhabited by a tribal community called 'Mahadeo Kolis' who are living in perfect harmony with mother nature. They are warm and friendly towards guests and life alike. You will notice a disarming, perpetual smile across their faces.

In this village, you can also witness impeccable water conservation techniques and watershed management. The village has also been adopted by Grassroutes, an organisation responsible for promoting village tourism in this tribal belt.

How to reach Purushwadi?

From Mumbai – 4 h (190 km) via NH160
From Pune - 4 h 35 min (165 km) via NH60
Nearest railway station - Igatpuri. You can take the Kolkata Mail, Howrah Mail or Mahanagri Express from Mumbai.

From Pune you can take the Manmad Express which halts at Igatpuri station. Alternatively, you can also board the Deccan Queen and alight at Kalyan station, board a Kasara local and take a taxi towards Bhandardara .
Highlights of Purushwadi:

Ghanchakkar - The third highest peak in Sahyadri mountain ranges
Pabargad - Difficulty level: Medium | Hill Fort
Bhairavnath temple - It is around 20 kms away from the village
Fireflies (Best time to visit) – Monsoon and Pre-monsoon| May - September
For all activities, the age group is above 10 years.

Things to carry:
Identity proof
Water - 3 L
1 torch with spare batteries
Bunch of papers, camera, cap etc.
Some ready to eat food - chikki, dates, plum cake etc
Umbrella, raincoat or windcheater
Extra pair of dry clothes
Medicines, if any
Please avoid wearing gold and other ornaments.
Check out what's in store for you below:
Subscribe to receive our newsletter!
Find the best experiences happening out there in your city or enjoy handpicked content while sitting comfortably at home. Paytm Insider is your go-to place to figure out what to do today!