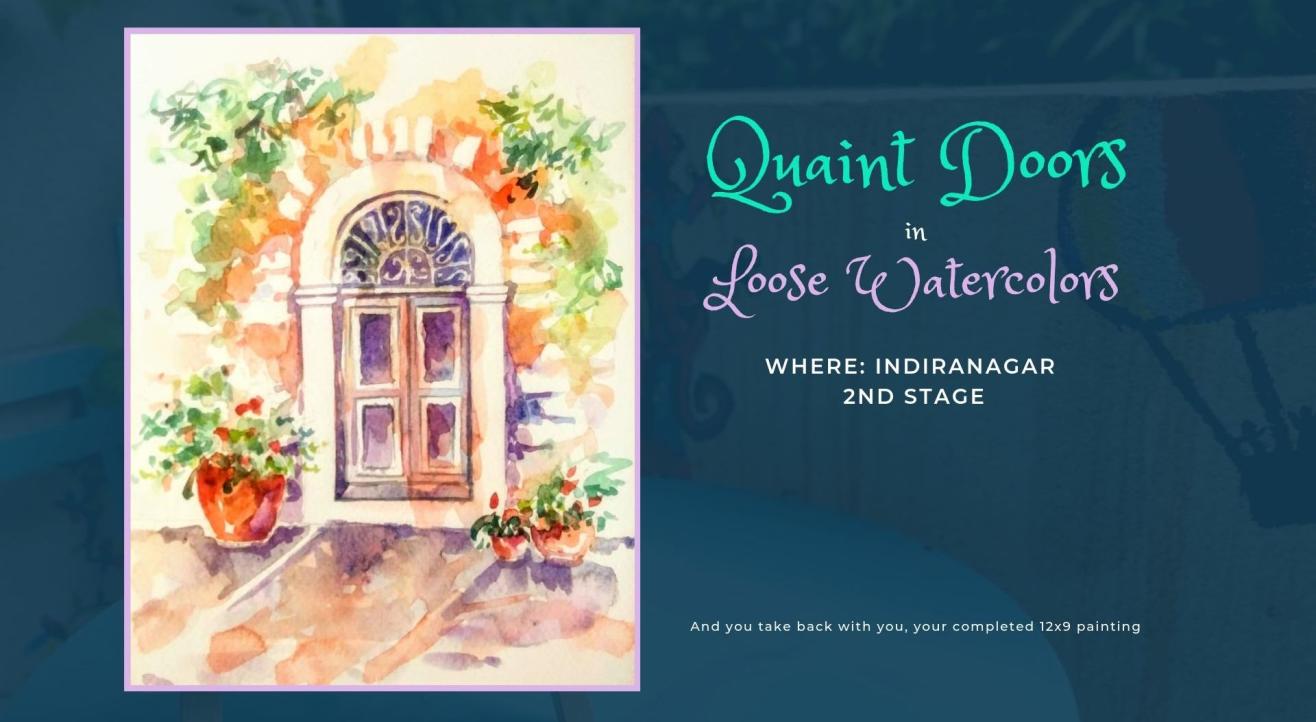 Art
Quaint Doors in Loose Watercolors Painting Party
About
Are quaint doors and pretty entrances your thing? Learn to make this painting using 'loose watercolors', a technique that also helps you learn to not necessarily paint within the lines, lose control and let go. Ideal for a first-timer, a long-time enthusiast, or an artist who wants to try a new medium or style, this workshop is the perfect way to de-stress, learn something new and create new friends.
All material required to make this will be provided at the venue. You take away with you your completed painting done with watercolors on 9" X 12" artist grade paper.
Level - Good for beginners, intermediate and advanced levels.
About the Instructor:
Sai Priya Mahajan is an Indian Contemporary Artist who recently won the Outstanding Watercolor Award at the Boldbrush Contest. An engineering graduate from IIT Bombay, she has now exhibited in India (Mumbai, Bangalore, Chandigarh) as well as internationally (NY, Philadelphia - USA, Toronto-Canada, Taipei-Taiwan) and is part of several Art Associations including the International Watercolor Society, Philadelphia Watercolor Society, National Watercolor Society, USA and a lifetime member of the Art Society of India. Sai loves to share the joy of painting by teaching various artforms and has conducted several art workshops in the past.
Rough schedule
First 15 mins - Introduction & Quick Demo on Watercolor usage
Next 15 mins - Drawing
Next 1 hour - Painting with watercolors
Last 30 mins - Wrap up and photos
Please reach 5-10 mins before the event starts to get comfortable and avoid keeping other participants waiting. We will start on time.
Tickets once booked, cannot be cancelled/ rescheduled.
Venue
Art Studio & Gallery
15th Cross, 6th Main Road, 2nd Phase, Indiranagar, Mahalakshmi Layout, Eshwara Layout, Indiranagar, Bengaluru, Karnataka 560038