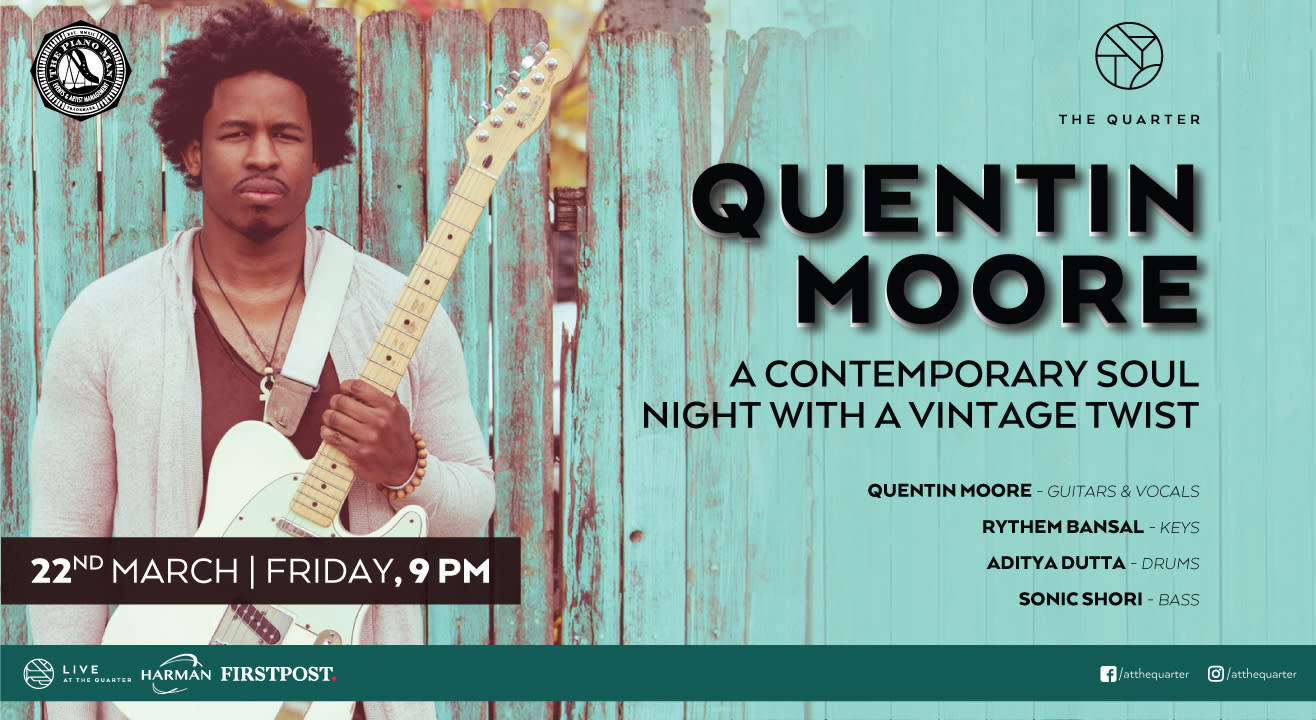 Music
Quentin Moore at The Quarter - A Contemporary Soul Night with a Vintage Twist
749 - 1,499 (Prices subject to change)
About
"Quentin Moore is the sexy prototype for neo-retro soul music with roots in Austin, TX and wings in international skies. He is a composer and multi-instrumentalist with the talent, versatility, and sex appeal of legends in the music industry, such as D'Angelo, Curtis Mayfield, Prince, Al Green, Earth, Wind and Fire, and Marvin Gaye."
After selling out shows in a 2017 Europe/Russia tour, breaking the top 10 spot on the UK. Soul Chart for his most recent album, Black Privilege, Winning a total of 5 Dallas 2017 local awards Including Best Funk/R&B Act, Best Vocalist, and Best Album (Black Privilege), his smash single, Natural Sista, charting #1 on the UK Soul Chart for six weeks, and raising over $30,000 from loyal fans to help fund his music projects and concerts, and selling out concerts in over 15 countries in Spring/Summer 2018, and Russia / Asia Fall of 2018, Quentin remains that loveable character who is always the life of the party. He brings that energy to the stage that is unmatched and truly memorable.
He performs in India with The Piano Man Jazz Club's inhouse band!
Quentin Moore: Guitars & Vocals
Rythem Bansal: Keys
Aditya Dutta: Drums
Sonic Shori: Bass
Rythem Bansal
Rythem Bansal is a professional pianist and educator based in New Delhi, India. He had successfully completed Grade 8 with merit in Piano from Trinity College of Music, London.

He is a part of The Piano Man Jazz Club Team as the house pianist and plays there every Sunday night (Musician Mixers). He is a former piano faculty at Performers Collective (formerly Gurgaon School of Music) and is currently teaching at Blue Notes School of Music and also giving private lessons.

Aditya Dutta
Aditya Dutta is a professional drummer based in Delhi. He is a part of The Piano Man's inhouse band for Sunday Musician Mixers. Performing and collaborating as a sessions drummer in the Delhi independent music circuit for the past 1 year, He has actively played with Rainer Pusch (Germany), Karan Khosla Trio, Aditi Dot., Rythem Bansal, Rie Ona (Japan), Ipshita Roy and various other musicians and acts from the city.

His influences range from Jazz, Funk, R'n'B, Soul, Swing to Indian classical Music. He also serves as the drum faculty at various music schools across the city and actively provides private lessons to people keen on learning drums.

Sonic Shori
Sonic Shori is a professional bassist in the city of Delhi. He is a student of Grammy-nominated Greek- American musician Panagiotis Andreou. He has comprehensive stage experience, and has collaborated with musicians from several different genres including classical, fusion, funk and metal. His playing combines complexity with cohesion, and playing melodies with dexterity, musicality and tenacity.

Over the last few years, Sonic has collaborated with several bands in Delhi and across India, such as Kaash, Antariksh, Trizya, and Adil and Vasundhara.
Quentin Moore + The DaxTones (1 - 8 - 2019)
Venue
The Quarter
Royal Opera House, Mathew Rd, Opera House, Girgaon, Opera House, Girgaon, Mumbai, Maharashtra 400004, India