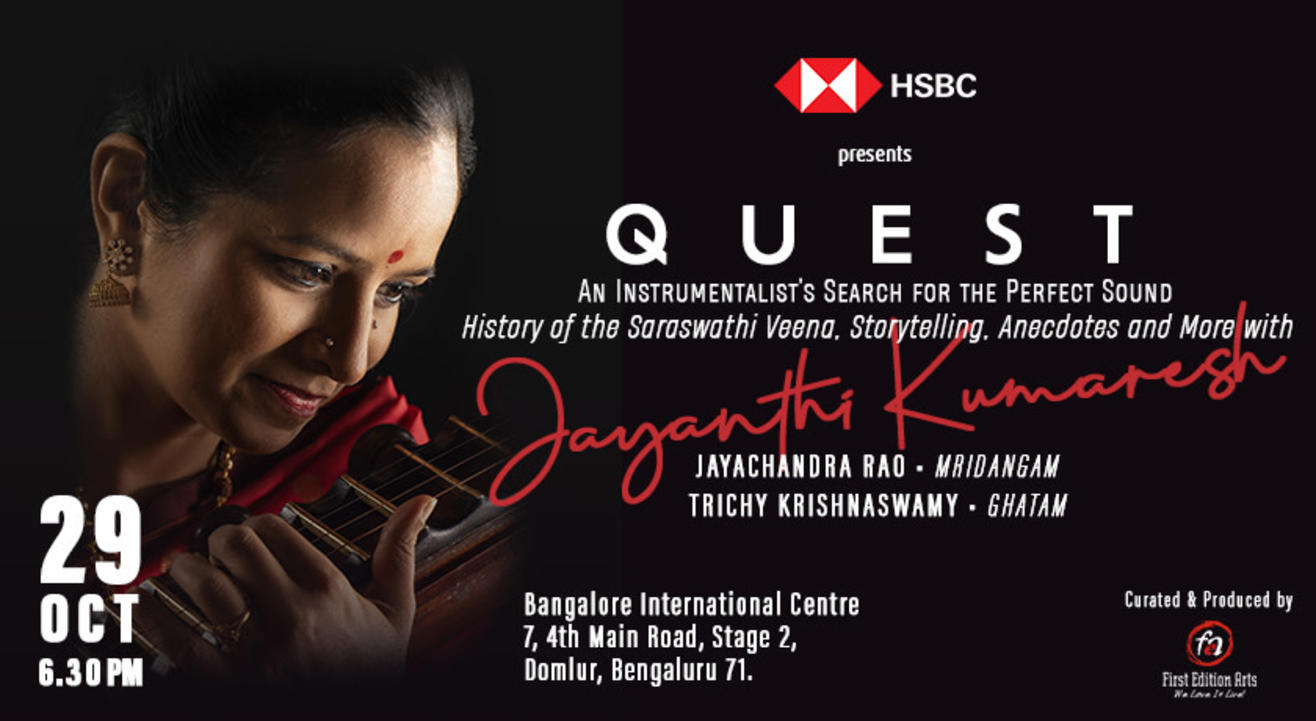 Quest | Live in Bengaluru
Bangalore International Centre (BIC), Bengaluru
Event Guide
For Age(s)
Family Friendly
Live Performance
Enjoy a unique experience
Invite your friends
and enjoy a shared experience
Quest | Live in Bengaluru
Bangalore International Centre (BIC), Bengaluru
Event Guide
For Age(s)
Family Friendly
Live Performance
Enjoy a unique experience
Invite your friends
and enjoy a shared experience
Event Guide
For Age(s)
Family Friendly
Live Performance
Enjoy a unique experience
Invite your friends
and enjoy a shared experience
An evening of the most evocative artistry rooted in the rich history of Carnatic instrumental music played on the magnificent Saraswati Veena, the national instrument of India, by Vidushi Dr Jayanthi Kumaresh.
For audiences in Bangalore, Quest, is an opportunity to spend an evening of profound music on the Saraswati Veena and informed conversations around its history and context layered with personal narratives, by a consummate and pioneering artist, researcher, collaborator, educator at the height of her creative powers.
This concert will begin with a stage display of an heirloom vintage Saraswati Veena and Jayanthi ji will set the evening rolling with a personal introduction to the beloved instrument.
The concert that follows will be a combination of the works of legendary composers and Maestros as well as new interpretations of traditional material. Jayanthi Kumaresh will takes us through the cultural history of the Saraswathi Veena, its versatility and unique place in Indian Classical Music, her own experiences, aesthetic ideas and milestone moments over nearly four decades of a life in Music.
Legendary vainikas and artistes, Vidwans like her Guru, Smt Padmavathy Ananthagopalan, Dr S Balachander, Chitti Babu, Doraieswamy Iyengar and Emani Sankara Sastry among others will be remembered and honoured as a Live tribute to the manner in which the Saraswati Veena has anchored itself in the distinctive ethos of each state and region in South India.
Jayanthi Kumaresh will take audiences at the intimate and elegant Bangalore International Centre, through the intellectual, improvisational, aesthetic, abstract powers of her instrument to reveal how it resonates at a fundamental level with audiences worldwide as the perfect communication beyond all linguistic and cultural barriers. She will also speak about the design of the Saraswathi Veena, its esoteric significance and perform traditional as well as her own compositions in the context of traditional music.
She will be accompanied by Vidwan Sri Jayachandra Rao on Mridangam and Vidwat Sri Trichy Krishnaswamy on Ghatam. The concert will end with a conversation with the author and columnist Shoba Narayan.
About the Artists
Vidhushi Dr Jayanthi Kumaresh
Dr.Jayanthi Kumaresh is India's torch bearer worldwide for Saraswathi Veena, the National Instrument of India. An artiste, collaborator, composer, researcher, creator, pioneer, and educator, her life achievements over 35 years, truly embodies the rich musical heritage of India, making her one of the legendary Veena masters that India has ever produced.
Her rich lineage of music can be traced back six generations and her prodigious musical journey began at age 3 under her mother Vidushi Lalgudi. R. Rajalakshmi. She then left home to live with her guru Vidushi Padmavathi Ananthagopalan for 22 years and learnt the intricate science and art of playing the Veena. Her playing technique was further enhanced under the tutelage of Veena Virtuoso Dr.S.Balachander.
Apart from several prestigious venues and festivals in India, Jayanthi has performed at many international festivals, including the San Francisco Jazz Festival, Darbar Festival London, Celtic Connections in Scotland, Queensland Music Festival, Darwin Music Festival, and Adelaide Music Festival, BBC Proms London and at prestigious venues such as United Nations in New York, the Palladium, Indiana, Théåtre de la Ville, Paris, and Northwest Folklife Festival, Seattle. She has received many awards in India such as "Sangeetha Choodamani", "Kalaimamani" by the Government of Tamil Nadu, "Veena Naada Mani", "Kala Ratna", "Sathyashree", "Gaana Varidhi", is an ten-time recipient of The Music Academy, Chennai's "Award for Veena", "Sangeet Shikar Samman", "Indira Sivasailam Endowment Medal", to name a few. As a pioneer in her field, Jayanthi has presented Veena to audiences in every corner of the world in different formats.
Vidwan Sri Jayachandra Rao on Mridangam
Vid. Sri K U Jayachandra Rao, a star in the world of Indian rhythm today, hails from a musical family.
He had his initial training from late. Vid. Sri Trichur E. P. Narayana Pisharady and pursued his advanced training from Vid. Sri. Palakkad T. S. Rajamani (son of the legendary mridangam maestro Sri. Palakkad Mani Iyer).
His profound experience in the field of music, for over a period of forty years, has made him into one of the finest stars today. He is known for his rich, melodious sound, unique dynamics as well as his versatility and creative artistry. He has performed with three generations of renowned musicians and has shared the stage with many doyens of the music world.
He has also collaborated with many international musicians from various countries, belonging to many genres and has represented the nation on several occasions. He has been awarded with many honorary titles and awards from many prestigious organizations too.
Vid. Jayachandra Rao is not only an accomplished musician, but a passionate teacher, mentoring students from India and abroad.
Vidwan Sri Trichy Krishnaswamy on Ghatam.
Trichy S. Krishnaswamy started learning Mridangam and Ghatam from the age of 10. He had the good fortune of receiving tutelage from Thanjai Sri.V.Srinivasan till 2005. Then, he has been trained by the accomplished Mridhangam Vidwan Sri. B. Harikumar, Top rank Mridangam Vidwan of All, India Radio, Trichy. Krishnaswamy became proficient in the instrument Ghatam and started giving concerts from the age of 15. From then, he has been accompanying many stalwarts of Carnatic music all over the world. He started to touring globally with Violin maestros Sri R.Ganesh & Sri. R.Kumaresh and Saraswathi Veena veteran Dr. Jayanthi Kumaresh to perform in many prestigious Music festivals like Shawai Gandharv Festival (Pune, India), "THE HINDU" November Fest (Chennai, India), Alchemy Festival (South Bank Centre, London), Utsav 2014 (Kennedy Centre, United States of America), Bengal Festival (Bangladesh), SIFAS Festival (Singapore), Darwin Festival (Australia), Theatre De Ville (Paris, France), Hong Kong World Music Festival (Hong Kong) and notable concerts in Middle-East countries to name a few. He also has collaborated with many leading Carnatic, Hindustani, western and folk percussion artists and performed in many percussion ensemble music concerts. The Speaking Veena, is an opportunity to spend an evening with a comsummate artists at the height of her powers
Bangalore International Centre (BIC)
No. 7, 4th Main Rd, Stage 2, Domlur, Bengaluru, Karnataka 560071
GET DIRECTIONS
Quest | Live in Bengaluru
Bangalore International Centre (BIC), Bengaluru
Event Guide
For Age(s)
Family Friendly
Live Performance
Enjoy a unique experience
Invite your friends
and enjoy a shared experience