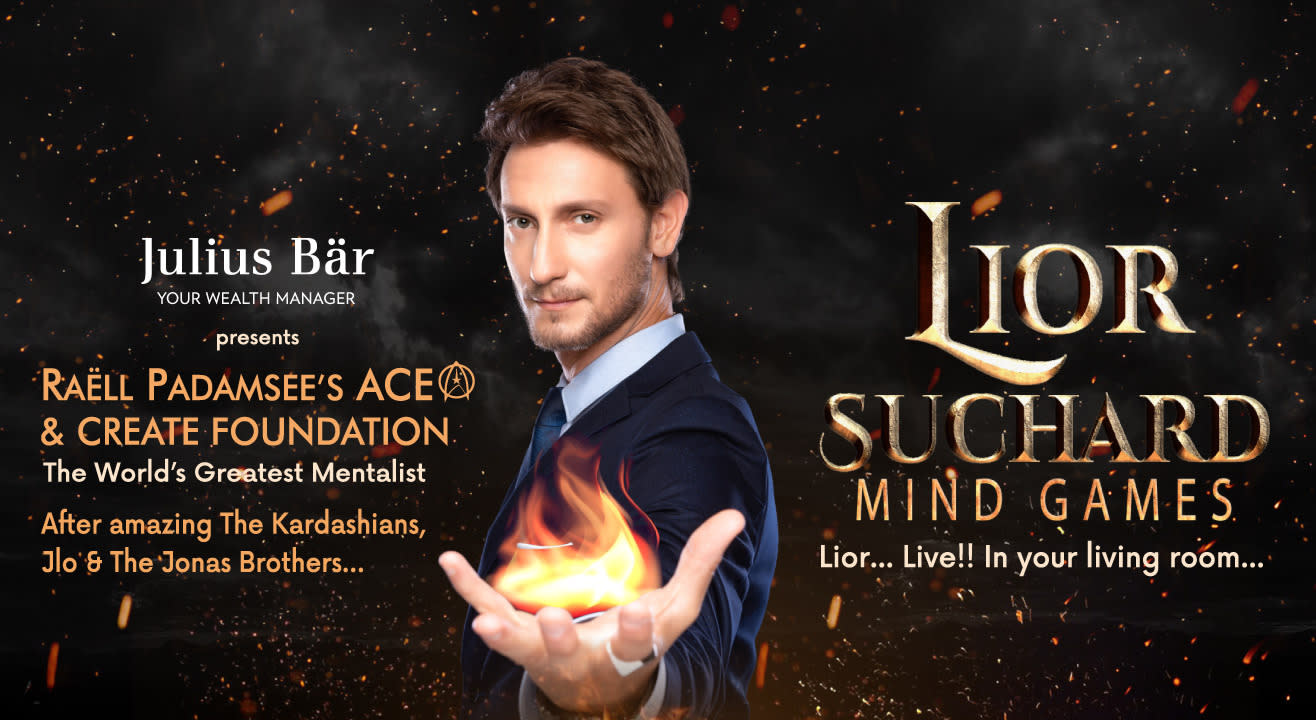 Raell Padamsee's Ace Productions presents: Lior Suchard - Mind Games
August 9 | 6:30PM (IST) | 75 Minutes
Event Guide
Digital Event
Watch on Zoom
For Age(s)
Family Friendly
Live Performance
Enjoy a unique experience
Invite your friends
and enjoy a shared experience
Event Guide
Digital Event
Watch on Zoom
For Age(s)
Family Friendly
Live Performance
Enjoy a unique experience
Invite your friends
and enjoy a shared experience
About the Event
Raell Padamsee's Ace Productions Present - The world's greatest mentalist is back... LIOR SUCHARD LIVE…. IN YOUR LIVING ROOM!
The Global Premiere of LIOR SUCHARD- MIND GAMES a great experience for the family. The first and only show of it's kind, a once in a lifetime experience with full audience participation!
This time you and your family can enjoy the 'Magic' in the comfort of your home. Lior has amazed the likes of Jlo, The Kardashians, The Jonas Brothers, Drake, Beyonce , Jay_Z, Bill Gates, Elon Musk, Jack Ma and the list goes on…
You have to see it to believe it! Let ACE take you on a virtual Journey of Wonder & Amazement.
Come, Let's make history, together. Get ready to be amazed!
Ticket Price in US Dollar -
Premium Ticket - $ 20 (Approx.)
Gold Ticket - $ 32 (Approx.)
Ticket Price in Australian Dollar -
Premium Ticket - AUD 28 (Approx.)
Gold Ticket - AUD 45 (Approx.)
Ticket Price in UK Pound -
Premium Ticket - £ 16 (Approx.)
Gold Ticket - £ 25 (Approx.)
Ticket Price in Dubai Dirham -
Premium Ticket - AED 73 (Approx.)
Gold Ticket - AED 116 (Approx.)
Ticket Price in Singapore Dollar -
Premium Ticket - SGD 28 (Approx.)
Gold Ticket - SGD 44 (Approx.)
Ticket Price in Hongkong Dollar -
Premium Ticket - HKD 153 (Approx.)
Gold Ticket - HKD 245 (Approx.)
Lior Suchard Global Online Premiere Live in Your Living Room
Lior Suchard Live In Your Living Room
Lior Suchard meets Kelly Ripa & Ryan Seacrest
Lior Suchard's biggest mind influencing stunt ever
Lior Suchard will make you loose your voice
Lior Suchard meets Jennifer Lopez & Alex Rodriguez