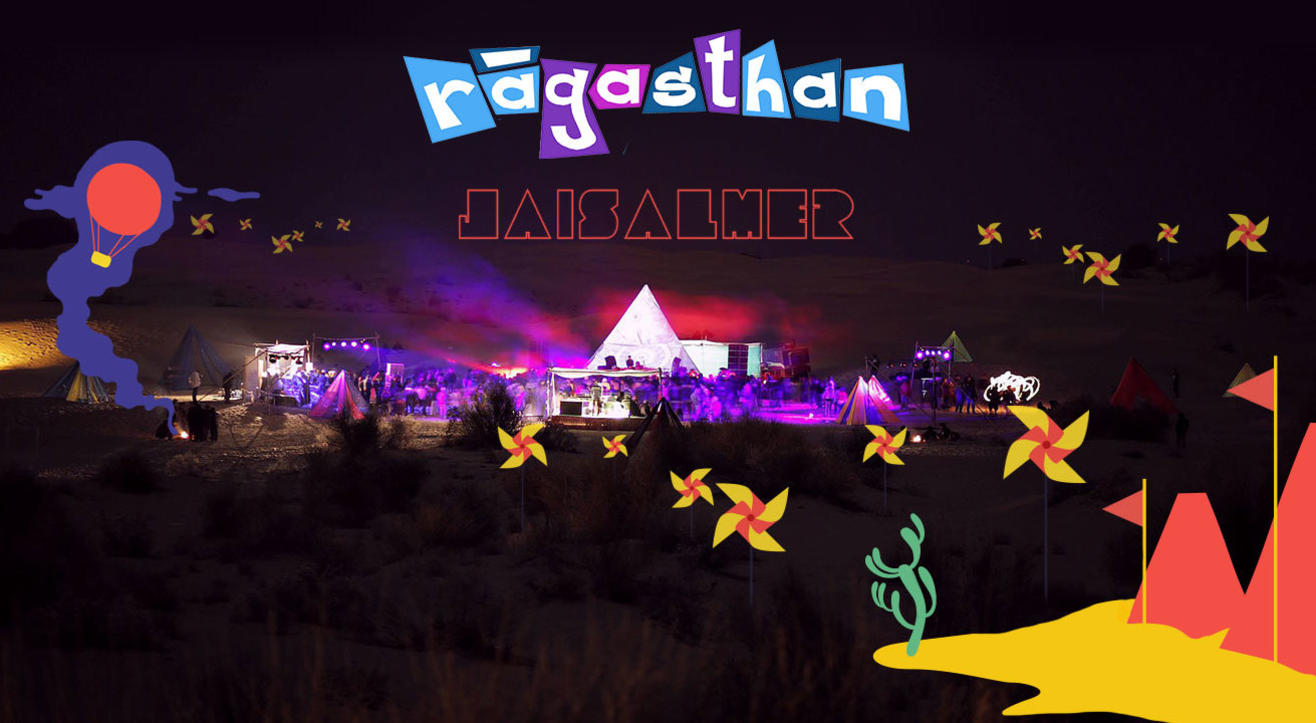 Desert Glamping, Jaisalmer
Step out and enjoy this event
Invite your friends
and enjoy a shared experience
Invite your friends
and enjoy a shared experience
About the Event
Ragasthan, unique yet somewhat mercurial is Asia's first desert camping festival rooted in the expansive dunes of the Thar desert in Jaisalmer, Rajasthan. In its third edition from February 23 to 25th, 2018, Ragasthan shifts gears and dares you to be you, to do what you love and love what you do.
Eclectic music, culture, tradition, collective participation and shared experiences make for the focal point of the festival bringing together life enthusiasts from the remotest corners of India to those spread across the world. A 360-degree scenic view of the horizon, spread out over the towering dunes of inner Thar, Ragasthan stretches a little over a square Kilometre and if rolling down 150 feet high dunes isn't enough, there is more to enthral even the most subdued.
Over 50 artists, one artists' village, a sociable camping space, a dozen film screenings under the open sky, bars and restaurants, art installations, morning yoga sessions and football on the softest playground have weaved their way into the itinerary paving way for uninhibited bliss.
Ditch the known for the unknown.
Come, #UNBELONG
FESTIVAL TICKET: You can buy just a 3-day festival pass and find traditional and modern stay options in and around Jaisalmer or
BYOT:You can bring your own tents and pitch them at designated locations within the festival premises. There are common washrooms and baths available as well as charging stations.
SWISS TENTS:there's two categories in Swiss Tents. Both come with plug points, private attached bathrooms and running water besides twin beds with warm blankets. The Regular Swiss Tents are 15x30 feet in size while the Premium ones are a little more spacious and closer to all the festival action.
SINGLE BED IN A DORM: With so many of you wanting to travel solo to #UNBELONG with people like yourselves, we thought we'd make it a little easier! This option is for the single travellers who want to share a regular Swiss tent with 3 others which makes it a tent of 4. Separate male and female occupancy tents available.
This year's venue is the beautiful Lakhmana Dunes where we will be hosted by Desert Glamping Camps. About a 40-minute drive from Jaisalmer town the venue is on the same route to Sam Sand Dunes.
FLY: You can fly to Jaisalmer now directly from Delhi or Jaipur. There's no direct flight from any other city. Jodhpur is the closes airport other than Jaisalmer so alternately you could fly to Jodhpur and either cab it from there or there's plenty of public transport.
ROAD OR RAIL: However, if you choose to drive, the roads are beautiful all the way to the festival. Trains are frequent from Calcutta to Uttarakhand as well as the south of India.
Map It: https://goo.gl/maps/dRu3jrP7bxL2
Food and beverages are available at the festival.
There will be at least one 24 hour café and food trucks as well as stall owners are allowed to serve food and beverages through the night on site for festival residents.
Outside food and beverages are not permitted within the festival premises.
Alcohol will not be served to people under legal drinking age.
Carry really warm clothes for the night and summery clothes for the day
Don't forget any medication you may be on. In case you have any medical issues that we must be made aware of please contact us in advance on info@ragasthan.com so that we can ensure we have you covered in case there is something to worry about.
In case you're travelling with children please carry all baby foods, medicines with you as well as warm clothes for the baby. Jaisalmer is an hours drive from the festival and is generally equipped with whatever you may need.
However sometimes specific things might not be available.
Remember we're in the wild so respect all nature around you. In case you encounter any wild animal please keep your distance and do not approach it and inform our security team.
Checkout time: Monday, February 26 | 10AM
Ragasthan 2018 The After Before Movie
Line Up at the Festival - February 23
Line Up at the Festival - February 24
Line Up at the Festival - February 25
Desert Glamping, Jaisalmer
Near Sam Sand Dunes, Jaisalmer, Salkha, Rajasthan 345001
GET DIRECTIONS