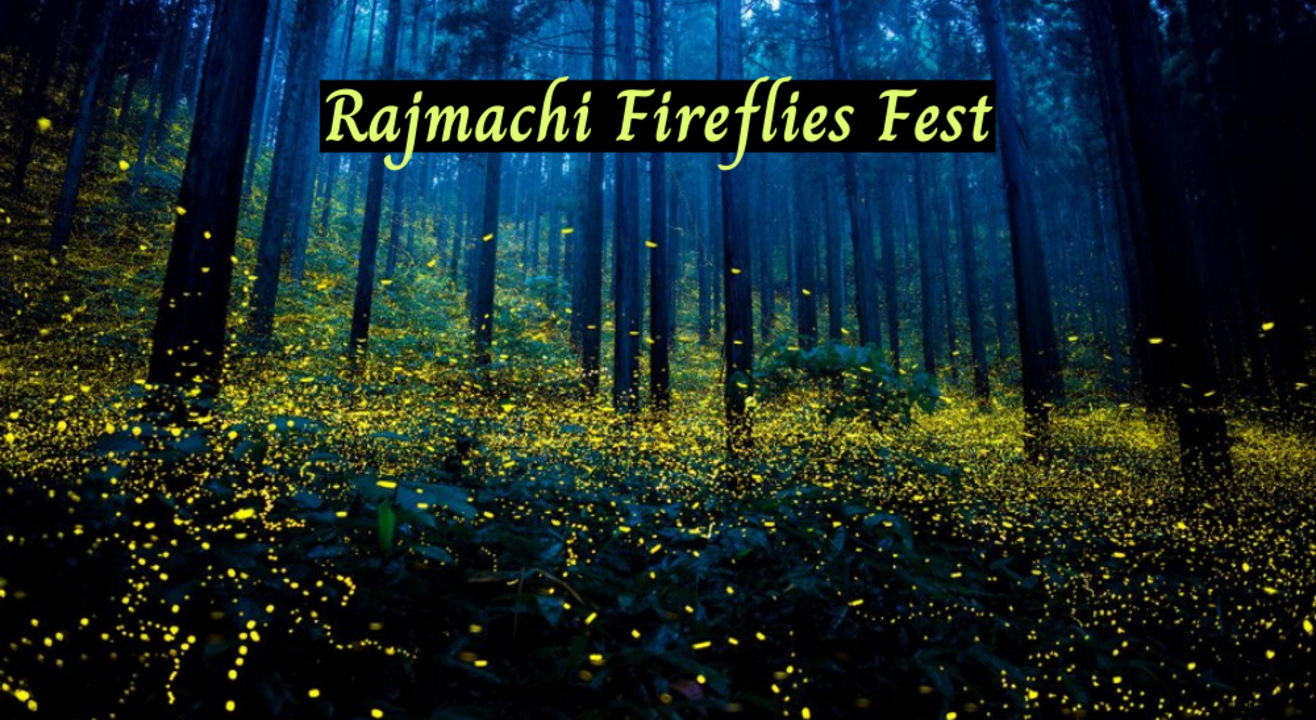 Rajmachi Fireflies Night Trek | LiveB4YouDie
May 21 | 4:40PM - June 26 | 12:00PM
Rajmachi Fort Trek Top, Mumbai
Step out and enjoy this event
Invite your friends
and enjoy a shared experience
Rajmachi Fireflies Night Trek | LiveB4YouDie
May 21 | 4:40PM - June 26 | 12:00PM
Rajmachi Fort Trek Top, Mumbai
Step out and enjoy this event
Invite your friends
and enjoy a shared experience
Covid 19 Safety Measures
This event adheres to the following

Health & safety measures
Invite your friends
and enjoy a shared experience
Covid 19 Safety Measures
This event adheres to the following

Health & safety measures
About the Event:
Highlights:
Escape into the nature with this audacious trekking experience with your musketeers and family to the Rajmachi Fort.
Explore the heritage of Shrivardhan and Manaranjan Castles and appreciate its armature.
Enjoy the delightful meals served to you during your trekking journey.
Capture the beautiful green mountains, falls, stunning castles, green denes, and the beautiful foliage and fauna during your Rajmachi Fort Trek.
Get pick up and drop off installations included in the Rajmachi journey package to and from Lonavala in participated transfers.
Stargazing at night bonfire & music.
Rajmachi Fireflies Night Trek - Overview.
About Rajmachi
Rajmachi is located in Maharashtra's harsh Sahyadri Mountains (Western Ghats), and it is well a suitable place for night trekking. Rajmachi places are easy to trek, and the track is well signposted, and one can depart without a guide because the altitude is not very high. The Rajmachi fort walk begins in Udhewadi and the fort is reached after a difficult climb between 2.5 to 3 hours. You will be surrounded by amazing natural splendor throughout the Rajmachi fort trek. Through the night trek to Rajmachi Fort, we offer you to enjoy the beauty of nature and experience an audacious day- eschewal with your musketeers and loved bones. Book Rajmachi journey package for 2 days 1 night and enjoy this fantastic experience of night trek.
Why Rajmachi fireflies night trek?
An exciting climb up to the Rajmachi Fort in Maharashtra is a terrific alternative if this thrills you and you can watch the beautiful fireflies flashing in the dark. The Rajmachi Fort walk features a very scenic track with a string of intriguing sights like waterfalls and Buddhist caves, making it ideal for a long weekend. A historic fort with a stunning view greets you at the summit of your walk. The Rajmachi Peak has historical significance dating back to the First Anglo-Maratha War when porters used this route to reach the fort. Two important forts on this summit, the Shrivardhan Fort and the Manaranjan Fort, were declared protected monuments after independence.
About Fireflies:
Initial Monsoon climate is the ideal period for fireflies and glow-worms for mating and in pursuit of the mate, hundreds of fireflies gather together on a tree displaying their bio-luminescent lights in the dark nights. Dense forests are just the perfect place for these twinkling creatures for this kind of ritual and this is the exact time when we can experience synchronous twinkling of hundreds of fireflies one of the most beautiful phenomena in nature. Experience doesn't need any explanation its phenomenon and visuals leave you with moments to cherish for a lifetime.
Detailed Itinerary.
Day 1
(NOTE – Catch 12125 PRAGATI EXPRESS Departing from CSTM at 04:25 PM)
• 07:00 PM – Meet LiveB4YouDie team at Lonavala station.
• 07:30 PM – Travel by jeep with some new experience
• 8:35 PM – Reach the car drop point.
Reach Y fork junction and start a two hours jungle trek towards Rajmachi village, Enjoy the experience of walking through the jungle with many springs on the way.
• 08:45 PM – Start the Trek towards Base village with Cashing Fireflies on the way. (It's a simple 2 hours walk)
01:00 Am The jungle trail ends as we reach our base village Rajmachi where some delicious typical 02:30 PM – Enjoy the night by Singing Songs, chill with your friends.
Day 2
• 05:00 AM – Wake Up.
• 06:30 AM – Visit Shrivardhan
• 09:00 AM – Have Breakfast.
• 10:00 AM – Depart for Lonavala.
We walk the same trail back to reach the Y fork junction.
• 12:00 PM – Reach Lonavala. Off to Mumbai. Meet soon.
Inclusions:
Travel from Lonavala to Lonavala.
Unlimited Breakfast.
Washroom & Changing Facilities
Entrance Fees.
LiveB4YouDie Expertise Representatives
First-aid assistance.
Exclusions:
Any kind of personal expenses.
Any kind of cost which is not mentioned in the cost includes above.
All expenses incurred due to unforeseen and unavoidable circumstances like roadblocks, bad weather.
Any medical / Emergency evacuations if required.
Things to Carry.
Identity proof (Must)
A bottle of water (At least 2 Litters) Must
Camera (on your own risk)
Some ready to eat food - Plum cakes, Biscuits etc.
Extra Pair of dry clothes
ORS, Glucose, Electrol, Personal Care Medicine those which you require usually.
A good a trekking shoe, and extra pair of floaters and socks
Please avoid wearing Gold and other ornaments.
Dress Code T-shirt, Flexible Track Pant.
Carrying sanitizers, gloves, face shield and mask is compulsory.
Cap
A haversack to put in all the things to be carried, so that one has ones hands-free while trekking.
Cancellation Policy:
100% amount to be paid in advance to book the trip.
No show = No refund.
NOTE:
Firefly sightings are dependent on weather conditions. Ideally, this is the best time to sight them. However, we do not take responsibility for low firefly sightings.
Avoid carrying heavy weight backpack for this trek. Keep everything covered in a plastic bag as there can be chances of raining.
The food provided would be a simple village food
This is a budget nature trip. The facilities available at the campsite are minimal.
The tents are simple but cozy, non-luxury tents. The food will be simple but tasty authentic village food.
Since the campsite is at an eco-sensitive zone, permanent toilets are not available at the campsite but can be accessed at a walking distance.
In case of any unexpected change in weather or other unforeseen situations that are beyond our control and due to which camping may not be feasible, the operator will try their best to make alternate stay arrangements in the nearby homestay OR village (subject to availability).
In case it rains, a campfire will not be possible.
The itinerary is indicative only. A circumstantial delay can be expected on the day. Please make post-trip plans after adding a buffer accordingly
Basic Washroom facility (Indian Toilets) available at the Fort, its Trekking, not a leisure trip so one needs to prepare themselves accordingly.
Please go through the complete itinerary, we won't entertain any request of leaving early from the event. It's a group event, not a customized one, so please adhere to the schedule and take back lovely memories.
Travel Guide :
[Train Schedule]
*Catch 12125 PRAGATI EXPRESS*
Departing from CSTM at 04:25 PM
• 04:25 PM CSTM
• 04:37 PM Dadar
• 04:54 PM Thane
• 05:29 PM Panvel
• 06:07 PM Karjat
• 06:48 PM Lonavala.
Rajmachi Fort Trek Top
Rajmachi Village, R9GX+XXQ, Udhewadi, Maharashtra 410405, India
GET DIRECTIONS
Rajmachi Fireflies Night Trek | LiveB4YouDie
May 21 | 4:40PM - June 26 | 12:00PM
Rajmachi Fort Trek Top, Mumbai
Step out and enjoy this event
Invite your friends
and enjoy a shared experience