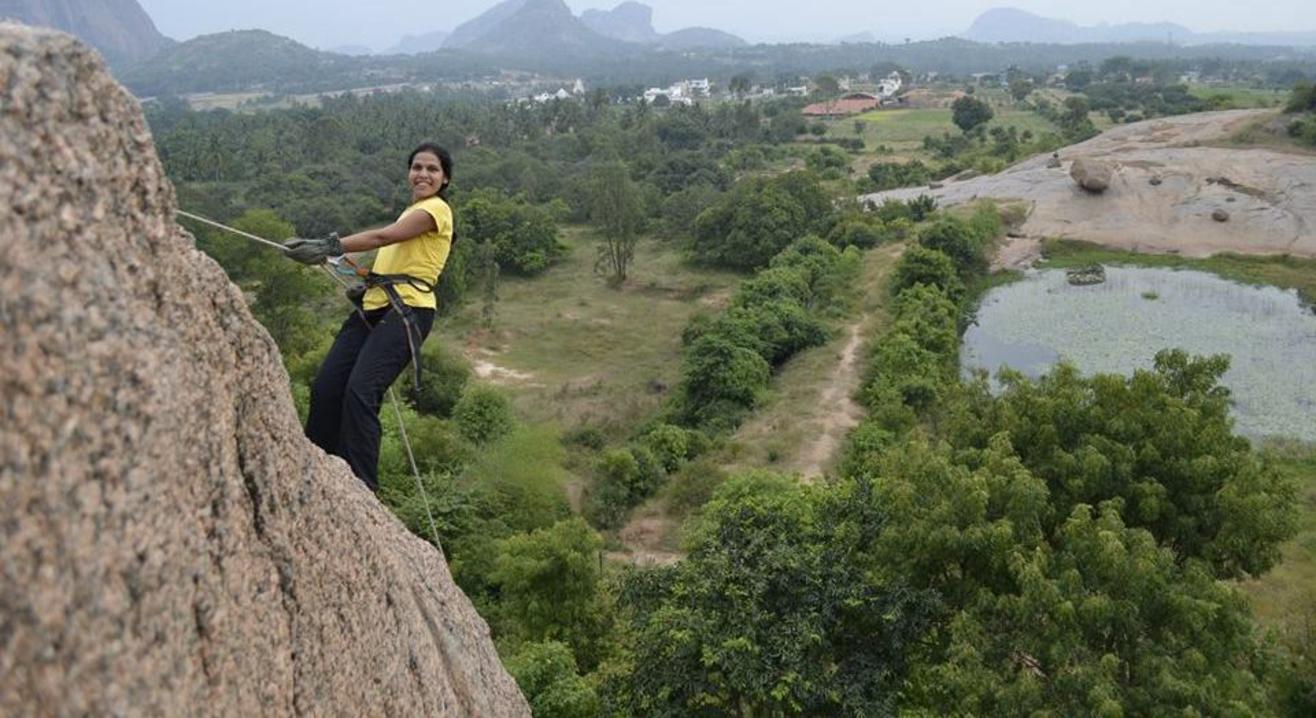 Adventure
Ramanagar Day Adventure And Activities | Escape2Explore
1,300 (*inclusive of taxes)
About
Ramanagara is considered as one of the closet trekking and adventure destination near Bangalore and is the perfect weekend getaway plan. Located around 50 km from Bangalore on the Bangalore Mysore road,Ramnagara's hills provide some brilliant spots to unleash the swashbuckler in you. Ramanagaram comprises of a series of mountains like Ramgiri, SRS betta, Kakasura betta, Kapotagiri which feels like heaven to climbers, it's also considered as the birthplace of rock climbing. Trek through the ravishing Ramnagara hills, popularly called Sholay hills, where the legendary Bollywood movie 'Sholay' was shot in the backgrounds of Ramgiri hills, now known as Ramadevara betta must be on every adventurer's check list. It is declared as a wildlife sanctuary for the conservation of Asian Vultures. Apart from vultures, rare sightings of Indian bear and Leopards are noticed. The beautiful temples at the peak of each mountain constructed by the emperors of Mysore and Magadi stands tall, preserving the essence of the historic days. Experience the amazing trek through the hills of Ramanagara, where the peak offers some amazing sights to behold and feel the adrenaline rush in activities such as Rappelling and Kayaking.
Itinerary
06:30 AM Pick up starts from Bangalore
08:30 AM Reach Ramanagara campsite and have breakfast
09:45 AM Start the activity (Paintball & Zipline)
01:30 PM Fresh up and have lunch
03:00 PM Manchanbele water activities & Rappelling
05:30 PM Head back to Bangalore enroute Big banya tree
07:00 PM Reach Bangalore
Includes
Transportation (from/to Bangalore)
Breakfast
Trekking
Lunch (veg Non Veg)
Activities like Rappelling, Kayaking, Paintball and Zipline
Outdoor activities
Pickup Points
Marathahalli (06:30 AM) - Near Kalamandir
Silk Board (07:00 AM) - Bus Stop, Opposite To Pizza Hut
BTM (07:10 AM) Udupi - Garden Bus Stop, Opposite To A2B
Banashankari (07:30 AM) - Bus Stop
RR Nagar (08:15 AM) - Gopalan Arcade, Mysore Road
Mode Of Transport
1 to 12 pax tempo traveller or winger ( 14 seat vehicle)
12 to 30 pax mini Bus ( 24 seat or 32 seat vehicle )
30 to 50 pax big boss ( 50 seater vehicle )
Things to carry
Backpack
Rain coat/Poncho
Water bottles
Energy food
Personal medication
Sweater/ jackets for the night
Extra clothing (in case you plan to dive in the lake)
Sports shoes or trekking shoes in good condition
Track pants and cotton T shirts
Organiser Details For queries about this event contact the organiser Sonu 9886421211
About Escape2Explore
Escape2Explore Adventures is not just one of Bangalore's leading adventure travel companies, it's a hub for all nature lovers, adventure enthusiasts and those who just need a little escape from the routine of life to explore outdoors. With Escape2Explore, find the much notable adventure activities near Bangalore. Choose from a wide range of exciting outdoor activities and destinations that best suit your team/group, and leave the arrangements to us.