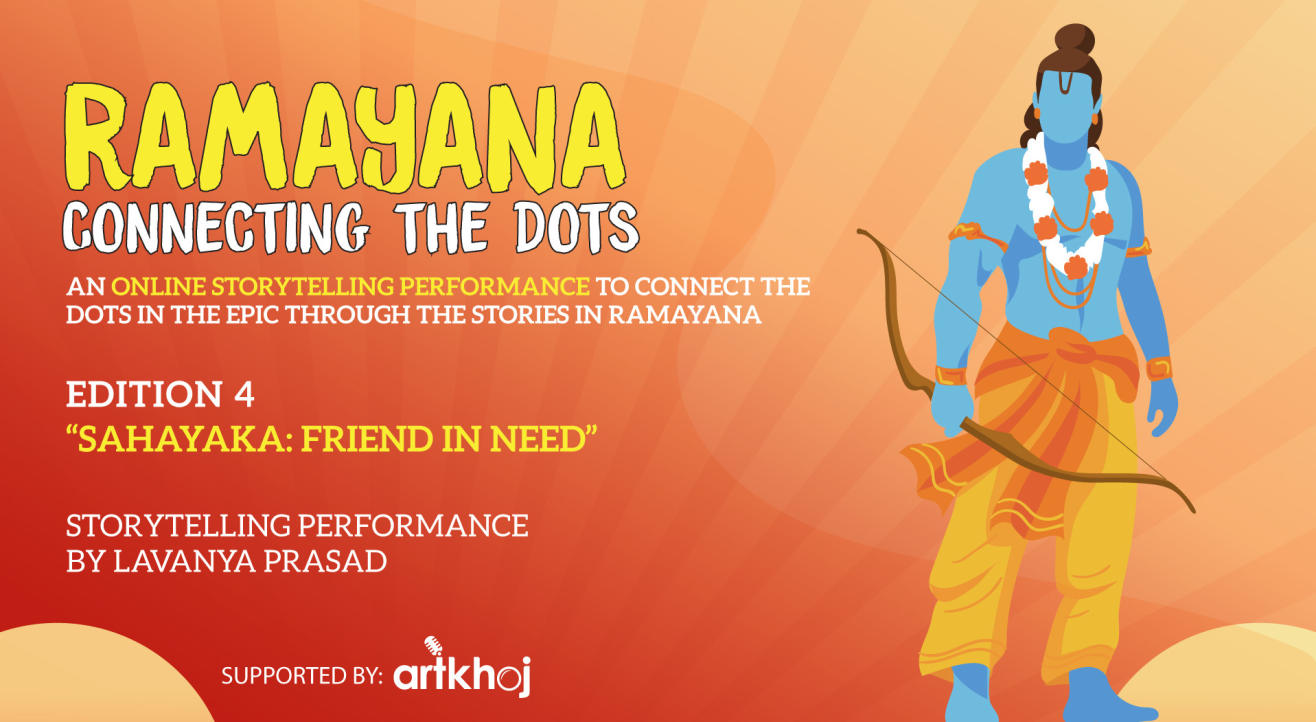 Ramayana, Connecting the Dots - Online Storytelling Performance
Invite your friends
and enjoy a shared experience
Invite your friends
and enjoy a shared experience
About the Event
We bring you an unexplored journey of the epic which must have been heard many times but not understood fully, The Ramayana.
Ramayana, one of the greatest epics that India is proud of, tells us the way of life.
While Ramayana has been explored in all its glory by many, Lavanya Prasad tries to bring to you the awe that she felt when she happened to connect the dots in the epic through the stories in Ramayana, some known and some rarely known that helped her see the bigger picture. To her, it is a never-ending journey and every time she revisits the stories, a new layer unfolds. She hopes to give you a similar experience through this series.
__
In the first, second edition and the third editions, we explored stories mostly unknown that gave an insight into the divine play that unfolded beautifully to give us this great epic.
In this session, she will be sharing stories about the friends who were the greatest helpers, without whom Ramayana would not have been possible. Who were they and what is their story?
Join us on the 26th of September, 7 to 8 pm and we'll connect the dots together.
If you had not attended the earlier sessions, do not worry there will be a prelude to the same.
Takeaway from the session:
The sessions are aimed at creating a spark in the minds of the listeners that will help them go and find more about what is being shared. This we believe will want you to go and find more about Ramayana and its characters.
Any prerequisite:
Come with an open mind and enjoy the stories.
About the Event:
This performance will be conducted online through Zoom.
The performance can either be watched live on zoom on 26th September at 7 PM or
The recorded version of the performance can be watched later.
Upon successful registration, we will be sharing a link and instruction to join the online event on the day of the event.
Storytelling will be done in English.
The performance is for 15 years and above.
Please note:
If you enroll for a recorded show, the recording will be made available 2 days after the performance.
The show will be recorded on zoom and the same recording will be shared.
The recording will be available for 7 days after it is shared.
About the Artist:
Lavanya Prasad is an electrical engineer turned professional storyteller who makes lasting beautiful connections through stories rather than electrical wires. She is the founder and master storyteller at Tale'scope, her storytelling organization, that trains children and adults in the art of using stories in their work, gives workshops and talks on various subjects in corporates and other organizations and performs in storytelling festivals across India and abroad.
Contact us on +918971492903 for any queries.