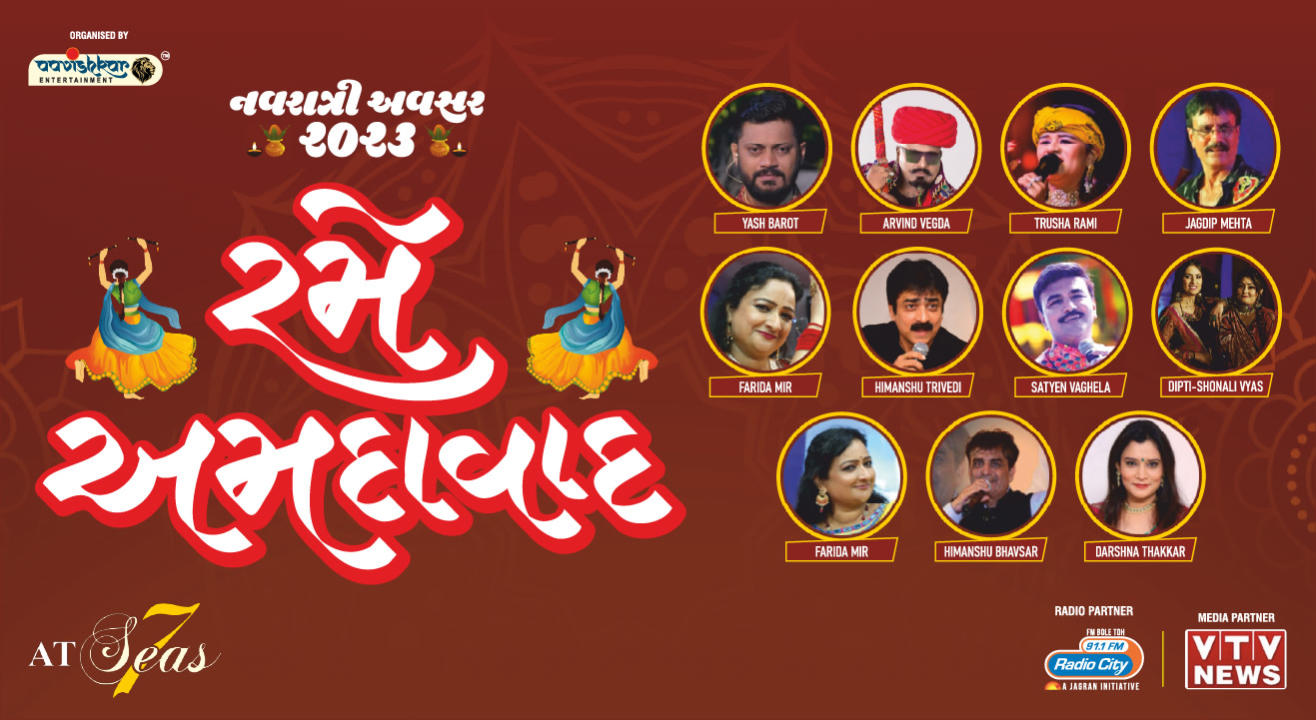 Rame Amdavad | Navratri 2023
October 14 - 24 | 8PM Onwards
Seven Seas Party Plot, Ahmedabad
Event Guide
Live Performance
Enjoy a unique experience
Invite your friends
and enjoy a shared experience
Rame Amdavad | Navratri 2023
October 14 - 24 | 8PM Onwards
Seven Seas Party Plot, Ahmedabad
Event Guide
Live Performance
Enjoy a unique experience
Invite your friends
and enjoy a shared experience
Event Guide
Live Performance
Enjoy a unique experience
Invite your friends
and enjoy a shared experience
About Rame Amdavad Event
Discover the Heart of Amdavad's Vibrant Culture!
Join us for the annual Rame Amdavad Event, a celebration of the rich tapestry of culture, creativity, and commerce that defines the city of Ahmedabad. This event is a testament to the spirit of Amdavad, where tradition and innovation converge to create a unique experience for all.
Artist Line up
14 October → Yash Barot
15 October → Arvind Vegda
16 October → Trusha Rami
17 October → Golden Chairs Orchestra
18 October → Farida Mir
19 October → Himanshu Trivedi
20 October → Satyen Vaghela
21 October → Dipti Vyas / Sonali Vyas
22 October → Farida Mir
23 October → Yash Barot
24 October → Darshna Thakkar
FAQ's
1) What is the event's date and location?
- The event will take place over 11 days during the Navratri festival from 14th October to 24th October at Seven Seas Party Plot, located in Ahmedabad.
2) How do I purchase tickets for the event?
- You can purchase tickets online through paytm, or at designated ticket counters.
3) Can I buy tickets on the day of the event?
- Tickets will be available for purchase on the day of the event, subject to availability. However, we recommend buying tickets in advance to secure your spot.
4) Is there a dress code for the event?
- Yes, there is a traditional dress code for the event. We encourage attendees to wear traditional Indian attire to enhance the festive spirit.
5) Are children allowed at the event?
- Yes, children are welcome to attend the event. Minors must be accompanied by a guardian or parent.
6) Can I bring outside food and beverages?
- Outside food and beverages are not allowed at the event. There will be a variety of food stalls offering traditional Navratri delicacies.
7) Are photography and recording allowed?
- Photography and recording of performances are allowed for personal use. However, commercial use requires written consent from the organizers.
8) What happens if the event is canceled?
- In the unlikely event of cancellation, ticket holders will be eligible for a refund. Details regarding the refund process will be communicated through official channels.
9) Is there parking available at the venue?
- Limited parking is available at the venue on a first-come, first-served basis. We encourage carpooling or using public transportation.
10) Are there any age restrictions for certain events or activities?
- Some events or activities may have specific age restrictions. Please check the event schedule or contact our customer support for more information.
11) Can I get a refund if I can't attend the event?
-Tickets are non-refundable. However, in case of unforeseen circumstances, please contact our customer support for assistance.
12) Can I transfer my ticket to someone else?
- Tickets are non-transferable. Each ticket is valid only for the individual named on the ticket.
13) Will there be on-site medical assistance?
- Yes, first aid facilities will be available on-site for minor medical assistance.
14) How can I stay updated about event news and changes?
- Stay updated by visiting our official website [Website URL] or following us on our official social media channels.
Seven Seas Party Plot
Near Science City Circle, 3FQV+9FM, Sardar Patel Ring Road, Ahmedabad, Gujarat 380060, India
GET DIRECTIONS
Rame Amdavad | Navratri 2023
October 14 - 24 | 8PM Onwards
Seven Seas Party Plot, Ahmedabad
Event Guide
Live Performance
Enjoy a unique experience
Invite your friends
and enjoy a shared experience