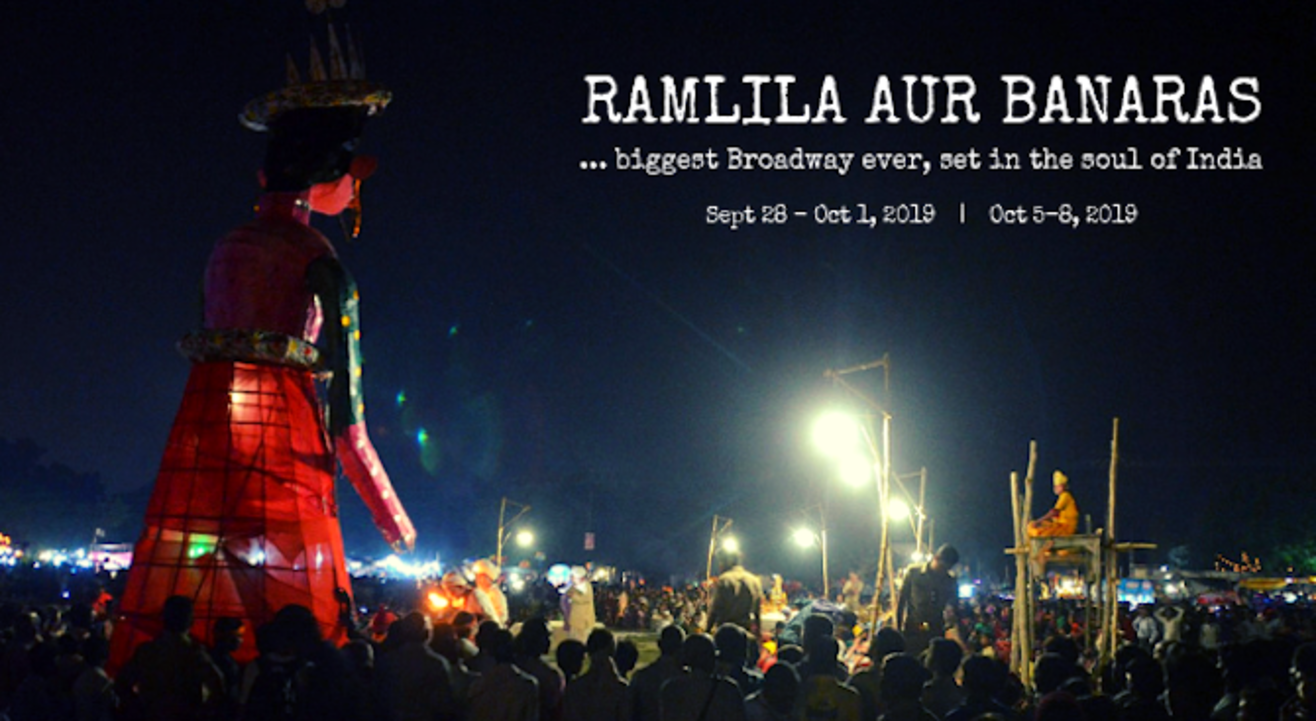 Ramlila Aur Banaras : Biggest Broadway Ever, Set In The Soul Of India!
Invite your friends
and enjoy a shared experience
Invite your friends
and enjoy a shared experience
About the Event
Witness World's Biggest Broadway
Larger than life sets, fascinating screenplays
Thousands of spectators from all walks of life. Young-Old, Men-Women, Sadhus-Businessmen
Sitting spellbound - on the ground, in the trees, and atop the walls! Jubilant cheers, and Bhajans between the scenes
Explore Varanasi and all its flavours
Heritage Walks, Classical Music, Kathak, Food tours, lunches in old Havelis, Boat tours on the Ganga, and more!
A fascinating history that has led to a vibrant culture
Some of the finest food
Once in a lifetime experience!
ITINERARY
Saturday, Day 1
2 pm - 5 pm - Food Walk
5 pm - 8 pm - Ramlila darshan - Ram-Ravana Yudha - the final showdown!
Sunday, Day 2
5:30 am - 7:30 am - Sunrise boat tour
7:30 am - 10 am - City of Good Life Walk
10:30 am - 12:30 pm - Music + Kathak Performance and Appreciation 5 pm - 8 pm - Ramlila Darshan - Yuddha part 2, Post-war analysis!
Monday, Day 3
8 am - 10 am - Skit based on Banarasi life, people, and language
10 am - 1 pm - Essential Varanasi Walk
1 pm - 3 pm - Traditional cuisine Lunch at Bhartendu Bhavan Haveli 5 pm - 7:30 pm - Sunset boat tour
Tuesday, Day 4
7 am - 11 am - Sarnath tour
2 pm - 5 pm - Treasure hunt
HIGHLIGHTS OF THE EVENT
Ramlila
Lila Grand finales - showdown between Ram and Ravan!
Fun-filled pilgrimage
Magic of Indian Melas!
Delish food
Tamatar Chaat, Palak chaat
Thandai, Lassi, Chai
Kachori-sabzi, Litti Chokha
Banarasi Paan
Boat rides on the Ganga
The most beautiful 7 kms of the 2,500+ kms long Ganga
Soaking in the different moods on the Ghats during Sunrise and Sunset
Music and Kathak
Soul-stirring performances
Appreciation sessions with discussions on the nuances
Markets, People, Stories!
Colourful flowers, Bustling Silk and Brocade Gaddis
Labyrinthine Gallis
Captivating places of worship, ancient buildings & stupendous Architecture
History, Philosophy, Culture
How Varanasi's unique Geography led to its becoming India's spiritual capital
Varanasi's compelling take on Death & Moksha (Salvation)
Kushti Akharas
Witness (or better still - participate in!) the Kushti at the Akharas
Understand the anatomical effect of the various exercise routines
Buddha's fascinating journey
Pearls of his wisdom
Visit the monastic ruins – including Dhameka Stupa, Moolgandh Kuti Vihar, Ashok Pillar
Treasure hunt
Solve puzzles
Interact with the locals, and
Have crazy fun!




PROFILE OF EVENT LEADERS
Aayush is fascinated by India's rich history and its vibrant social and cultural landscape. After graduating from IIT Bombay and IIM Ahmedabad, and working for 2 years at BCG, he decided to follow his passion and co-founded Roobaroo Walks. Being an avid traveler and a history enthusiast, he loves to bring alive places with an eclectic mix of anecdotes, facts, conjectures, and interactions with the locals.
Anupam - our Varanasi Storyteller. He is the man around town with a camera! Exploring the alleys of Varanasi from a photographer's perspective for 12 years, Anupam has a familiarity with his city that is hard to rival. At age 26, he had become a guest lecturer at the esteemed Banaras Hindu University. Every photograph for him is a story, and at Roobaroo, he's been experimenting with more ways to share these stories!
Assi Ghat, Varanasi
Assi Rd, Near Assi Ghat Police Chowki, Beside Ganga River, Shivala, Varanasi, Uttar Pradesh 221010
GET DIRECTIONS