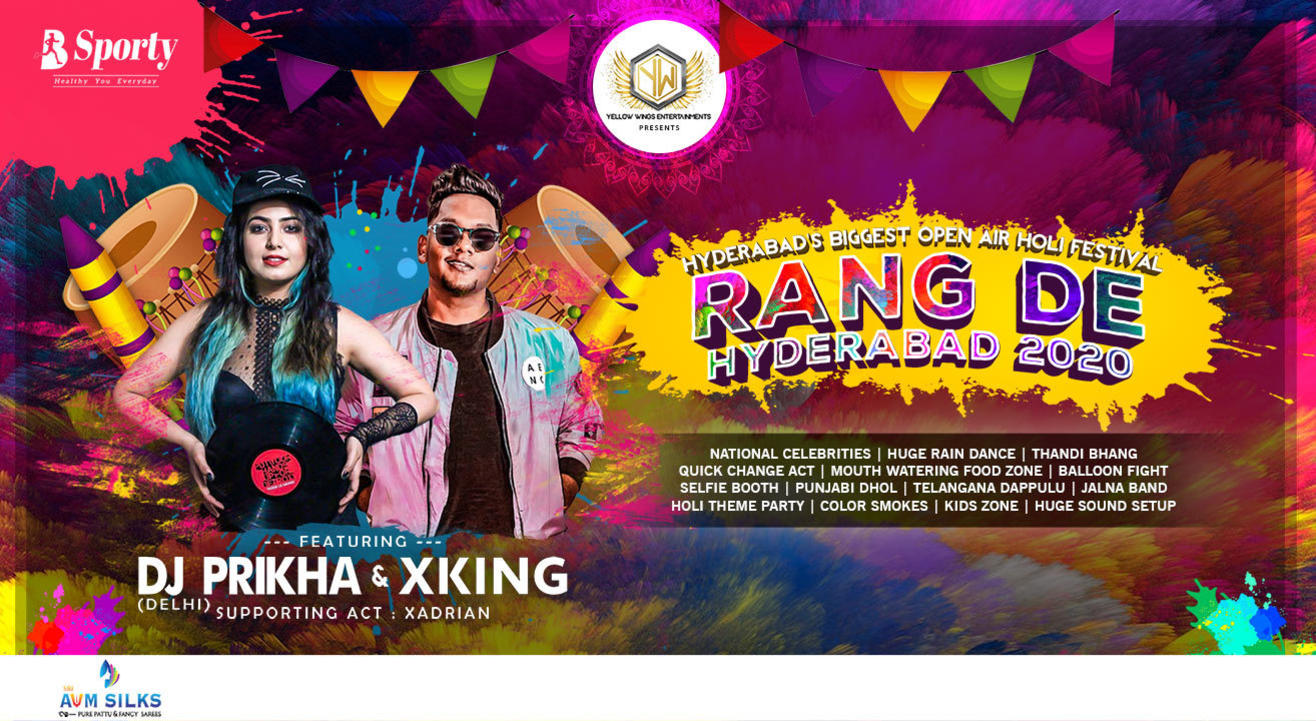 B Sporty, Hyderabad, Hyderabad
Step out and enjoy this event
Invite your friends
and enjoy a shared experience
B Sporty, Hyderabad, Hyderabad
Step out and enjoy this event
Invite your friends
and enjoy a shared experience
Invite your friends
and enjoy a shared experience
About:
Let your craziness be shown at the Biggest and the Craziest Holi in town.Where there will be full of entertainment and jolliness that will surely bring your inner child out. Don't forget to head over to this ultimate spot of happiness
Get insanely drenched in colours with Top Notch Music, A1Decor and a lot more. So, crank it up a Notch and let the Madness, Nuttiness and Insanity get it out your system, by celebrating the Biggest Open Air Holi at "RANG DE HYDERABAD 2020" at "B Sporty Cricket Grounds" undoubtedly the best place to Rejuvenate and Revitalise!! Make this Holi Special to your Family, Friends and Loved ones.
Event Attractions:
Open arena
Huge sound setup
Camel ride
Rain sprinkles
Natural colors
Holi theme decor
Selfie booth
Colour paper sprinklers
Colour smokes
Balloon fight
Non stop Bollywood music
Punjabi dhol
Nasik dhol
Telangana Dappulu
Traditional thandai
Kid Zone
Food stalls
Artist:
DJ Prikha:
DJ prikha aka Priyanka khangwal started her career by name DJ pihu 3 years back in 2018 she came with her new project DJ prikha she can be described in many ways but aggressive , innovative and cutting edge are the 3 best ways to to describe her style. Her passion for music drag her into djing and music production she is aware of how to rule the crowd with long flowing mixes that seamlessly blend one track into next she love to play every genre like drum bass , hip hop , Bollywood, techno , house ,trance many more she have ability to take control of the dance floor and energise the crowd
DJ Xking:
XKING AKA AKHIL 19 YEAR OLD DJ started his career at an age of 14 Music has been his journey. He started his career as a Disc Jockey by assisting senior DJ's, which is why he has a mind to understand the audience and their likes, at an age of 15 he started experimenting with the dj controls, and he purchased several (how to dj) instructional videos from internet.After learning hard on djing for few years at an age of 16 he had his first show in a local club which was done by a local event organizer.At how he made it to the club by struggling at a small age, xking have a great taste of music he picks out tracks from top dj music charts Which are from great genres like big room, house, future house, trap, progressive.He has always been an outstanding dj with a crazy spin of mixing the genres he always makes crowd go crazy with his beats. At an age of 18 people started recognizing the magic of xking,18-year-old dj makes the crowd dance that's how he build his career and made a lot of big shows in native city (Hyderabad) by today he only wants to make people happy with his music and Build EDM scene in India..
Venue:
B Sporty Ground
Near meridian School, Madhapur, Hyderabad, Telangana 500081
Terms & conditions:
· A ticket shall not be a valid ticket if the barcode has been tampered with.
· No re-entry is permitted for the entire period of the event. Wrist bands will be cut by the security team in case a customer wishes to exit the venue during the period of the event.
· Artist line-up and billed attractions may be subject to change.
· Organizers reserve the right to perform security checks on invitees/members of the audience at the entry point for security reasons.
· Organizers or any of its agents, officers, employees shall not be responsible for any injury, damage, theft, losses or cost suffered at or as a result of the event of any part of it.
· Parking near or at the festival premises is at the risk of the vehicle owner. Organizer will not hold responsibility for any damage or theft of any vehicles within the stipulated parking premises of the festival.
· Consumption and sale of illegal substances is strictly prohibited.
· Professional cameras, any form of recording instruments, arms and ammunition, eatables, bottled water, cigarettes, beverages, alcohol are not allowed from outside the festival premises. Food and beverages will be available inside the festival premises.
· Organizers are not responsible for any negative effects of food items or drinks consumed in the venue by guests.
· Persons suspected of carrying items that may be used in an offensive or dangerous manner, or carrying out illegal activities within the site may be searched.
· The holder of this ticket hereby grants organizers the right to use, in perpetuity, all or any part of the recording of any tape made of holder`s appearance on any channel for broadcast in any and all media globally and for advertising, publicity and promotion relating hereto.
· The organizers reserve the right without refund or other recourse, to refuse admission to anyone who is found to be in breach of these terms and conditions including, if necessary, ejecting the holder/s of the ticket from the venue after they have entered the ground.
· Possession sale and dealing in Narcotics Drugs and Psychotropic substances attracts stringent punishments under the Narcotics Drugs and Psychotropic substances Act, 1985 which ranges from 6 months upto 20 years imprisonment and fine upto Rupees Two Lakhs.
· Consumption of the narcotic drug or psychotropic substance (cocaine, morphine, diacetyl - morphine or any other narcotic drug) or any psychotropic substance is liable for rigorous imprisonment for a term which may extend to one year, or with fine which may extend to Twenty Thousand rupees; or with both under NDPS Act, 1985.
· Please carry a valid ID proof along with you.
· No refunds on purchased ticket are possible, even in case of any rescheduling.
· Security procedures, including frisking remain the right of the management.
· No dangerous or potentially hazardous objects including but not limited to weapons, knives, guns, fireworks, helmets, lazer devices, bottles, musical instruments will be allowed in the venue and may be ejected with or without the owner from the venue.
· The sponsors/performers/organizers are not responsible for any injury or damage occurring due to the event. Any claims regarding the same would be settled in courts in Mumbai.
· People in an inebriated state may not be allowed entry.
· Venue rules apply.
Biggest Holi Celebrations - Rang Barse
B Sporty, Hyderabad
Meridian School Rd, Siddhi Vinayak Nagar, Madhapur, Hyderabad, Telangana 500081
GET DIRECTIONS
B Sporty, Hyderabad, Hyderabad
Step out and enjoy this event
Invite your friends
and enjoy a shared experience