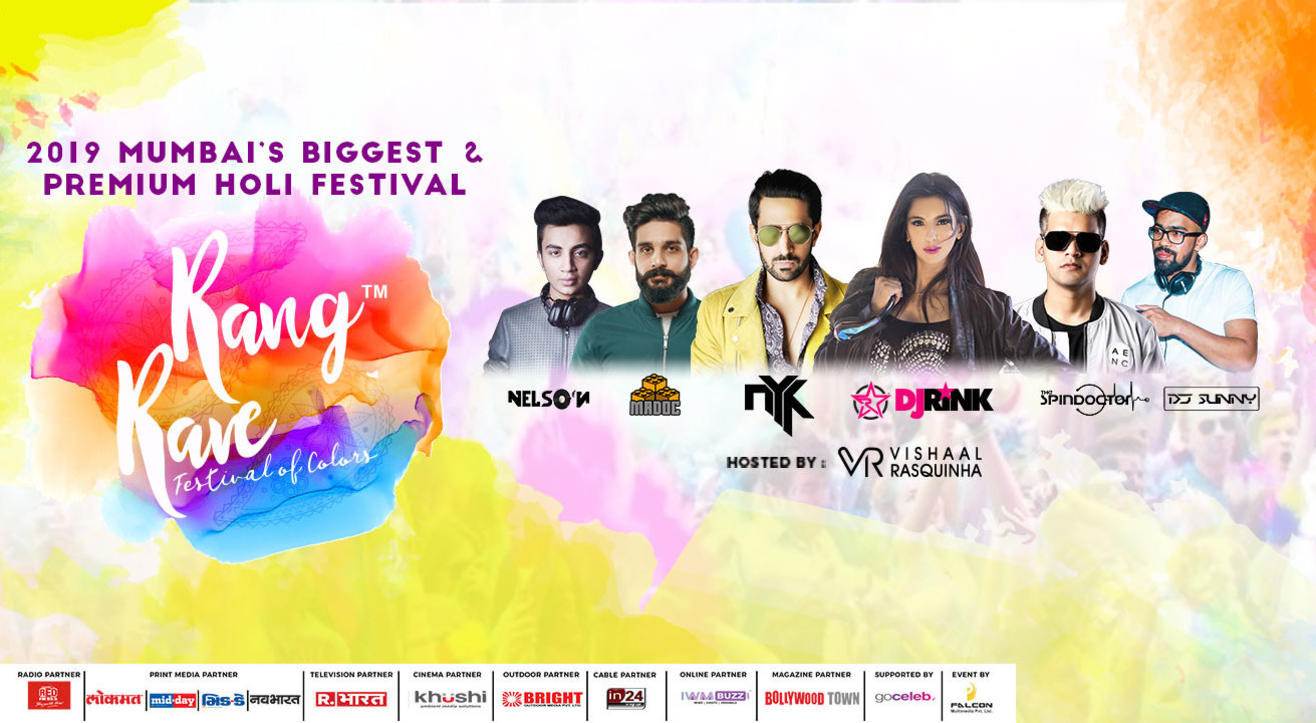 Holi Party
RangRave – Festival of Colours
About
Celebrate the festival of Holi in traditional style this year, as Grand Mumbai is organizing a full-fledged
Holi event for you. The Biggest and most premium Holi Festival in Country with RangRave at Mumbai.
Brace yourselves for one of the most amazing Holi in Mumbai.
This big banger Holi celebration with us at Rang Rave, Nesco Goregaon on 21st of March with some most amazingly talented and moves smacking artistes, the thrilling twist of peppy DJ performances, lip-smacking food, and of course lots of colours, and water
Lineup:
DJ Nyk, DJ Rink, DJ Nelson, DJ Maddoc, DJ Spindoctor, DJ Sunny
Anchor - Vishaal Rasquinha
This one is going to be the most ravishing so far!!!
Vishal Rasquinha, Youngest DJ Anchor. He brings to the stage his sharp sense of humor and his unique ability to form chemistry with the audience. His never ending source of energy to every event holds the attention of the crowd. An emcee, musician and voiceover artist, Mumbai based Vishaal Rasquinha has been hosting events since 2013. Having emceed events all over the globe, on stage as well as on television, and has hosted over 600 live shows, the experience is not something he lacks in. He brings his infectious energy to every event he hosts and has even managed to hold the attention of a crowd of 50,000 people. His natural talent of being able to adapt his skills

DJ Nyk
Nikhil Sahni better known as DJ NYK. #1 Award Winning DJ NYK and if EDM is your calling Then his mixes are topping the chart. There are great DJ's and there are great producers. Never standing still, NYK is one of the rare breed that have always excelled as both. As happy on stage at the globe's finest Clubs. Known as KING OF REMIXES ". NYK was awarded India's #1 Bollywood DJ at the 2012 VH1 MyFav Awards.
NYK continues to ride high at the pinnacle of the modern dance movement both as a DJ and, more importantly, a producer.

DJ Rink
A magnetic, musically astute performer with dynamite energy, DJ Rink has entertained the world with her unique brand of high-energy performances. Best female DJ in India. Her artistic style of blending international sounds with Indian ones has influenced music sensibilities of the masses to open their arms to dance music in its various forms. If you love rink style desi gaanna then this DJ lady will make you groove onto her music

Nelson Swamy aka DJ NELSON is one of the chart topping name in Mumbai .He did more than 500 private party's and spinned his skills in the best clubs of Mumbai. He is highly experienced DJ and have done quite a number of events be it wedding, sangeet, engagement or any party event. Music genres are: Commercial Punjabi Hip Hop EDM House Bollywood. So walk through the wonderland of Bollywood music with dramatic and passionate DJ Nelson. His powerful beats and groovy tracks will surely make you lose your mind

DJ Madoc
To make someone dance on their tunes is an art and DJ is one such person who masters in this.Based in Mumbai and a Resident DJ at EXO and Libai at the St. Regis (Palladium Hotel), Mumbai since 2013, Anuraag Madoc is has performed for various events and weddings all over India and Internationally. Be it your sangeet/cocktail, wedding or any other occasion, he is a great option to keep everyone on their toes.

Specialisation in Music Genres : Commercial, Hip Hop, EDM, Bollywood DJ Spindoctor
DJ | Doctor | Turntablist | Video Dj | Played At Leading Clubs/Gigs/Music Fests All Over India .
Sanjay Meriya, known as The Spindoctor, has established himself as a premier DJ spinning music that keeps people on the dance floor. He creates and performs electronic dance music, including remixes of club and hip hop favorites, house and amalgamations of other styles. A turntablist with various skills such as beat mixing, scratching, beat juggling, drumming, sampling etc., which allows him to teach the art of turntabilism at Audioqube, The True School of music and Party Map DJ Academy.

DJ Sunny Started his career back in 2008, he's now one of Pune's best DJ artist. Currently, he is a proud resident Of 5 Clubs & Lounges In Pune. And that's what made had resulted in his versatile expertise. He is passionate about his work and believes in true dedication. He has had the opportunity to share stage with many celebrities such as Yo Yo Honey singh, Yana Gupta, Sunil Grover, Gautam Gulati etc and had performed with many celebrity DJs like DJ Aqeel, DJ Suketu, Akbar Sami, Nucleya, Lost Stories, DJ Nyk, DJ Lloyd etc.
Use code HOLIYAY to get a 25% OFF on all purchases up to INR 250 per transaction on purchase of 3 or more tickets
Extra INR 50 cashback if used on the Insider.in app, usable against movie bookings
Venue
NESCO Center, Gate 1
NESCO Center, Gate No. 1, Ground 1, Western Express Highway, Goregaon (East), Mumbai- 400063.