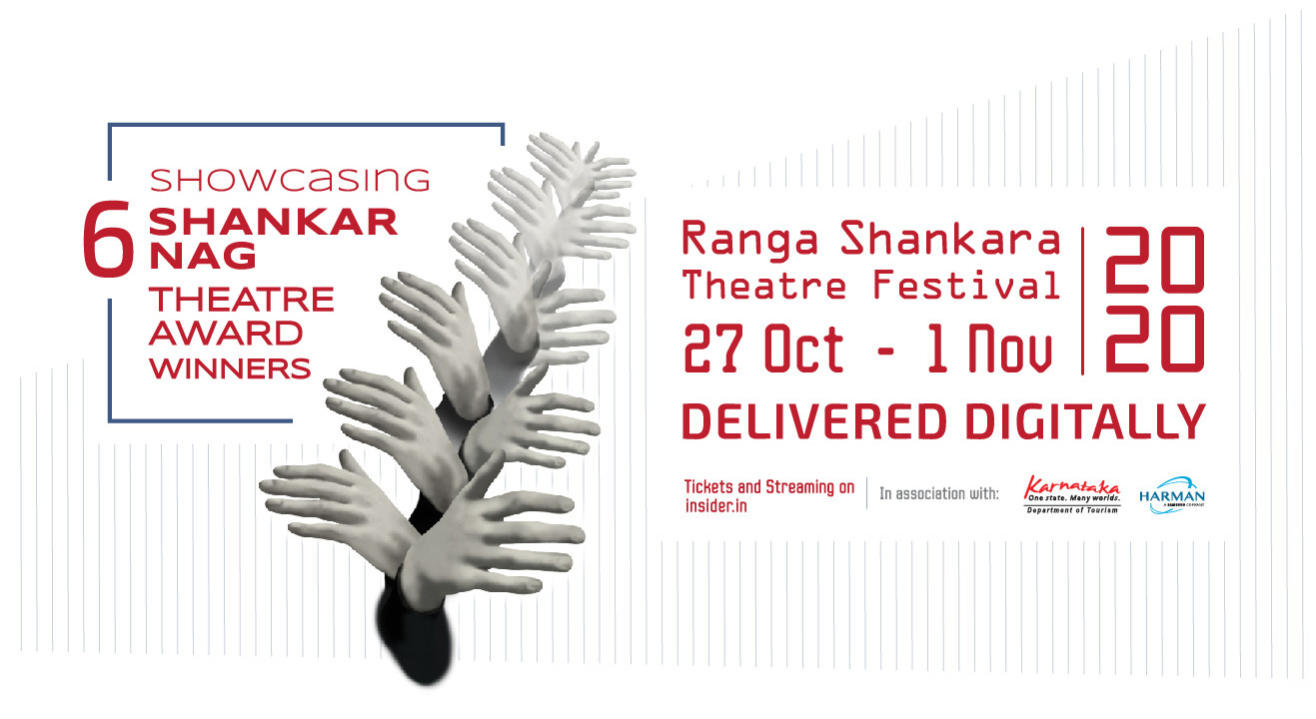 Ranga Shankara Theatre Festival 2020
The iconic Ranga Shankara Theatre Festival goes digital this year! RSTF 2020 promises to be a treat, showcasing the works of the 6 Shankar Nag Theatre Award winners. Experience theatre at its finest from the comfort of your home.
Invite your friends
and enjoy a shared experience
This year, the Ranga Shankara Theatre Festival showcases the works of the 6 Shankar Nag Theatre Award winners, while celebrating a huge first - going digital! Watch an exciting line-up of plays online, or come over to Ranga Shankara and enjoy a screening (limited tickets available at the venue), along with our signature ancillary activities.
Welcome to Theatre Alive!
Please Note: The expiry for the season pass page is 6 Nov, Sat, 12:00 AM IST
How the season pass works:
You book a season pass - International or Indian
Super! Next, a ticket is sent to your inbox 💌
This ticket makes all online shows for Ranga Shankara Theatre Festival 2020 - FREE FOR YOU.
PLEASE NOTE: THIS TICKET GETS YOU ACCESS ONLY TO ONLINE SHOWS OF THE FESTIVAL
Next Step:
Select the online show you want to watch, and register (using the option with ₹0)
Yes, pick any online show you want to watch - register for FREE. Applicable ONLY on online events of the festival.
After registering for an event - you'll receive a ticket. Click on 'Join Now' once it's time for the show, and we're good to go.
Individual show tickets available too:
Synopsis:Have you ever wanted to hear the stories of Ranga Shankara?
Do you know that Ranga Shankara Theatre has two exits?
Have you ever been to the terrace?
Where are the green rooms?
What is a thrust stage, anyway?
Join S. Surendranath, Trustee and former Artistic Director, Sanket Trust, for a walk through the Ranga Shankara complex and listen to the stories he has to offer. We promise, you will see the place differently after this walk.
About S. Surendranath: A graduate of the National School of Drama, a fine writer of short stories & plays, and a director, Suri is a well-known name in Kannada theatre. He has worked extensively on Indian mime and in the GRIPS Theatre module of Germany, a movement that fosters theatre for children. He is an active member of the Sanket theatre group which has been making high quality theatre in Kannada for over three decades.
This walk will take place in two batches of ten people each. Please ensure you wear your mask and carry a pet sanitiser bottle with you at all times.
Synopsis: During the lockdown there was a huge food crisis in various parts of the country (which continues due to lack of employment). Millions of workers have lost their jobs and they receive very little support from the government regarding food and other necessities. Consequently, hunger is as much an epidemic as the virus is a pandemic. In addition, the virus has been introduced into the country by the rich. It came through people who would have flown to other countries, but the hardest price is paid by the poor.
The piece is about a family of three women, a mother, and two daughters who tell each other stories and fake the food on their plate, in order to walk the hard line between hunger and dignity. This scene is written from the experience of witnessing this hunger over and over again. By being part of a group that makes modest efforts to alleviate hunger as much as possible.
Mohit Takalkar's The Colour Of Loss
Synopsis: From Booker Prize-winner and literary phenomenon Han Kang, a lyrical and disquieting exploration of personal grief, written through the prism of the colour white. While on a writer's residency, a nameless narrator wanders the twin white worlds of the blank page and snowy Warsaw. 'THE WHITE BOOK', becomes a meditation on the colour white, as well as a fictional journey inspired by an older sister who died in her mother's arms, a few hours old. The narrator grapples with the tragedy that has haunted her family, an event she colours in stark white-breast milk, swaddling bands, the baby's rice cake-coloured skin-and, from here, visits all that glows in her memory: from a white dog to sugar cubes. As the writer reckons with the enormity of her sister's death, Han Kang's trademark frank and chilling prose is softened by retrospection, introspection, and a deep sense of resilience and love.
THE WHITE BOOK- ultimately a letter from Kang to her sister--offers powerful philosophy and personal psychology on the tenacity and fragility of the human spirit, and our attempts to graft new life from the ashes of destruction.
Based on 'The White Book' by HAN KANG | Translated by DEBORAH SMITH |Design& Direction MOHIT TAKALKAR
Anurupa Roy's Teelapur Ka Rakshasha
Synopsis: Teelapur is a town on a hill. A perfectly ordinary town, ruled over by an extremely popular King. A town which people leave in droves in fear of a monster that terrifies it. A town at war, where people are banned from reading books of their choice. In this town lives Guddu, separated from his family after the monster's attack. In this town lives Chhotu, who reads books in secret, and asks dangerous questions. When Teelapur's warriors return from a war they no longer understand, they join hands with Chhotu and Guddu to take on the monster.
Directed by : Anurupa Roy | Written by: Manjima Chatterjee
Divised & Performed by: Anurupa Roy and Mohammad Shameem | Music by : Anirban
Puppets by: Anurupa Roy and Mohammad Shameem | Voiceover by: Nitu Kumari, Vivek Kumar, Ada Baani and Mahlhar Avadesh
Produced by: Katkatha puppet arts trust | Co-produced with : Helios Theatre, Germany
Sankar Venkateswaran's Criminal Tribes Act
Synopsis: The piece begins as a candid conversation between two actors, Chandru and Rudy. They talk to each other about their backgrounds, experiences, differences, then they talk to the audience, and as they do so, one appears to become the speaker and the other, the subject. The conversation develops into play, evolves into drama and engenders as a theatre piece. It examines the inherent conflicts between the speaker and his subject, the spoken and the unspoken, and the (in)escapability of the 'us', 'them' and 'the other'. Starting with the Criminal Tribes Act of 1871, a legislation brought during the British rule, the piece cuts deeply into the issues inherent in theatre and the language, while critically looking at the positions we take in society.
Written and performed by Chandra Ninasam & Anirudh Nair | Concept and Direction: Sankar Venkateswaran
Director of Photography: Karun Prasad K.S. |Produced by Theatre Roots & Wings
Synopsis: Four friends are trying to meet for lunch? This shouldn't be too difficult. But 'life' has an uncanny knack of getting in the way. Come eavesdrop on the video calls between Jaya, Bina, Deepa, and Veera, as they try to arrange the simplest of meetings. Lunch Girls is a dramatised reading designed & performed exclusively for the live online experience.
Written by Ron Hart | Directed by Q |Performed by: Bhavna Pani, Dilnaz Irani, Gillian Pinto & Pravishi Das
Show Managers: Jeshron Tao & Rachit Khetan | Produced by QTP
An Online Panel with Toral Shah Producing in the New Century: Changing Perspectives
Synopsis: With the growth and expansion of theatre in India, the role of the director-designer-producer is slowly dissolving and these roles are getting specialized. Producing is gaining a more prominent role and with it the individuals who hold these positions, lead the productions and make the vision a reality.
Spend an evening with four producers from India and overseas, who have been working in the theatre for the last two decades, bringing a vast spectrum of incredible shows to life and taking it to newer audiences. They have been instrumental in bringing into focus urgent and important questions about social equity and are committed to emboldening the voices of the under-represented in theatre.

Share their journeys as they talk about their philosophies, their milestones and their challenges.

Toral Shah in conversation with Sameera Iyengar, Margaret Moll, Nimi Ravindran and Alison Wong.

"Strange. Unprecedented. New normal. Words to describe a year and a crisis - that will live on in human memory for some time. However, history is witness - stories that prevail will be that of the resilience of the human spirit, the will that does not concede defeat, and adaptability that is the mark of change in the universe. And we begin with something we've missed a lot this year - it's our beloved Ranga Shankara Theatre Festival. Join us for the theatre fest in a digital format this year and experience the arts & theatre from the comfort of your home" - Shubham Roy Choudhury, Festival Manager 2020.
Ranga Shankara is the definitive space for quality theatre in Bangalore. Since opening its doors in October 2004, Ranga Shankara has developed into one of the nerve centres of theatre in India, firmly believing in 'a play a day'. This has resulted in over 6000 performances by local, national, and international troupes in a range of languages in Ranga Shankara's 16 years. One of the most affordable, accessible theatres in the country (making it a favourite among amateur theatre troupes), Ranga Shankara is also known for its many festivals such as the annual Theatre Festival, AHA! Festival of Theatre for Children and Equal, all contributing to the richness of the cultural fabric of not just Bangalore, but India, too.

Subscribe to receive our newsletter!
Find the best experiences happening out there in your city or enjoy handpicked content while sitting comfortably at home. Paytm Insider is your go-to place to figure out what to do today!