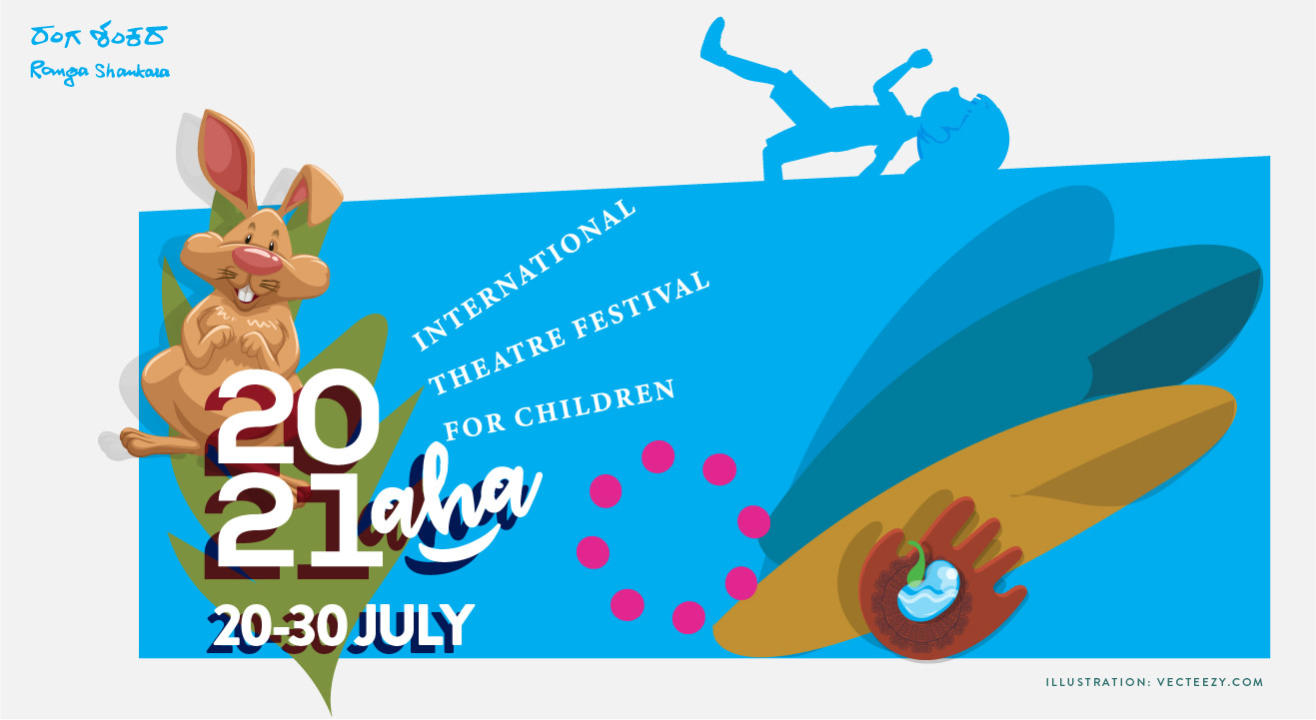 Ranga Shankara's AHA! - Season Pass
July 20 - 30 | Video on Demand
Enjoy this event from your home
Event Guide
Live Performance
Enjoy a unique experience
Invite your friends
and enjoy a shared experience
Event Guide
Live Performance
Enjoy a unique experience
Invite your friends
and enjoy a shared experience
About the Event
Ranga Shankara's much-awaited children's theatre festival is back! This year's festival line-up brings the best of national and international theatre, talks, and workshops to young audiences.
The 11th edition of the festival features pieces from a variety of theatre practitioners who specialize in making theatre for children, such as Sananda Mukhopadhyaya, the Gillo Repertory, ThinkArts, Germany's Schauburg Theater for Young Audiences, and Switzerland's Chamarbellclochette (supported by the Swiss Arts Council (Pro Helvetia New Delhi and Zurich)).
But that's not all! Ready yourself for interesting talks, events, and workshops for young and not- so-young audiences - a talk on making theatre for toddlers, a webinar on the impacts of screen- time, a fun parent-child scavenger hunt, a comprehensive theatre appreciation course for all the little reviewers out there, and creating a play using a tabletop and objects around the house! Yes, we have a ton of fun in store for you!
About Ranga Shankara's 'AHA! Theatre for Children' Programme
The AHA! International Festival of Theatre for Children is organized by Ranga Shankara under its AHA! Theatre for Children's wing. Launched in 2006, AHA! brings the magic of theatre to children through plays, storytelling programmes, workshops, and activities. It is one of the country's most important and sustained theatre for children programs. By bringing world-class productions from abroad through the festival, Ranga Shankara is laying the foundation for a theatre movement and network among younger people, ensuring that the future of theatre in Bengaluru and the country has trained and informed talent to complement the enthusiasm. Can this quote be highlighted and put up somewhere on the page?
"The formative years in a child's life are of utmost importance. From the time he or she emerges from the mother's womb till formal education starts, learning continuously takes place through touch, feel, and the other senses. This learning forms the building blocks of the adult of tomorrow. Therefore, the quality and the aesthetic of what we show the child, in the growing years, is of extreme importance, and if these be the building blocks of the adult of tomorrow, they are also the building blocks of the nation. Tolerance, anger, empathy, understanding, listening, and observing, among others, are all important character traits that are developed by the watching of theatre. AHA! is a programme that we have given a lot of thought to because we care, and you would introduce your children to theatre because you care, too!" - Arundhati Nag.