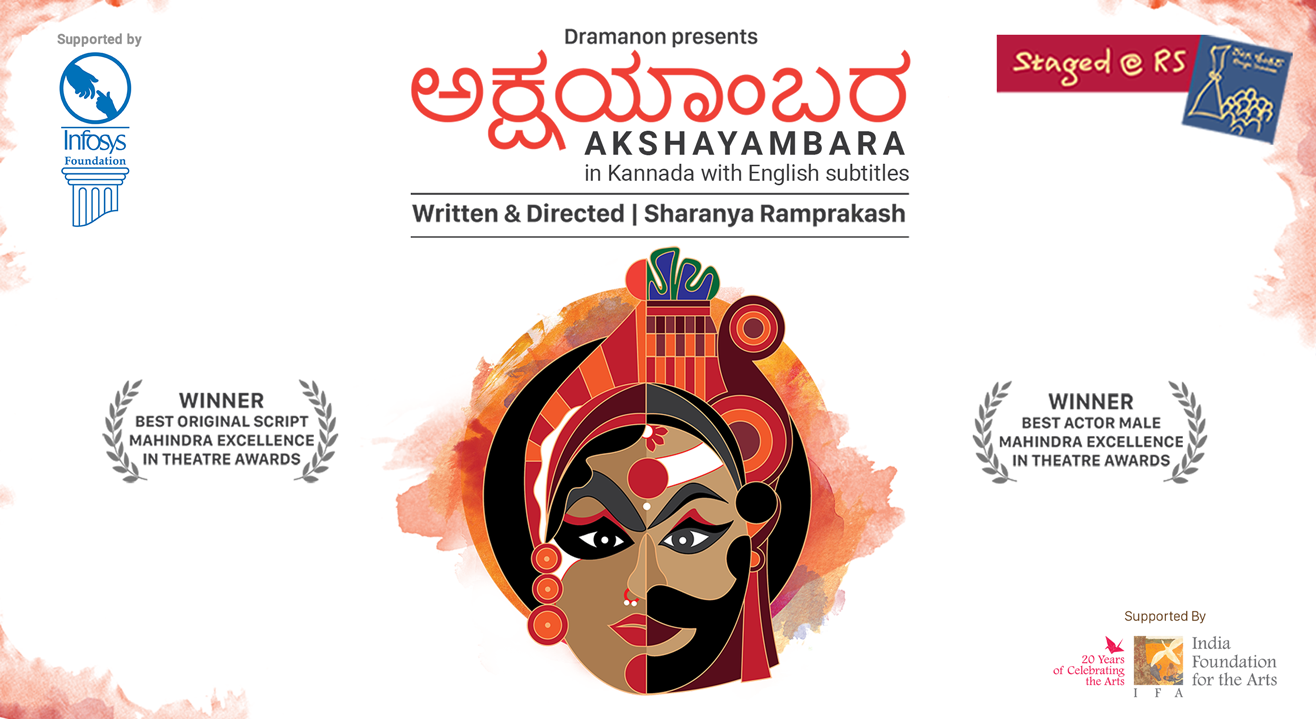 Ranga Shankara's 'Staged@RS' Presents Dramanon's 'Akshayambara'
Enjoy this event from your home
₹150
Tickets are sold out for this show
Event Guide
Digital Event
Watch on Insider
For Age(s)
Family Friendly
Live Performance
Enjoy a unique experience
Invite your friends
and enjoy a shared experience
Event Guide
Digital Event
Watch on Insider
For Age(s)
Family Friendly
Live Performance
Enjoy a unique experience
Invite your friends
and enjoy a shared experience
About the Event
Staged@RS, Ranga Shankara's signature digital programme supported by Infosys Foundation, is back with its monthly offering for audiences around the world! "Akshayambara", the much-awarded and popular Kannada play written and directed by Sharanya Ramprakash, goes online!
A winner at Mahindra Excellence in Theatre Awards, Akshayambara features sterling performances by Yakshagana artistes Prasad Cherkady and Sharanya Ramprakash. The experimental modern play delves into gender roles against the backdrop of the traditionally male-dominated 800-year old art form of Yakshagana, and the arrival of a woman into this world. The play has seen over 50 performances at various renowned theatre festivals nationally and internationally.
ABOUT THE PLAY:
Akshayambara'
A play in Kannada with English subtitles
'Akshayambara' is an experimental Kannada play that uses both modern theatrical tools and the dance drama form of Yakshagana to create a contemporary narrative that raises questions on female representation and male ownership. What happens when a woman enters the professional space of a dance form performed by men for the last 800 years? Drawing from research and personal experience, the performance imagines a reversal of roles in the popular Yakshagana plot of 'Draupadi Vastrapaharana' (disrobing of Draupadi). A veteran male artist in streevesha (female disguise) plays the virtuous Draupadi, while in a tradition defying move, an amateur woman is cast as chief antagonist, Kaurava. When tradition allows a man to play a woman will the same tradition accept the reverse? How does her entry redefine who is man and who is woman, who wields power, who is hero and antagonist, victim and perpetrator? How far will the traditional boundaries be pushed when an outsider enters the inner circle? What will be its consequences? The performers confront these questions as they shift between stage and greenroom, between male and female, epic and reality, personal and political, their tussle offering radically new perspectives on tradition, gender, power and morality. The play was developed through the INLAKS Scholarship '14, supported by the India Foundation for the Arts (IFA) and premiered at the Ranga Shankara Theatre Festival '15. It won the Best Original Script & Best Actor (Male) at the Mahindra Excellence in Theatre Awards (META) '16. The play has performed about 50 shows across various venues and at festivals such NINASAM Theatre Festival, Heggodu, International Theatre Festival of Kerala (ITFoK), Thrissur, Bharat Rang Mahotsav (NSD), New Delhi, India@UK Festival at South Bank Centre London and Kalaa Utsavam Festival at the Esplanade Singapore. This project is made possible by a grant from India Foundation for the Arts (IFA) with part support from Voltas Limited.
Troupe:
Dramanon Bengaluru started in 2006 as an artist's collective that supports original writing, nurtures new talent and uses theatre tools for learning and development at workplaces. Over the last 13 years, our work has travelled widely to festivals and venues both nationally and internationally, such as the Writer's Bloc Festival, Ranga Shankara Theatre festival, Mahindra Excellence in Theatre Awards (META), NINASAM Theatre Festival, Theaterfestival Schwindelfrei Mannheim, Germany, BharathRangMahotsav, India@UK festival in SouthBank Center, London, Kalaa Utsavam, Singapore and most recently at The Hindu Theatre Festival 2019.
Playwright & Director:
Sharanya Ramprakash is a theatre maker whose work experiments with language, tradition and gender. She writes, acts, directs and collaborates with a range of forms, communities and theatre makers across local, national and international locations. Her latest work includes Akshayambara, a critical exploration of gender and masculinity in Yakshagana with a contemporary feminist lens. I am Not Here, a devised dance drama production on women's censorship and Mythology Upon the Table, a collaboration with Asian artists produced in Taiwan. Her Kannada play, Nava, in collaboration with 9 transwomen from Aravani Art project is currently in production. Sharanya is an INLAKS scholar and member of Lincoln Centre Director's Lab. She is one of the founders of theatre collective, Dramanon, Bengaluru which produces new writing and nurtures emerging voices.
ARTISTIC & TECHNICAL CREDITS:
Cast: Draupadi / Man: Prasad Cherkady Kaurava / Woman: Sharanya Ramprakash
Cast | Crew: Man: Prasad Cherkady Woman: Sharanya Ramprakash Curtain Bearers: Rutwik Upadhyayula and Naveen Chhabria Kannada Translation: Kruti R Performance Design: Shubhra Nayar Choreography: Guru Sanjeeva Suvarna Lighting Design: Swetanshu Bora Assistant Director: Surabhi Herur Production Manager: Sridhar R Prasad Padya composition: Guru Subramanya Prasad, Kruti R & Sharanya Ramprakash Bhagvatha (Musician): Guru Subramanya Prasad Chende (Musician): Guru Krishna Murthy Bhatt Maddale (Musician): Rathnakar Shenoy Violin: Pranav Manjunath Sound: Karan Shurpalekar / Rohan Singhvi Sound Mixing: Bharath MC Poster: Rupesh Patange.
The show will be available to view for 48 hours from the time of purchasing the ticket.
₹150
Tickets are sold out for this show