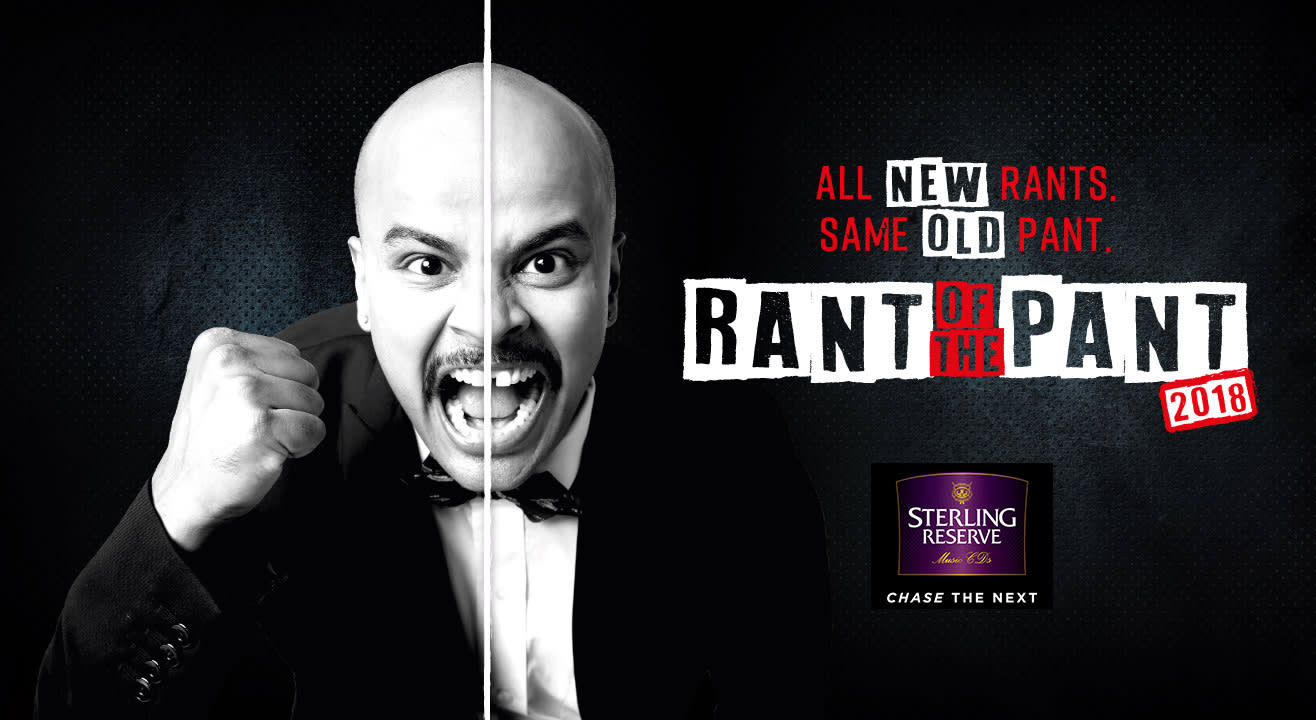 Rant Of The Pant 2018: All New Rants.Same Old Pants
Club Boudoir,Kolkata, Kolkata
Invite your friends
and enjoy a shared experience
Rant Of The Pant 2018: All New Rants.Same Old Pants
Club Boudoir,Kolkata, Kolkata
Invite your friends
and enjoy a shared experience
Invite your friends
and enjoy a shared experience
After 25+ million views online and shows in 38 cities in 2017, Sorabh Pant is back!


New jokes on NaMo, AK, RG, Trump and other such comedians. Plus mental health, women in engineering, medical students, drugs, minority rights, patriotism and jokes meant to offend people that enjoy being offended.


It's 90 minutes. Or more. Depending on how much fun you are having!
Recently described as "the second most brilliant Indian comedian I've seen, after Russell Peters" by Wayne Brady, Sorabh Pant is one of India's leading comedians, the kind to expend the last drop of energy and Glucon-D to make you laugh. Sorabh's done over 1000 shows in 60 cities across 15 countries, as well as 300+ corporate shows. The zany comic has opened for international biggies like Rob Schneider (You Don't Mess With The Zohan, Deuce Bigalow) and Wayne Brady ("Whose Line Is It Anyway?", Wayne Brady Show), and has had TV shows on Pogo, Star World, CNBC and ET Now. He also founded the East India Comedy, India's busiest comedy company, which has raked up 115 million YouTube views with shows like EIC Outrage and EIC vs Bollywood. And if all of this wasn't enough, he has also released two novels – The Wednesday Soul, Under Delhi and is working on a third (too much energy).
Sorabh explains how everyone in Thrones has a "role to play."
About the Organizer & Venue
Opened in 2002, Club Boudoir is a fancy club that has seen changes in its years of existence and has survived the very change. With one unique kind of party going on every day, they definitely know how to appeal to and excite all kinds of party animals.
Club Boudoir,Kolkata
Shakespeare Point, 3rd Floor, Near Bhajanlal's, 40 Shakespeare Sarani, Elgin, Kolkata, West Bengal 700017
GET DIRECTIONS
Rant Of The Pant 2018: All New Rants.Same Old Pants
Club Boudoir,Kolkata, Kolkata
Invite your friends
and enjoy a shared experience