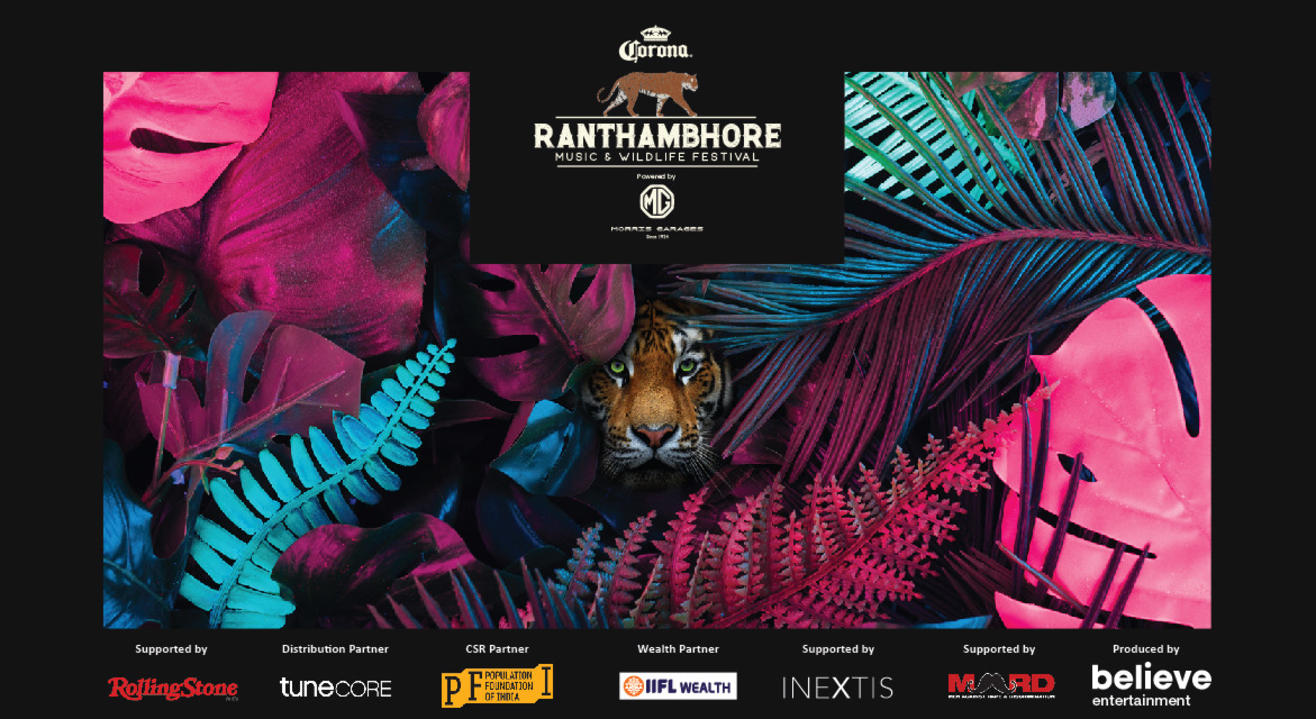 Ranthambhore Music & Wildlife Festival 2022
Nahargarh Ranthambhore, Jaipur
Event Guide
For Age(s)
Family Friendly
Live Performance
Enjoy a unique experience
Invite your friends
and enjoy a shared experience
Ranthambhore Music & Wildlife Festival 2022
Nahargarh Ranthambhore, Jaipur
Event Guide
For Age(s)
Family Friendly
Live Performance
Enjoy a unique experience
Invite your friends
and enjoy a shared experience
Event Guide
For Age(s)
Family Friendly
Live Performance
Enjoy a unique experience
Covid 19 Safety Measures
This event adheres to the following

Health & safety measures
Social Distancing
Hand Hygiene Stations
Limited Capacity
Proof of Vaccination Required
Invite your friends
and enjoy a shared experience
Covid 19 Safety Measures
This event adheres to the following

Health & safety measures
Social Distancing
Hand Hygiene Stations
Limited Capacity
Proof of Vaccination Required
The Ranthambhore Music & Wildlife Festival was conceived with a vision to celebrate artistic traditions, cultures, and nature through the unifying power of music. Over 2 days & 2 nights, the festival's 4th Edition brings to its audience a spectacular banquet of World Music, Art, Food and Wildlife experiences.
To control traffic within the National Park, all safaris will have to be booked by the 1st October 2022 (this applies to guests staying at the Palace). For those who are booking their own stay, we urge you to book your safaris through your hotel at the soonest so as to be sure of a slot.
Festival stay packages at Nahargarh palace booked beyond this deadline may not be allowed access to the Ranthambhore National Park if the visitor limit has been exceeded.
Festival Faqs:
What will the weather be like during festival days?
Day temperatures range from 21 to 28 degrees. Post sunset the temperatures tend to drop to 11-15 degrees. We recommend carrying adequate warm clothes. The basic rule is to be over-prepared for the cold than underprepared for it.
Is there a student's discount?
No.
What Items are not allowed inside the festival?
Weapons or items that could be used as a weapon, harmful objects of any kind (including knives, pepper spray, army knives etc)
Drones. Illegal Substances and Drugs, Fireworks or explosives of any kind, Over the counter Medications (unless in unopened, factory-sealed packaging), Professional photo, video or audio recording equipment for commercial use, The festival on-ground safety team reserves the right to make the final decision on all allowed and prohibited items without prior notice.
The festival does not allow outside food or alcohol. Food and alcohol can be purchased at the festival.
What are the acceptable forms of Identification?
•Driver's License
•Passport
•Student ID Card
•Aadhar Card
•Pan Card
Is the Festival Eco-friendly?
The Ranthambhore Music & Wildlife Festival is an environmentally conscious festival, so please be mindful of what you are bringing so you can avoid creating unnecessary waste at the event.
Here are some suggestions:
Don't print your PDF ticket, rather, allow us to scan it on your phone.
Think about how you are getting there
Bring your favourite reusable water bottle for use at our FREE water refill station
Avoid carrying plastic bags, cups or other items that can be harmful to the environment
Try to reduce your dependence on electricity. You can instead cut off from the outside world and explore the picturesque landscapes of Ranthambhore
Make sure to dispose of waste in a proper manner
Is the palace the only stay option at Ranthambhore?
There are multiple stay options available at Ranthambhore, one can book the same from travel websites. Please note that transfers to and from the festival venue will have to be arranged by you. Ranthambhore Music and Wildlife Festival does not take any responsibility for hotel-related payments, refunds or service issues of season pass holders. The list of hotels shared on our website are merely suggested options. The festival does not have any official tie-ups with local hotel properties in Sawai Madhopur.
Can I book additional Wildlife Safaris?
Yes. Bookings for wildlife safaris are available at Nahargarh palace. However, we do not guarantee seats. First Come First Served. We urge all festival goers staying at the palace to block their safaris at the earliest by sharing a government ID card with the festival team. For those staying outside the palace, we urge you to book your safaris directly through your hotels at the earliest so as to ensure a seat.
Will I be guaranteed that I will see a tiger at the safari?
Tiger sightings are purely based on luck, the safari guide will move around the reserve within the zone allocated to them only. There are possibilities that one might not spot a tiger during the safari. In Ranthambhore, chances of spotting a tiger are high. But, the idea of visiting the national park is more to experience and appreciate the beauty of India's forests and wildlife. Enjoy every moment of it!
Is there Parking available at the venue?
Yes
Can we add an extra bed to the rooms?
Yes. We can add extra beds to the Palace rooms, you add this before the checkout on the ticketing page.
Are there passes available for individual days?
No. only season festival passes are available
Can I get a refund after booking?
Festival tickets are non-refundable.
Is there food and alcohol sold at the festival?
Yes, food and alcohol are sold at designated areas at the festival. No outside alcohol or food is allowed in the festival premises.
How do I get access to the activities at the festival?
Register yourself for the activities at the festival information desk
I have a brand / product that I would like to sell at the festival, can I bring them along?
One can set up a stall at the festival souk, pre-registration & booking is required. Email believe.entertainment@believe.com for more details
What are the timings of all performances?
Festival schedule will be announced closer to the date. The same is available on our social media pages.
Is multiple entry allowed if I leave the venue?
Guests can go in and out of the palace venue provided they retain the festival wristband. Once lost or broken the band will not be replaced.
What is the minimum drinking age?
25 years old. Make sure you bring valid photo ID as it is a legal requirement for us to check.
Are debit/credit cards accepted on site?
Yes. However, we recommend that one carries an amount of cash for safety as the remoteness location often has issues with network, also there are extremely limited ATM's around the palace area.
What kind of food will be available on site?
A delectable variety of vegan, vegetarian and carnivorous friendly food is available at the venue. Using only the freshest local ingredients, our cuisine will leave you energized and well fuelled for a night under the stars.
Can I bring my children?
Children under 8 are free; above 8 they will need a full ticket.
When does the festival begin?
Doors open at 4pm on 11 November 2022 and programming will run through until Night on 12 November 2022. A detailed festival schedule will be shared closer to the date of the festival.
Are physical tickets issued?
Once booked online, one can carry a mail / print out of the booking reference
Nahargarh Ranthambhore
Ranthambhore Rd, Khilchipur, Rajasthan 322001, India
GET DIRECTIONS
Ranthambhore Music & Wildlife Festival 2022
Nahargarh Ranthambhore, Jaipur
Event Guide
For Age(s)
Family Friendly
Live Performance
Enjoy a unique experience
Invite your friends
and enjoy a shared experience