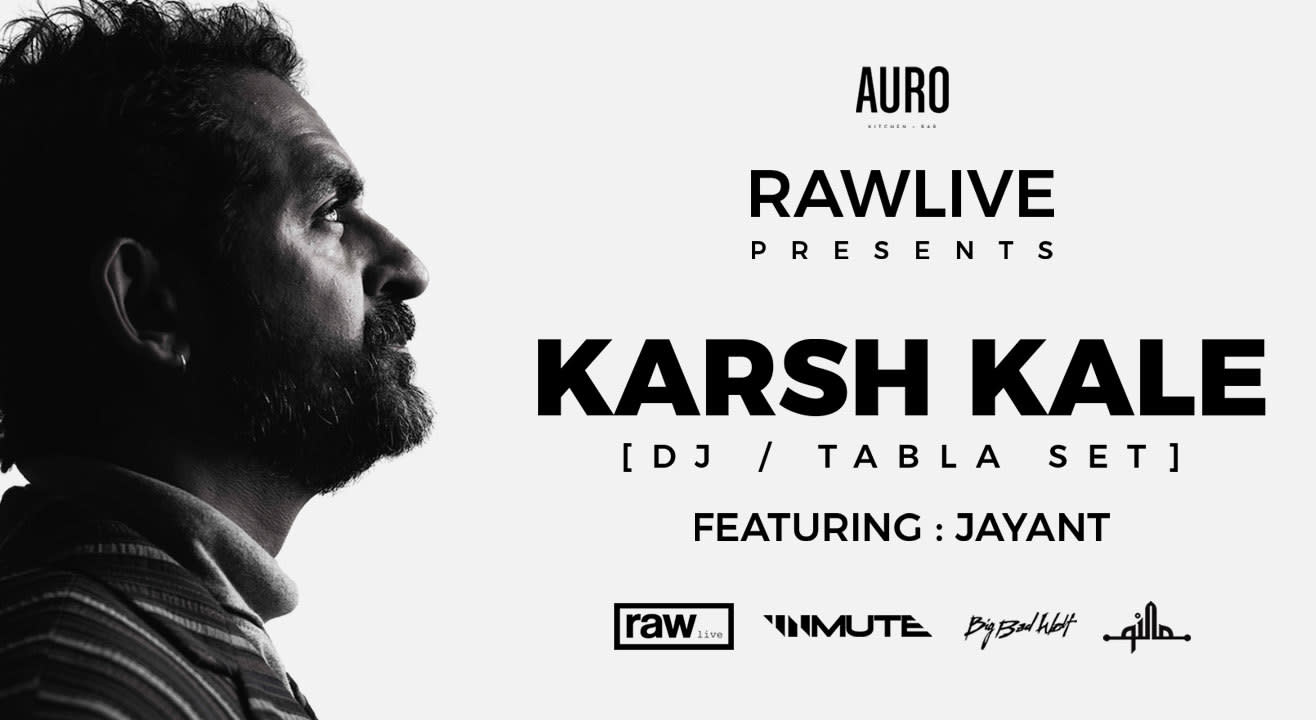 Music
Raw Live presents Karsh Kale (DJ/Tabla Set) & Jayant
Auro Kitchen & Bar, Delhi
About
KARSH KALE
Described by Billboard Magazine as a "visionary composer and producer", Karsh Kale today is known as a pioneer in the world of global fusion. His career has gone through many avatars over the past 20 years as he jumps between the various roles of being a world renowned tabla player, drummer, DJ/ remix artist, vocalist, multi instrumentalist, film composer, as well as a band leader and curator all with equal ease. He has produced Five internationally released solo albums (Realize, Liberation, Broken English, Cinema, Up), and a collaborative album with Anoushka Shankar called 'Breathing Under Water.' Karsh Kale has also developed a reputation as a genre bending collaborator which has led him to work with some of the most renowned artists from around the globe including his musical hero Zakir Hussain, Pt. Ravi Shankar, Herbie Hancock, Sting, Anoushka Shankar, Lenny Kravitz, Bill Laswell, Norah Jones, Alicia Keys and many others. Over the past decade, Karsh has been invited to perform at many prestigious venues and festivals around the globe and was recently invited to perform at the White House in 2013 and was introduced by Former President Obama himself. He has become a noted composer in the world of film and has also made his forward thinking artistic presence felt on TV shows like the Cannes Award Winning show like The Dewarists, in which Kale featured in 2 seasons as well as popular shows such as Coke Studio @ MTV Season 2 and MTV Sound Trippin Season 2. He also curated a special set featuring musicians from across the NH7 Weekender Festival to present a finale set that left his audience asking for more at each edition of the Festival in 2013.In 2014, His work was placed at Smithsonian Museum in Chic In 2016, he got to curate the finale at each edition of Wanderlust Festival across the US.
JAYANT
Talent speaks for itself. It doesn't scream or shout, it settles in quietly and rages a storm for the world to see. And nobody embodies that degree of talent better than Jayant. A DJ, Producer and Music Composer who has been in the industry for over 15 years, Jayant is a multi-faceted artist. Undeniably identified as India's most versatile DJ, Jayant's obsession with creating music started at an early age. His curiosity and eagerness has not waned ever since the first time he manipulated sounds to his whim.
Jayant began producing music in 2003 and has done numerous projects since then, working with internationally acclaimed artists such as Cheb-i Sabah, Karsh Kale and Midival Punditz. Effortlessly moving from Breaks to Techno, his pet project Jitter is a LIVE/DJ techno identity. He has also produced movie and Tv show scores – all this despite having no formal training in music theory. His boundaries as an artist are practically limitless, and that ethos reflects in all his work. His influences come from a wide spectrum of artists and musicians ranging from Indian classical, electronica, rock, techno and ambient – and Jayant has fused all of them to develop a unique style of music, all his own.
Even though these genres lay a fundamental base for his work, one can't characterize what you really experience and feel at his live shows. As Jitter, his sound is very edgy, experimental and almost psychedelic – bridging the gap between the outdoor vibe and a club. Alongside Jitter, he is also a part of Karsh Kale's band and has been touring with him since early 2012, the same year he was voted as the No.2 Dj in a DJ Mag India poll. But India's most versatile DJ/Producer doesn't need all of that to his credit – all he needs is one evening and one gig, for you to realize all of this on your own.
Venue
Auro Kitchen & Bar, Delhi
31, 2nd Floor, DDA Shopping Complex, Aurobindo Place Market, Hauz Khas, New Delhi - 110016