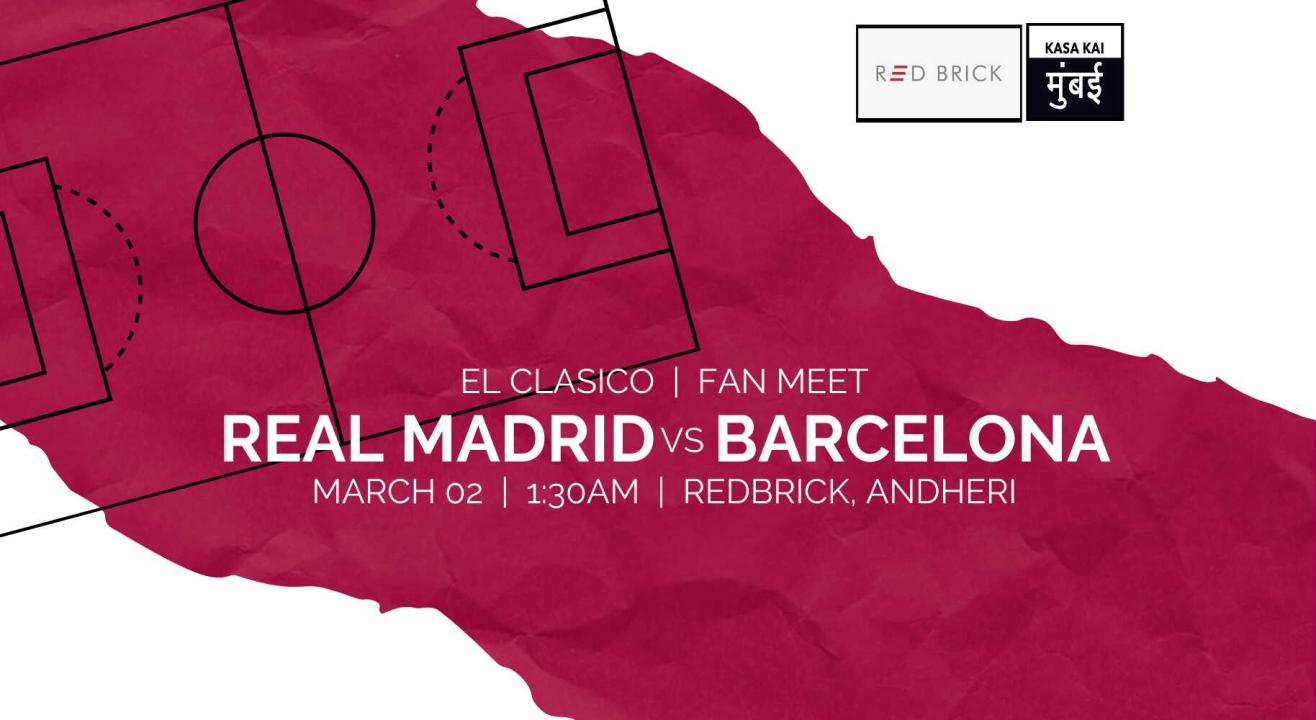 Screening
Real Madrid Vs Barcelona At Andheri
Redbrick Offices - Coworking Spaces at Andheri East
About
Kasa Kai, It's El Clasico − the biggest and the greatest fixture in the club football.
Catalan giants FC Barcelona will go head to head with the whites of Real Madrid at Santiago Bernabeu.
With pride and the La Liga title up for the grabs, it would surely be a fixture you can't miss − even as a neutral.
So, come join us for this action−packed fixture with Kasa Kai Mumbai on the big screen and witness a stadium−like atmosphere with your fellow football fans.
Q: Will the match commentary be played on the audio system?
A: Yes

Q: Are stag entries allowed?
A: Ofcourse

Q: Will the match be played on a big screen?
A: Yes, the match will be played on a projector-screen arrangement.

Q: When should I reach the venue?
A: You can reach the venue anytime starting from one hour before the match.

Q: Is the screening specific to supporters of a particular club?
A: No, all are welcome to the screening.

Q: Can tickets be purchased on the spot?
A: It is recommended to purchase tickets beforehand as, if the venue is full you may not be given entry on the day of the event. Tickets are transferable so if there are any last minute changes, you could have someone else attend the event on your behalf.

Q: Will the full match be shown?
A: Yes, we will show the entire match with commentary.


Venue
Redbrick Offices - Coworking Spaces at Andheri East
Kaledonia, 1st Floor, Sahar Rd, Navpada, Vile Parle East, Andheri East, Mumbai, Maharashtra 400069
GET DIRECTIONS