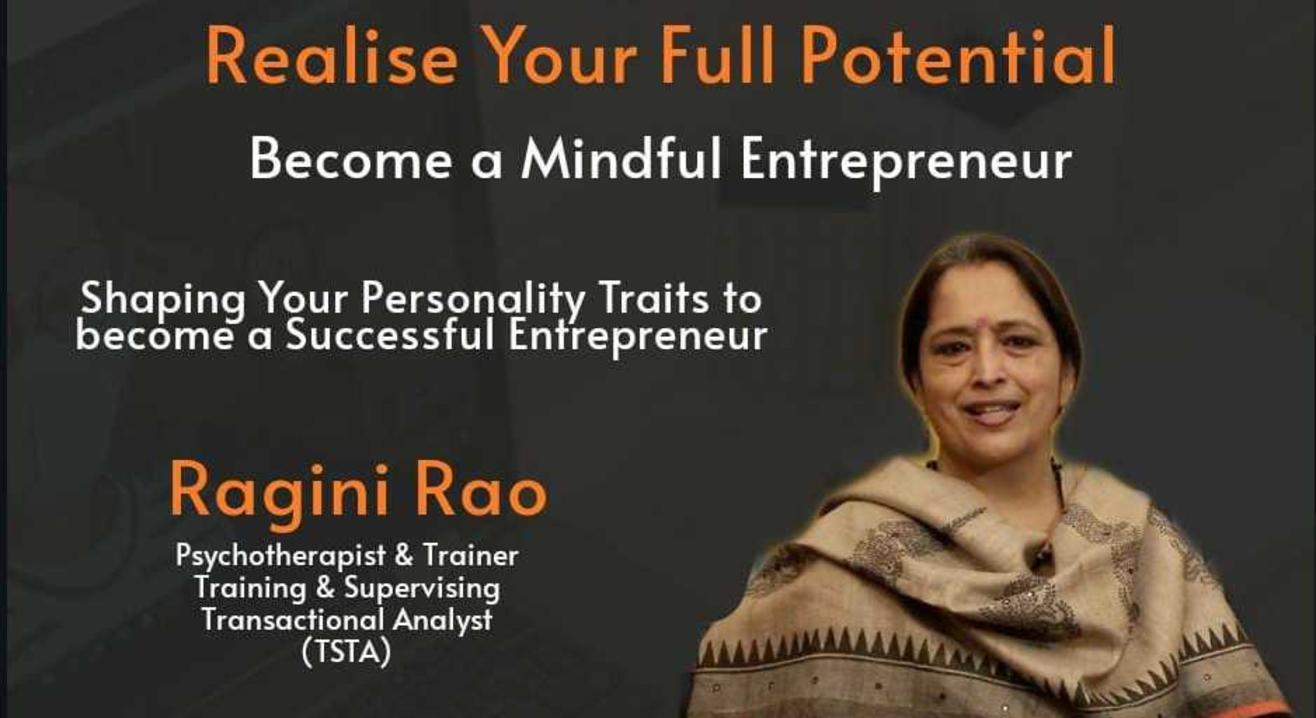 Realise your full Potential - Become a Mindful Entrepreneur
September 19 | 4PM - September 21 | 6PM
Invite your friends
and enjoy a shared experience
Invite your friends
and enjoy a shared experience
About the Event
Realise your full Potential - Become a Mindful Entrepreneur
This program takes you through a journey of introspection to evaluate where you stand vis-a-vis key personality traits seen in successful entrepreneurs; and what you would like to develop as your own unique style, to be successful.
The program uses the framework of Dr. Eric Berne's world renowned theory of Transactional Analysis, taking you through some core concepts which help understand your own personality. Using these, you will delve deeper to understand your Personal Style, Communication Style and your key Motivators and Inhibitors.
Session 1 - Day 1
Personal Style – My Leadership Style
Who am I?
What are my strengths?
What do I need to change?


Session 2 - Day 2
Communication Style – How I Influence others
How do I connect with others?
Learning to communicate effectively.


Session 3 - Day 3
Motivators & Inhibitors – What excites me and how to overcome limiting
patterns
What are my values & beliefs?
My psychological needs?
What keeps me going?
What holds me back?




Facilitator : Ragini Rao, Psychotherapist & Trainer- Training & Supervising Transactional Analyst (TSTA)


Ragini Rao is a Teaching and Supervising Transactional Analyst (TSTA). She trains and supervises advanced training groups in Transactional Analysis to become Psychotherapists, Coaches and Trainers.


She offers Life Coaching to individual clients and Supervision to Counsellors and Psychotherapists to help them work with their clients.


With over 5000 hours of one-on-one and group counselling and therapy, over a span of 25 years, she has addressed problems pertaining to Relationships, Marital Issues, Depression, Grief, Low Self Esteem and Sexual, Verbal and Physical Abuse.


Ragini is also a licensed workshop leader for the "Heal your Life" programs based on the philosophy of world renowned author Louise L. Hay.


Her Corporate training programs focus on Personal Development and Growth, focussing on Self Discovery, Inter-personal relationship skills, Team building and Team management skills.


Ragini Rao regularly conducts the TA 101 program, the first level certification program in Transactional Analysis, for individuals wanting to improve self awareness or aspiring to become psychotherapists.


She is a co-founder of InfinumGrowth, an online learning platform offering training programs and workshops by experienced trainers, designed to provide learning on different aspects of life and work.


Major Programs & Assignments
1.Corporate Training programs for large companies such as the Adani Group, Mindtree Consulting, ITC Ltd, Medtronic India, Tesco India, Huawei Technologies and Novozymes.
2.She is the current President of South Asian Association of Transactional Analysts (SAATA)
3.Apart from different cities across India, Ragini has conducted programs in Singapore, Bali and Bangladesh.
Education and Certifications
1. B.A. Psychology (hons.) from Delhi University
2. M.A. in Psychology from Delhi University.
3. Certified Behavioural Counsellor from Parivartan, a Counselling & Training Organisation at Bangalore.
4. Neuro Linguistic Programming; Basic practitioner's course conducted by Richard McHugh, a NLP trainer from the USA.
5. Certified Psychotherapist in Transactional Analysis from the ITAA.
6.Teaching and Supervising Transactional Analyst - TSTA (Psychotherapy) from the International Transactional Analysis Association (ITAA).
7. Heal Your Life-(Louise Hay)- licensed workshop leader.