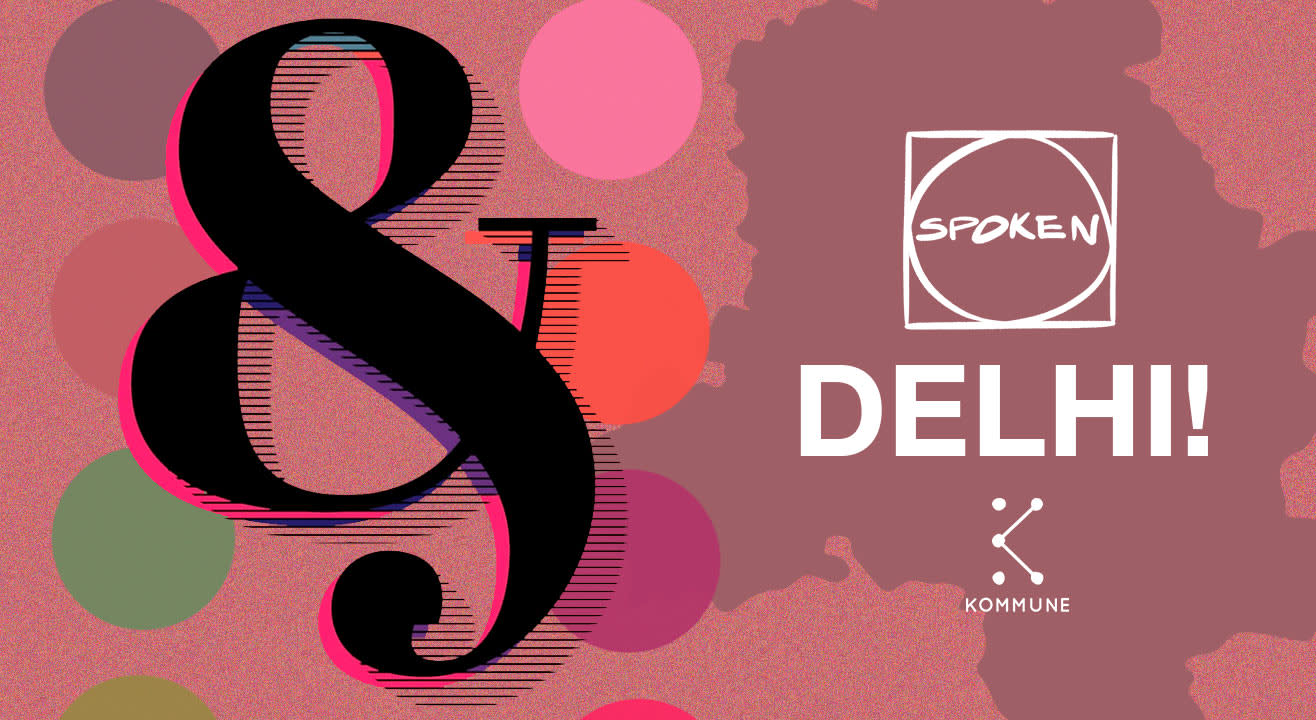 Poetry
6 Reasons To Attend The Spoken Fest 2019 in Delhi!
The word is out - Spoken Fest is coming to Delhi! Come and be a part of a two-day festival dedicated to the spoken word that will shine a spotlight on artists from across the country.
The power of words.
The love for words.
Words that can move you, inspire you, change you.
Words to heal you. Words to express yourself.
Words to ease the queasiness. Words for the ineffable.
Words to show you care.
Words for you. Words for them. Words for everyone.

After a successful 1st edition in 2017 and then once again in 2019 in Mumbai, Spoken Fest is back and will be spending a chilly Delhi winter weekend! Over the course of two days, witness some of the most vibrant voices, poets, storytellers, thespians, lyricists, comedians and musicians who will move you, make your heart sink and brim with joy at the same time.

Here are six reasons why you should attend India's biggest celebration of words, voices and stories.
1. A first of its kind initiative for Spoken Word in India.
You've never been to a fest like this before,

By the end of it, you'll be shouting "Encore!"
Once a year, storytellers, songwriters, poets and performers from across the globe, gather to share their art with you. Spend your afternoons sitting down, all cosy and cross-legged, swapping stories at a workshop. Listen to your favourite poet share the secrets of their craft. And, as the day melts into night, tune into guitar jams and sing-alongs under fairy lights. Two days to cherish and discover all things beautiful in the universe of performing arts.
2. Enter the magical world of words.
Like Alice through the rabbit hole,

Them words will find their way to your soul.
Poignant truths, comedic insights, lyrical ballads and far-out fiction in languages as varied as Urdu, English, Hindi, etc. You will hear the rallying cries of the heart and the thud of mics dropping. Poets, storytellers, thespians, lyricists, comedians and musicians will have your heart beating at the mercy of their words. Pure creative self-expression.
3. The lineup.
With a kommuneity like this in the hood,

You know it's going to be REAL good!
Spoken 2019 in Mumbai had Indian Ocean, Alok Vaid Menon, Jim Sarbh, Prateek Kuhad, Olivia Gatwood, Akua Naru, Alif, Blythe Baird, Ditty, Slam Out Loud, Prashasti Singh, Shantanu Anand & Nandani Verma, Ta Dhom, Gurmehar Kaur, Rahat Indori, Bharath Divakar, and then some more. 'Nuff said.

You can only imagine what will be in store for you in Delhi this winter!
4. Learn something new.
For those of you who'd like to learn a trick or two,

Lessons in letting your creative juices flow!
Come discover your own voice and register for afternoon classes in ancient folklore to new-age spoken word, theatrical performance to lyric-writing and much more. You'll learn tips and tricks, words of advice and dive deep into words-to-the-wise from masters in their craft.
5. Come, belong at Spoken.
Meet, mingle, marinate, unwind, repeat!


Whatever you do, it's going to leave you transfixed, transported and maybe even transformed.
Tons of lip-smacking food and drinks to choose from, designed meeting spaces to mix and mingle with your friends or just unravel on your own. Come alone, bring your partner, or even better – bring a third wheel! Join a weekend to experience the feelings you thought could not be put into words.
6. Feel inspired.
If it is inspiration that you seek,

It's seeking you too, as we speak.
Rest assured at the end of two days, you will be inspired, entertained, captivated, heartened, enlivened, awakened, stirred, motivated, gripped, charmed, joyful, turned on and tuned-in. That inner spark, igniting.
Spoken 2019 - JioGarden, Mumbai - Here's what went down.
A weekend full of beautiful memories, performances, and connections! Spoken 2019 was where words found their home.


What are you waiting for? Book those tickets already!
Subscribe to receive our newsletter!
Find the best experiences happening out there in your city or enjoy handpicked content while sitting comfortably at home. Paytm Insider is your go-to place to figure out what to do today!