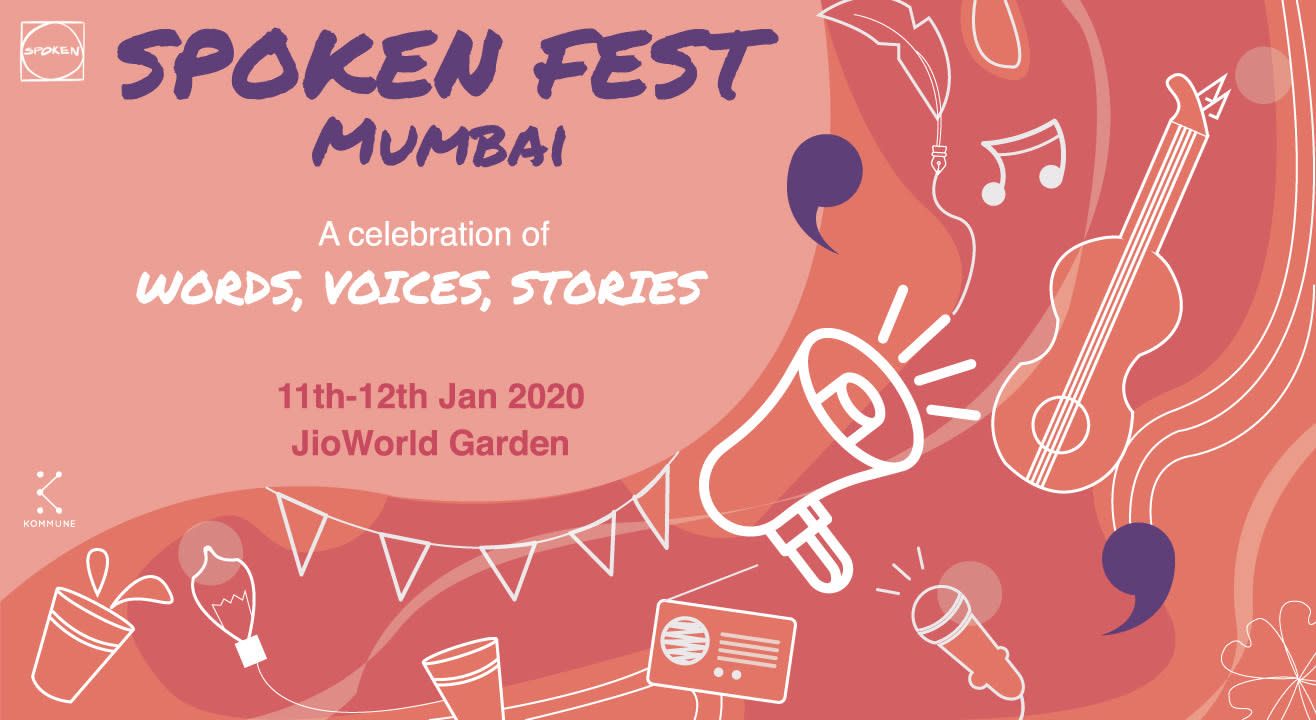 8 Reasons To Attend The Spoken Fest 2020 in Mumbai!
The word is out - Spoken Fest is coming to Mumbai! Come and be a part of a two-day festival dedicated to the spoken word that will shine a spotlight on artists from across the country.
Invite your friends
and enjoy a shared experience
Words can move you, inspire you, change you.
Words can heal you, and help you express yourself.
Words can erase tensions, and restore lost connections.

Words show you care.


Between you, us and everyone; words are what we share.


After two successful editions, Spoken Fest is coming back to Mumbai in 2020! Over the course of two days, witness some of the most vibrant voices, poets, storytellers, thespians, lyricists, comedians and musicians whose words will move you, make your heart sink and brim with joy at the same time.
Here are 8 reasons why you should attend India's biggest celebration of words, voices and stories.
1. A first of its kind initiative for Spoken Word in India.
Poets will catch you in their couplets,

storytellers will spin you around.

Comedians will make you think and

musicians will ferry you across the rivers of sound.
Once a year, storytellers, songwriters, poets and performers from across the globe, gather to share their art with you. Spend your afternoons sitting down, all cosy and cross-legged, swapping stories at a workshop. Listen to your favourite poet share the secrets of their craft. And, as the day melts into night, tune into guitar jams and sing-alongs under fairy lights. Two days to cherish and discover all things beautiful in the universe of performing arts.
2. You will never be lonely.
Building a loving community

of spoken word aficionados

is, sort of, our mission.

Everyone's got a story, we're here to listen.
Spoken is an initiative of Kommune, a community of artists. Come alone, bring your partner, or even better – bring a third wheel! Spoken is a community of people who appreciate the moving power of words as much as you do. Spend a weekend with them and experience feelings that refuse to be defined by words.
3. Enter the magical world of words.
Like Alice through the rabbit hole,

Them words will find their way to your soul.
Poignant truths, comedic insights, lyrical ballads and far-out fiction in languages as varied as Urdu, English, Hindi, etc. You will hear the rallying cries of the heart and the thud of mics dropping. Poets, storytellers, thespians, lyricists, comedians and musicians will have your heart beating at the mercy of their words. Pure creative self-expression.
Here's a glimpse of the magic last year:
4. Let our artists astound you.
Get lost in a world of words with Shane Koyczan

Be stirred by the poetry of Gaurav Tripathi

Fall in love with Rudy Francisco

Free your souls with Samar Mehdi
And a whole host of exciting thespians, poets, musicians and storytellers like Amol Parashar, Megha Rao, Vipul Rikhi, Shruti Vyas, Rupesh Tillu, Slight Diversion, Jasmine Khurana and Hari Sankar with more on the way!
5. The lineup.
With a kommuneity like this in the hood,

You know it's going to be REAL good!
Spoken 2019 in Mumbai had Indian Ocean, Alok Vaid Menon, Jim Sarbh, Prateek Kuhad, Olivia Gatwood, Akua Naru, Alif, Blythe Baird, Ditty, Slam Out Loud, Prashasti Singh, Shantanu Anand & Nandani Verma, Ta Dhom, Gurmehar Kaur, Rahat Indori, Bharath Divakar, and then some more. 'Nuff said.


Here's the line-up for Mumbai, 2020:
The Local Train: The Local Train is a Hindi Rock Band from New Delhi who write and produce their own music. The band launched 4 singles over a year before releasing their debut album 'Aalas ka Pedh' in 2015. Their second album 'Vaaqif' was released in January 2018 with one of the most-streamed independent albums on Apple Music India.
Peter Cat Recording Co.: Formed in New Delhi around 2010 by the crooner Suryakant Sawhney, PCRC is a group that's mutated over time, shedding members and accruing more, always evolving musically with each album.
Rudy Francisco: Rudy Francisco seeks to create work that promotes healthy dialogue, discourse and social change. Furthermore, Rudy has made conscious efforts to cultivate young poets and expose the youth to the genre of Spoken Word Poetry via coaching, workshops and performances at preparatory schools and community centres.
Shane Coyczan: Shane Coyczan is an international Spoken Word artist.
Mithila Palkar: This 26-year-old Mumbai girl has taken the web by storm, she's the new age internet superstar. Her career kick-started with Filter Copy's 'News Darshan', followed by her 1st full-length web series titled 'Girl in the City'. Her latest release is "Chopsticks" with Abhay Deol and "Little Things 3" on Netflix.
Slight Diversion: Slight Diversion seem to write intensely personal songs that speak to the complexities of the human heart. In joy, in time, in close up. Their work shuns the pop vocabulary and generalities and speaks to that midnight moment when only truth remains.
Rohan Joshi: Rohan Joshi is a writer, digital creator and a popular Indian stand-up comedian. In 2012 he helped found AIB, one of India's first and largest independent online content creators. He is currently working on his next stand-up special.
Varun Grover: Varun Grover is a standup comedian, lyricist, short fiction, and screenplay writer based in Mumbai, India.
Yahya Bootwala: Yahya Bootwala rose to fame after his piece "Shayad Woh Pyaar Nahi Hai" went viral on the internet. With 10M+ views, he is the most viewed Spoken Word Artist in Asia. Not just this, he is an aspiring actor, storyteller and has worked with Radio Mirchi.
Hari Sankar: Hari co-founded Beatmap after graduating and found love for performing arts along the way. On further exploring his talents, Hari became a TEDx speaker, a vivid storyteller and an excellent corporate trainer.
Spitfire: Spitfire's lyrical fluency and way with words became apparent with his contribution to Gully Boy, for which he wrote most of the protagonist, Murad's rap battles His single for the feature, 'Asli Hip-Hop' was used to introduce a Bollywood dependent audience to the real value of Spitfire's beloved genre.
Rupesh Tillu: Rupesh Tillu is an actor, director and independent film-maker, born in Mumbai India. He holds MFA in Physical Comedy from The National School of Dramatic Arts, Sweden.
Vipul Rikhi: Vipul Rikhi is a singer, poet, fiction writer, translator and Tango dancer! He's been immersed in the oral traditions of Kabir and other Bhakti and Sufi poets for over a decade.
Sainee Raj: Sainee Raj is an actor-writer who wrote the award-winning short films "Int. Cafe - Night" and "The Last Day". She finds poetic justice in words and is obsessed with everything Gulzar Saab and Urdu.
Shruti Vyas: Shruti Vyas is an actor and artist, who loves learning anything that is artistic - acting, singing, dancing, cooking and writing. What she loves most about writing is that it enables her to say all those things that she's not otherwise allowed to say.
Amandeep Singh: Amandeep Singh is a storyteller and writer who has reached over 20 million people online with his stories. He has been featured by Netflix, Buzzfeed India, The Indian Express and many other media houses.
Amol Parashar: One of the most loved actors in the digital space, you probably know Amol as 'Chitvan Sharma' from the superhit web series TVF Tripling. What you get in person is someone as witty, charming and delightful, if not more.
Anshu Mor: A stand-up comedian, an entrepreneur and most importantly, a storyteller. His versatility with the spoken word will crack you up and warm your heart all at once.
Megha Rao: Megha Rao is a confessional poet and a surrealist artist. Her two fiction titles were published by Penguin Random House India in 2015 and 2016 and her work has been featured on platforms such as Firstpost, The Open Road Review, New Asian Writing, Homegrown, and more.
Kausar Munir: A contemporary lyric, dialogue and screenplay-writer, Kausar Munir has scripted lyrics for scores of films such as Ishqzaade, Youngistan and Dear Zindagi and penned dialogues for Bajrangi Bhaijaan and Begum Jaan among others.
Gaurav Tripathi: Gaurav Tripathi is a Hindi spoken word poet and storyteller. His writing leaves you introspecting, much like his famous piece 'Lord Ram In Court' does.
Priya Malik: Priya Malik is a lot of things - a TEDx speaker, an actress, a columnist, a teacher, a comic and more—but most importantly a writer/performer whose recent viral works such as Right to Pleasure and Dear Mr Player are a testimony to her distinct voice.
Jasmine Khurana: From a geeky economics professor, now dancing to the real soundtrack of her life as a writer and Spoken Word artist. She is best known for her piece 'Banter Between Generations' that she performs with her son.
Sumit Roy: Roy is a tri-lingual rapper and a visual artist currently based out of New Delhi. With his art, he confronts the reality of an industrialized nation while occupying the Indian context. As an artist working with sound, text and image, he is able to tap into a range of sensibilities while defying them all.
Samar Mehdi: Samar Mehdi is a percussive fingerstyle guitarist and singer-songwriter from Bhopal. He released his debut EP 'Urooj' in April which received a rave response and appreciation for its underlying wisdom and honesty.
Mahitha: Mahitha swapped her life in Chennai as an etiquette columnist & trainer featured in a 'top 10 in the country' list, for one in Mumbai, hanging about backstage at rehearsals, making tea and checking to-do lists, when, luck by chance, she landed her first screen role in Sacred Games, playing Dr.Ponnuthai nuclear scientist, aka the Bomb Aunty.
6. Learn skills you've been meaning to learn.
Cup a cuppa coffee,

write letters to a friend imaginary,

learn the secrets of a great story (it's empathy),

discover clowns that aren't really scary. Like, at all. Pinky promise.
From learning how to produce a podcast to discovering the barista you always were, Spoken is full of workshops where you can grow yourself in wonderful ways. Come learn something new about yourself.
7. Come, belong at Spoken.
Meet, mingle, marinate, unwind, repeat!


Whatever you do, it's going to leave you transfixed, transported and maybe even transformed.
Tons of lip-smacking food and drinks to choose from, designed meeting spaces to mix and mingle with your friends or just unravel on your own. Rest assured at the end of two days, you will be inspired, entertained, captivated, heartened, enlivened, awakened, stirred, motivated, gripped, charmed, joyful, turned on and tuned-in. That inner spark, igniting.
8. Because inspiration surrounds you.
If it's inspiration you seek,


know that the inspiration is seeking you too!
Let's do a quick count; we've got
a full weekend on our hands with
poets, storytellers, singers, bands,
workshops, experiences in Mumbai's crisp wintry air
and a BIG WIDE Kommuneity with love in our hearts to spare.
Only thing missing is you.
Spoken 2019 - JioGarden, Mumbai - Here's what went down.
A weekend full of beautiful memories, performances, and connections! Spoken 2019 was where words found their home.


What are you waiting for? Book those tickets already!
Subscribe to receive our newsletter!
Find the best experiences happening out there in your city or enjoy handpicked content while sitting comfortably at home. Paytm Insider is your go-to place to figure out what to do today!