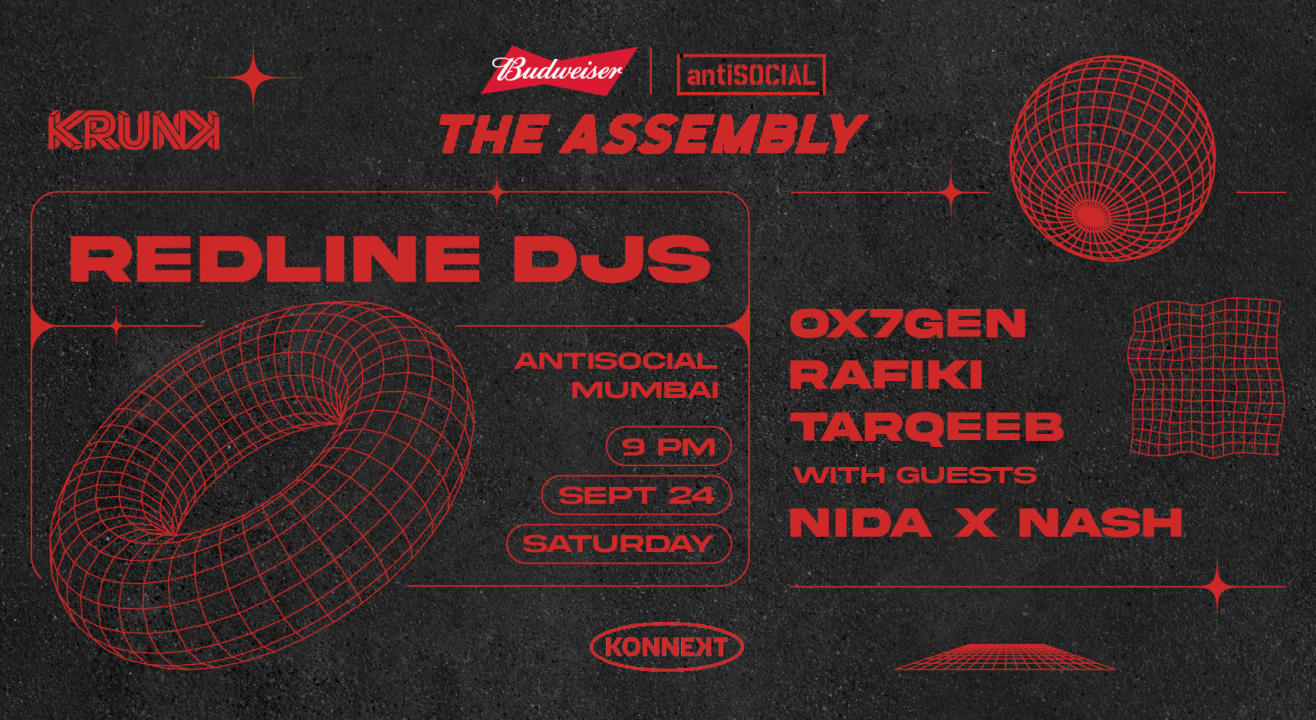 Redline DJs feat. OX7GEN, Rafiki & Tarqeeb | antiSOCIAL Mumbai
September 24 | 9PM - September 25 | 1AM
antiSOCIAL, Lower Parel, Mumbai
Event Guide
Live Performance
Enjoy a unique experience
Invite your friends
and enjoy a shared experience
Redline DJs feat. OX7GEN, Rafiki & Tarqeeb | antiSOCIAL Mumbai
September 24 | 9PM - September 25 | 1AM
antiSOCIAL, Lower Parel, Mumbai
Event Guide
Live Performance
Enjoy a unique experience
Invite your friends
and enjoy a shared experience
Event Guide
Live Performance
Enjoy a unique experience
Invite your friends
and enjoy a shared experience
REDLINE DJs is a collective comprising Dreamstates, OX7GEN, Rafiki, Tarqeeb & Zokhuma
About Redline DJs -
If you ain't redlining, you ain't headlining!
'Redlining' may be the unspoken faux pas of the global DJ community. Still, for Bombay collective Redline DJs, a suggestion of excessive levels serves more as a metaphor symbolic of how the crew has continued to raise the bar with thoughtfully-referenced selections, time and again.
Born from the hazy recesses of the after (after) party, the city's most prolific DJs come together for a crash course rooted in five deeply distinctive styles of curation, as well as the magic that is their unique collective chemistry. OX7GEN, Rafiki, Tarqeeb represent a formidable tag team of sounds ranging from jagged breakbeat, burgeoning techno, hardcore jungle and everything in between.
antiSOCIAL, Lower Parel
CS #242, Near Viva Centre, Mathuradas Mill Compund, Lower Parel West, Mumbai
GET DIRECTIONS
Redline DJs feat. OX7GEN, Rafiki & Tarqeeb | antiSOCIAL Mumbai
September 24 | 9PM - September 25 | 1AM
antiSOCIAL, Lower Parel, Mumbai
Event Guide
Live Performance
Enjoy a unique experience
Invite your friends
and enjoy a shared experience