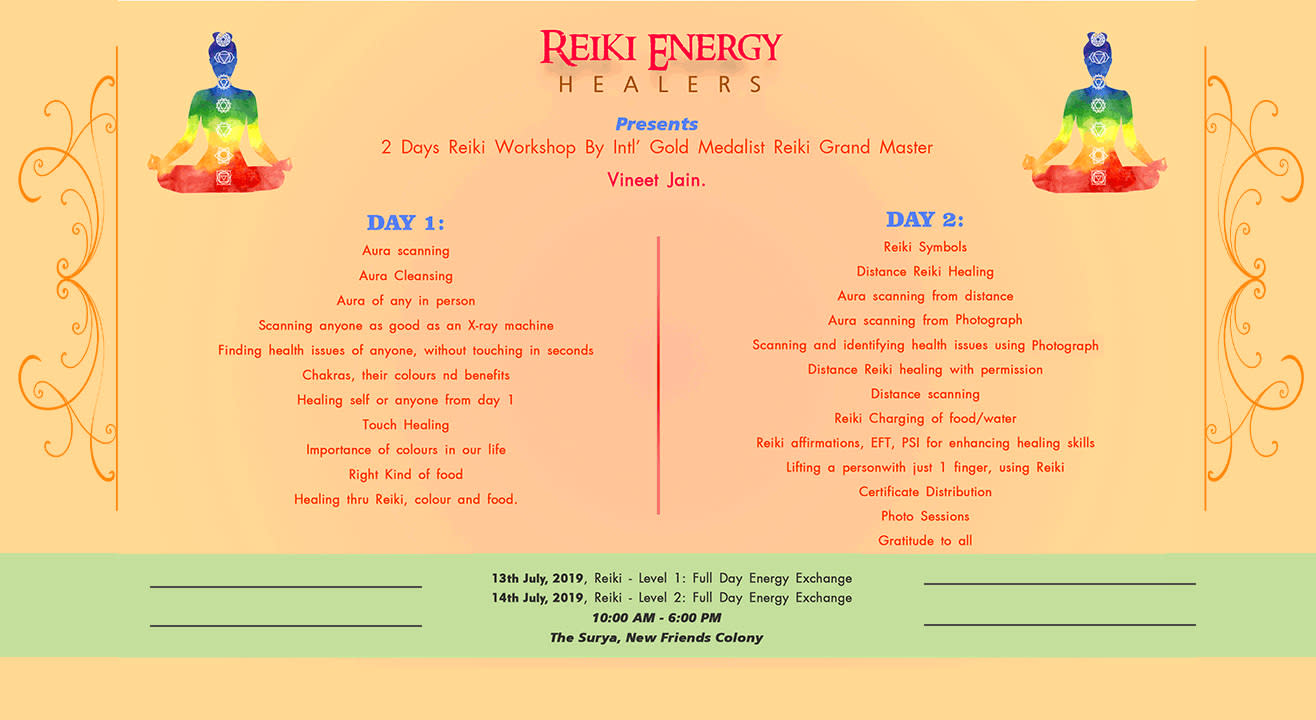 Health
Reiki Healing Workshop By Grand Master Vineet Jain
About
Reiki Energy Healers
About Reiki :-
Reiki is a Japanese technique for stress reduction and relaxation that
also promotes healing. It is administered by laying on hands and is
based on the idea that an unseen Life Force Energy flows through us
and is what causes us to be alive.
Now, You will have the power to heal your family without any
Medicine by attending the Reiki Workshop By Vineet Jain on
13 th and 14 Th of July (Sat-Sun) .
Vineet Jain
Owner of Reiki Energy Healers
A certified Reiki Grand Master from Delhi, India is into Reiki training and
healing since 2008. He uses all the cosmic energies that can be used for
healing and burning the blockage free life.
He even took a complete Reiki grand mastership from Reiki Healing
Foundation.
The workshop is of two days which presents many activities from Day 1
to Day 2:-
Aura scanning and Aura Cleansing.
Chakras, their colours and benefits
Touch Healing
Reiki Symbols
Distance scanning
Identifying Health issues using Reiki
Reiki charging of food/water
Moreover, Photo session and Certificate will also be distributed to those who
will likely to attend the workshop.
So, Now Get ready to feed your soul and restore it by Reiki healing.
Timings : 10:00 a.m to 6:00 p.m
Venue : The Surya, New Friends Colony
Venue
The Suryaa New Delhi
Friends Colony West, New Friends Colony, New Delhi, Delhi 110025
GET DIRECTIONS