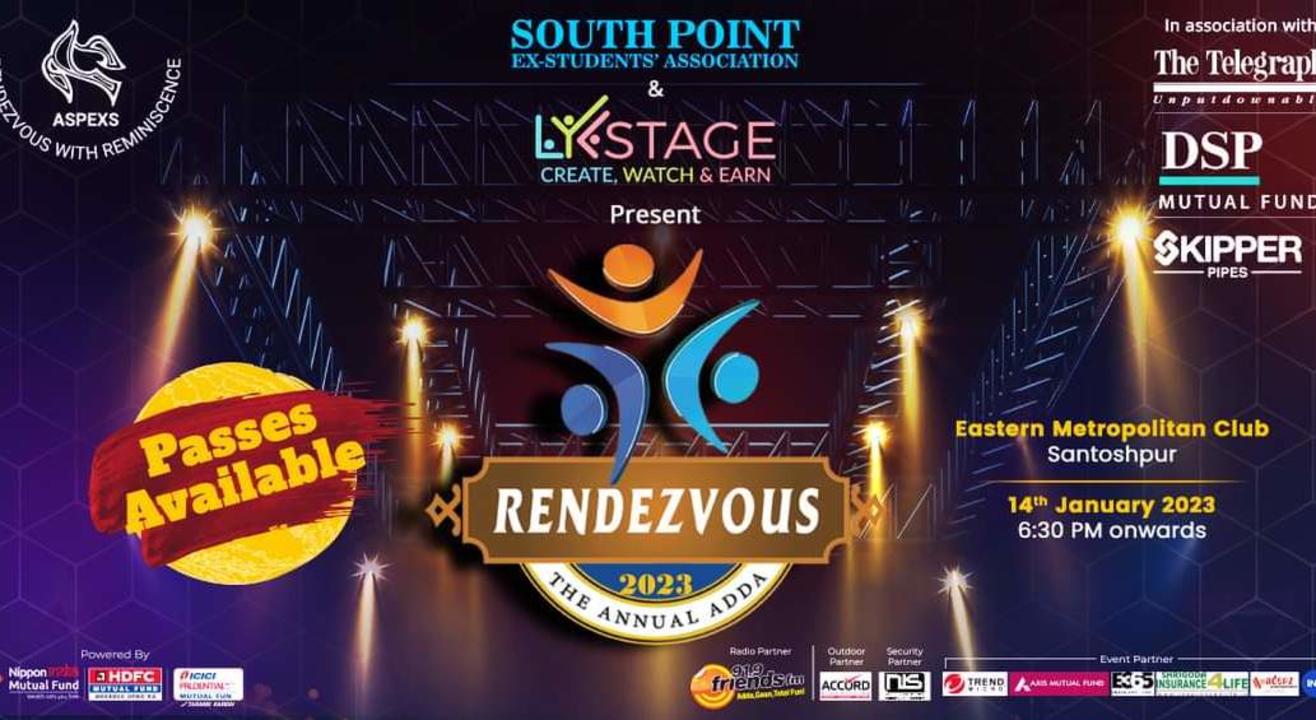 Rendezvous 2023 South Pointers' Annual Reunion
Eastern Metropolitan Club, Kolkata
Step out and enjoy this event
Invite your friends
and enjoy a shared experience
Rendezvous 2023 South Pointers' Annual Reunion
Eastern Metropolitan Club, Kolkata
Step out and enjoy this event
Invite your friends
and enjoy a shared experience
Invite your friends
and enjoy a shared experience
Dear Pointers
After a hiatus of three years, South Point Ex-students' Association (ASPEXS) is back with its signature event for the Pointer community, the Annual Reunion Dinner and Dance – RENDEZVOUS 2023, presented by LYKSTAGE in association with The Telegraph, DSP Mutual Fund and Skipper Pipes.
Life as we knew it underwent a significant change in March 2020, leaving no one unaffected. We all have tales of suffering, of sorrow, of separation from dear ones, to tell. At the same time, the two plus years of the pandemic have been a showcase of mankind's resilience, of its ability to survive all odds, to look ahead and stay positive for the future. Against this background, ASPEXS is happy to organize the biggest and grandest get-together for Pointers cutting across generations, in a celebration of our camaraderie.
RENDEZVOUS 2023, the Annual Adda of Pointers will take place on Saturday, 14th January 2023 at the Eastern Metropolitan Club, Santoshpur (Off EM Bypass), Kolkata from 6.30 pm. Sumptuous food and an array of entertainment activities have been planned, to enhance the spirit of the Adda. Our own young Sanchari Sengupta of the 2019 HS batch, Star Jalsha Super Singer 2020 Champion and Indian Idol Season 13 participant, will perform from her repertoire of songs for the evening and will look forward to encouragement and blessings from the Pointer community for a bright singing career. The much-applauded O Saathi Chal will be back with its 3rd edition, featuring regular Pointers from various walks of life, doing the ramp walk and showcasing their hidden talents. The talented DJ Koyel will take the floor till the end of the evening, so come with your dancing shoes on. Snacks, drinks and many other arrangements will be there for a wholesome evening of fun, adda and memories. We will also celebrate 25 years and 50 years landmarks of graduating from the School, of the 1997 and 1972 batches respectively.
Invitation cards are priced at Rs. 950 per head, while life members of ASPEXS will be entitled to the same at Rs 850 per head. Young Life members who belong to 2017 MP batch or later will be entitled to one pass at Rs 750 per head.
Please attend the event with your family and friends and make it the talk of the town.
Life Members' Special Cards will be available only from ASPEXS office at South Point School, 16 Mandeville Gardens.
Invitation Cards will also be available on and from 2nd January at:
South Point School (Mandeville Gardens); Star Mark (Quest and South City); Chowman (Patuli); Oudh (Deshapriya Park); Wasabee (Kalikapur); Ocean Grill (Sector V, Salt Lake); Calcutta Calling (Kasba); Cakes (Ekdalia).
Eastern Metropolitan Club
A-73, Purba Diganta, Santoshpur, Kolkata, West Bengal 700075, India
GET DIRECTIONS
Rendezvous 2023 South Pointers' Annual Reunion
Eastern Metropolitan Club, Kolkata
Step out and enjoy this event
Invite your friends
and enjoy a shared experience