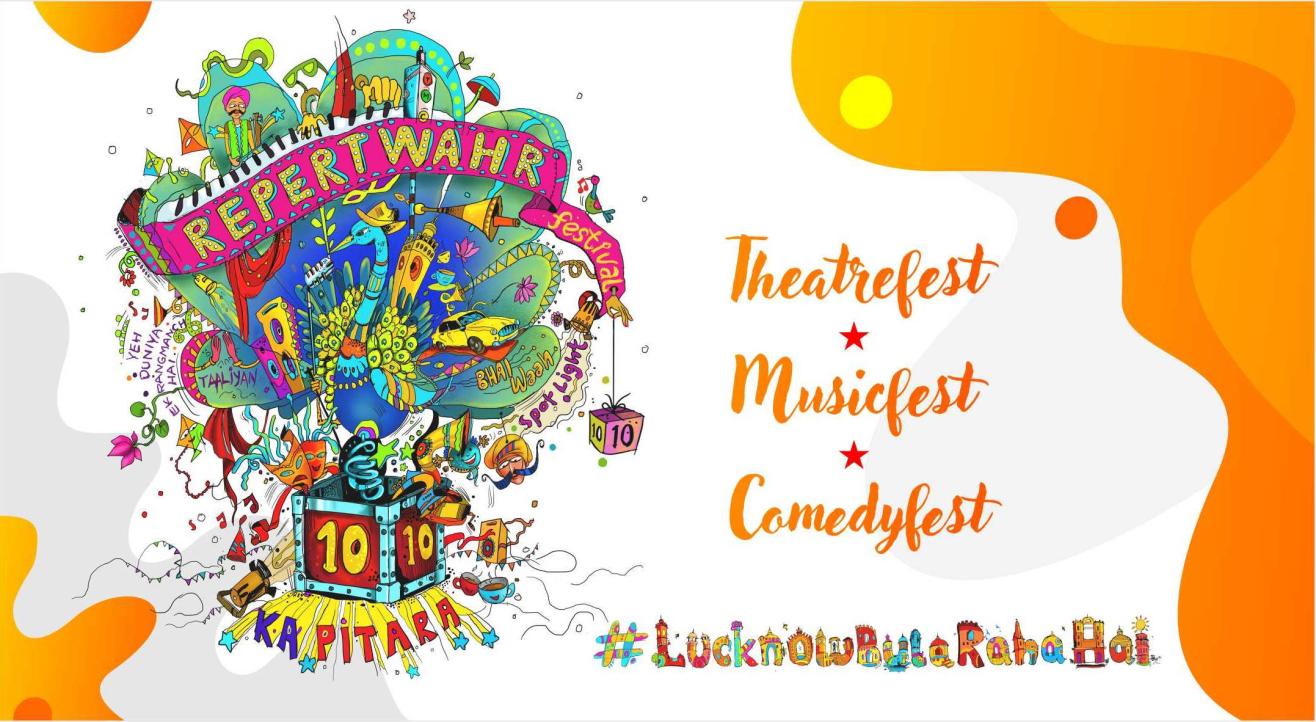 Repertwahr Festival Season 10 - 10 ka pitara
December 12 - 16 | Multiple Timing
Sangeet Natak Academy, Lucknow
Invite your friends
and enjoy a shared experience
Repertwahr Festival Season 10 - 10 ka pitara
December 12 - 16 | Multiple Timing
Sangeet Natak Academy, Lucknow
Invite your friends
and enjoy a shared experience
Invite your friends
and enjoy a shared experience
Repertwahr Festival's Season 10 - 10 ka pitara is here! Booked to be one of the most happening cultural events in the city's social calendar, this winter will be anything but dull! From some power-packed houses of theatre to some soul stirring and enigmatic music to a houseful arena laughing their tashreef's off, Repertwahr Festival's Season 10 will be opulence and excitement at its best!
We have curated an exciting line-up for everyone once again, so hurry and book your tickets for one of India's biggest performing arts festival. Be it theatre acts, musical gigs or comedy shows, we've got everyone's choices covered.
ABOUT REPERTWAHR FESTIVAL
Repertwahr Festival, born from the womb of theatre, was inspired by the works of Habib Tanveer in 2009. The festival, now, has become one of the most talked-about performing arts events in the City of Nawabs - Lucknow's social calendar. Weaving an opulent, hand-picked bouquet of some of the country's finest acts in Theatre, Music & Stand-Up Comedy, Repertwahr has hosted stalwarts like Saurabh Shukla, Manav Kaul, Kalki Koechlin, Makrand Deshpande, Mame Khan, Kunal Kamra, Satish Kaushik, Gaurav Kapoor, Swanand Kirkire, Indian Ocean, Aisi Taisi Democracy, Namit Das + Anurag Shanker, Raghu Dixit, Parvaaz, Ankur & The Ghalat Family, amidst others!
This fest is all about Theatre, Music, Comedy and an exclusive Meet the Cast- an interactive dialogue - where art patrons and media get a one-on-one chance to discuss the creative churning & process, the cast and crew of Repertwahr's acts go through. Adding rich layers of meaningful content to the festival's repertoire, Repertwahr Festival is one of the independent festivals in India, that has traversed through a decade and garnered staggering support from diverse quarters of media, public, art lovers, performers and artists.
Completing its 10th year in 2019, Repertwahr is coming back with a line-up that will make you laugh, cry, sing and applaud; leaving behind a lingering memory of a season that was beyond a regular play, a simple sip of coffee, a chuckle at a joke or a groove to your favourite beat!
Repertwahr Festival #10kaPitara jald aa raha hai aur aapko bhi phir se aana hai kyuki #LucknowBulaRahaHai
Theatre Play - Mosambi Narangi
Date - 12 Dec. Time - 3:00pm & 6:30pm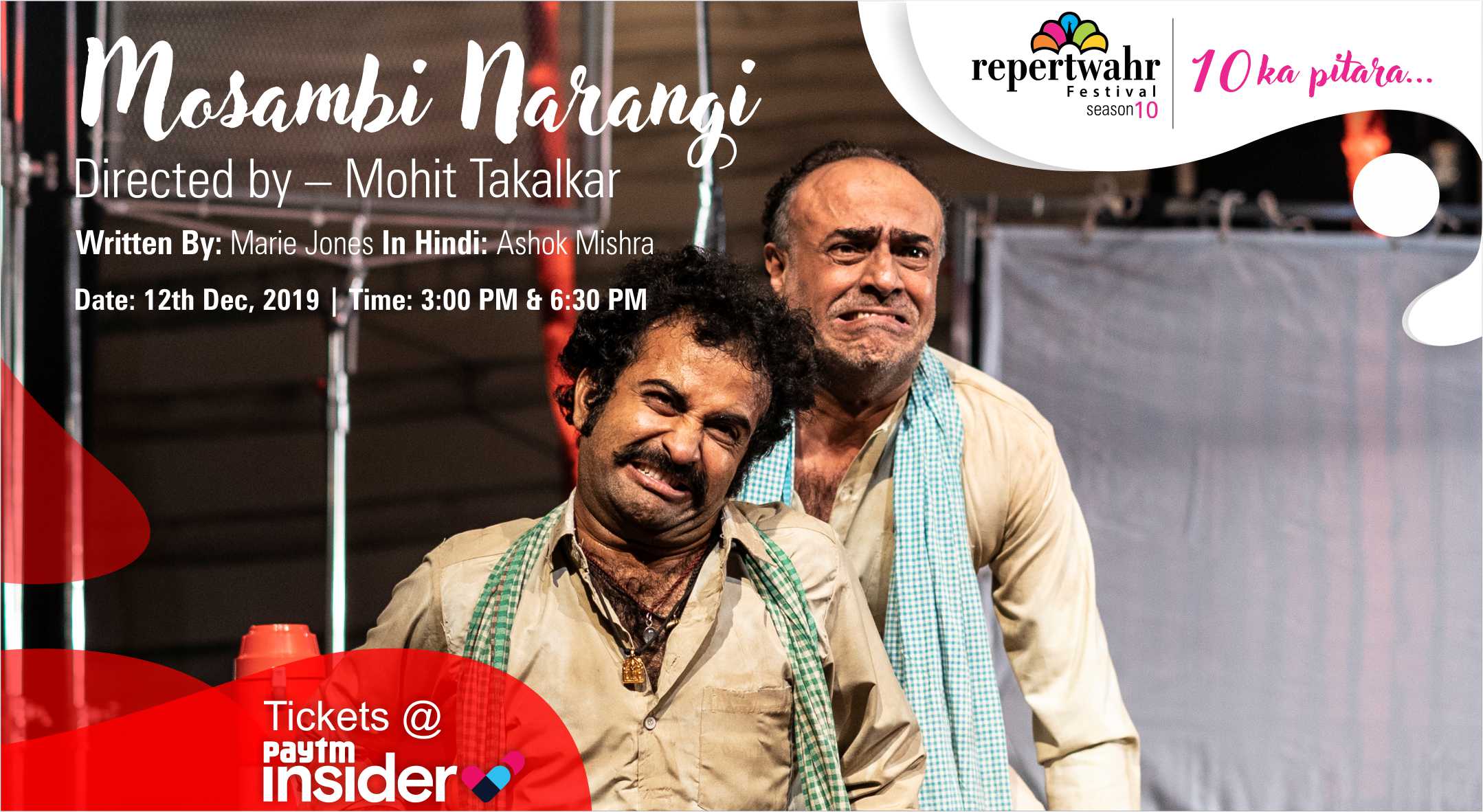 Synopsis - Mosambi Narangi
The next big Hindi blockbuster Isaq Banaraswala is being shot on the Banaras Ghats. Two locals, Mosambi and Narangi, are thrilled at being cast in this epic film. The glitz and glamour of Bollywood have always been a part of their dreams. Now they have the chance to be in an actual potboiler, to sing & dance with the beautiful and famous heroine Sabrina, to fight the goondas, to become reel-life heroes! Narangi has just closed down his video shop and has great aspirations to get his own script made into a film. Mosambi has recently returned from Bombay and is enthralled by the beauty of the movie's leading lady.

But they are only two extras trapped and stuck on the set...in continuity! And as our two innocent protagonists struggle to understand the functioning of the Hindi film business, the make-believe glamour of Bollywood quickly fades away and the reality of being an extra kicks in.

Mosambi Narangi, translated from the award-winning Stones In His Pockets, is a comic yet poignant take on the effects of the great Bollywood Dream on a small town.

Play Genre / Language: Social Comedy / Hindi
By Marie Jones
In Hindi by Ashok Mishra
Directed by Mohit Takalkar
Costume Design: Rashmi Rode
Cast - Ajeet Singh Palawat, Rajit Kapur


Theatre Play - Aurat Aurat Aurat
Date - 13 Dec. Time - 3:00pm & 7:30pm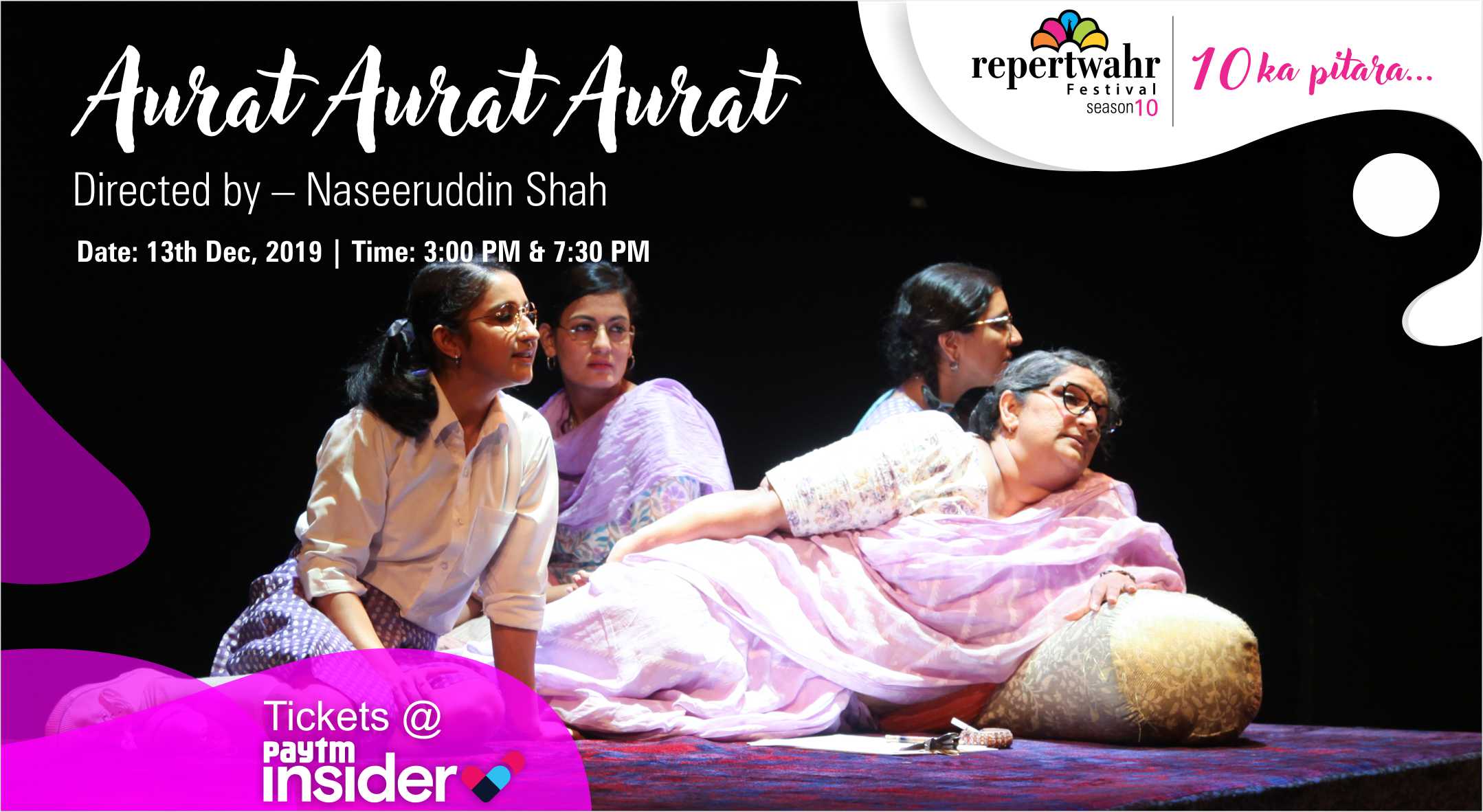 Synopsis - Aurat Aurat Aurat
An all female cast enacts selection from Ismat Chughtai's autobiography, and 3 other writings (EK SHAUHAR KI KHATIR, AADHI AURAT AADHA KHWAAB, SONEY KA ANDA) which are essays rather than stories, reflecting Ismat Apa's abiding concern for the state of womanhood, her impatience with empty rituals and her anger at the condescension women are subjected to.

Directed - Naseeruddin Shah

Play Genre / Language: Social Comedy / Hindi

Duration: 2 hours 10 mins incl. interval

Cast: Bhavna Pani, Seema Pahwa, Jaya Virlley, Prerna Chawla, Shruti Vyas, Trishla Patel, Dhruv Kalra, Vijay Telani, Vivaan Shah, Anirudha Rawal


Bone of Contention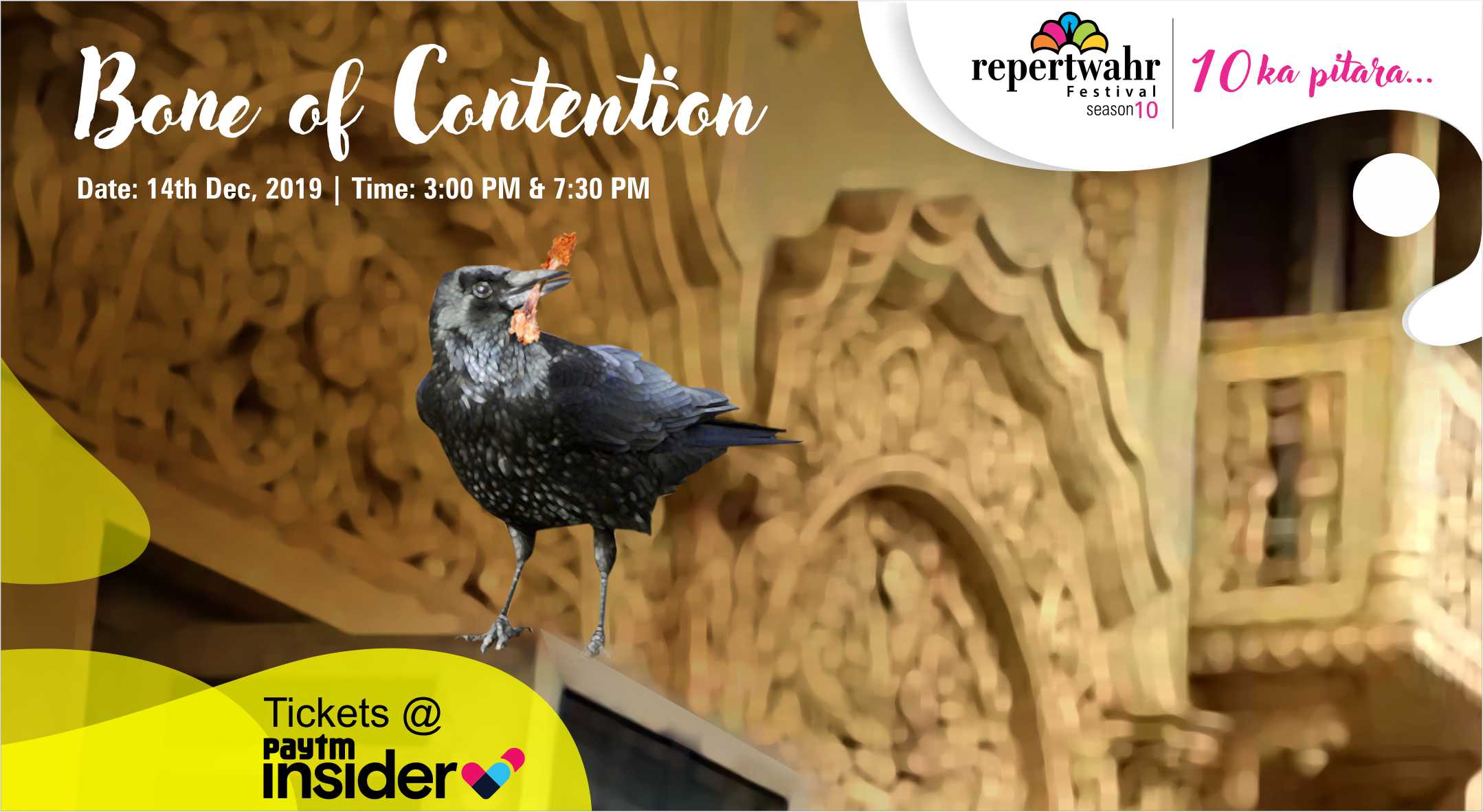 Synopsis:
The play is a farce based on a tiny event that blows out of proportion in a housing society. A crow drops a bone into the balcony of a resident at Cosmopolitan CHS. No-one wants the bone in their house, no-one wants to throw it in their own dustbin because it's not theirs, instead everyone wants to blame another for the "appearance" of this bone and hence want the bone "returned" to the possible owner, i.e. another resident in the society.
Kalpana, our "sutradhar" and the househelp in the building, goes from house to house disposing the bone from one balcony to another as she narrates the realities of her life, which are far harsher than the petty games of blaming and shaming played by the residents of the housing society.
The play highlights the farcical and often superficial nature of religious beliefs of various communities. Kalpana is the voice of reason, who is matter-of-fact about her situation which needs to be addressed more than the religious origins of a bone.

Bone Of Contention In Cooperating Housing Society
A Fats The Arts Production

Written And Directed By - Faezeh Jalali
Approx. Duration - 90 Minutes - No Interval

Cast: Nidhi Bisht Karan Desai, Prajesh Kashyap, Abhishek Deswal, Meher Acharia-dar, Zinnia Ranji, Fatima Sheikh, Niketan Sharma, Muskkaan Jaferi, Junaid Khan, Sunny Abraham, Parna Pethe, Gillian D'souza, Chakori Dwivedi, Nitya Mathur, Shubham Chaudhary

Theatre Play - Agra Bazaar
Date -15th Dec, 2019 Time: 3:00 PM & 7:30 PM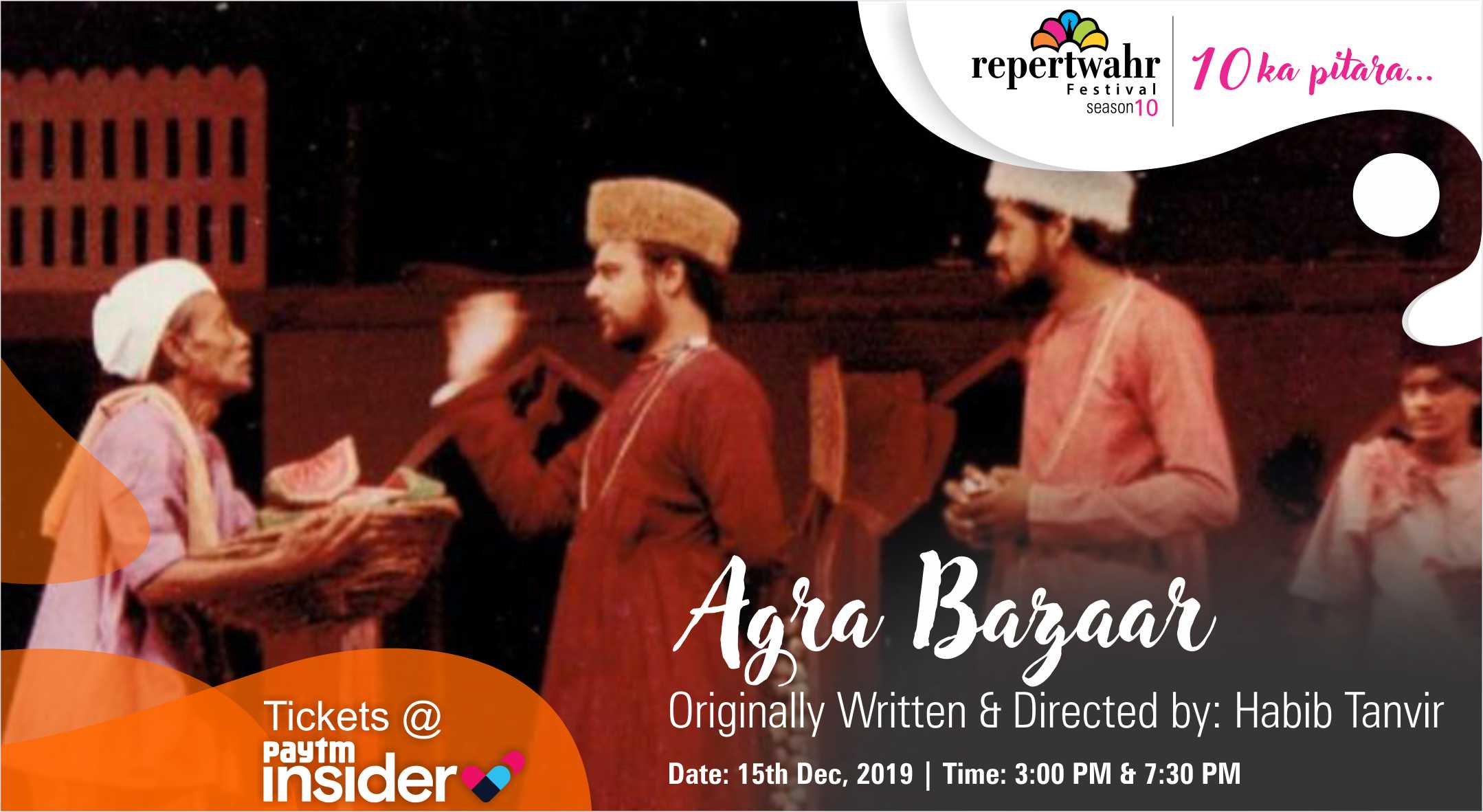 Synopsis - Agra Bazaar
The Play Agra Bazaar is woven around Nazir Akbarabadi's humanistic poetry and humanism is the theme of the play. Nazir, a truly proletarian poet, often wrote on demand for vendors and traders, beggars and vagabonds, never caring to collect or publish what he wrote. In Agra, depression prevails over the bazaar and nothing sells. A cucumber - seller feels that if he could get a poem written about the qualities of his product, it would sell better. He approaches several poets but they turn down his request. Finally he goes to the poet Nazir who promptly obliges him. He returns singing Nazir's song about cucumbers and customers flock for his product. Other vendors – Ladduwala, The Tarboozwala, etc. – follow suit and soon the whole bazaar is humming with Nazir's songs. Around this main plot is woven the story of a young vagabond who pursues a courtesan and comes to a sticky end at the hands of his rival a police inspector, whom he has earlier shamed in this game of love.

Language: Urdu, Hindustani
Written and Directed By Habib Tanvir
Cast - Anup Ranjan Pandey (Padam Shri Awardee) – Beniprasad (Singing and Acting), Ram Dayal Sharma (SNA Awardee) – Fakeer (Music and Singing), Ram Chandra Singh (SNA Awardee) – Daaroga (Acting and Direction)


Habib Tanvir: THE MAESTRO
Journalist, Playwright, Play Producer, Poet and Director, Habib Tanvir's name is one of the most well known and respected names in the field of theatreIn addition to being an active member of IPTA, Mumbai in his early days, he had also been an editor and drama critic. Some of his main production including Agra Bazaar, Mitti Ki Gadi, Charandas Chor, Jin Lahore Nahi Vekhya, Rajrakt and many more. Shri Tanvir was the recipient of numerous awards and felicitations such as the Sangeet Natak Akademi Award, the Shikhar Samman for Drama, the Nandikar Award, the Fringe First Award, the Padmashri and the Padma Bhushan, amongst many others. Theatre Play - Bali
Date: 16th Dec 2019 Time : 3:00pm & 07:30pm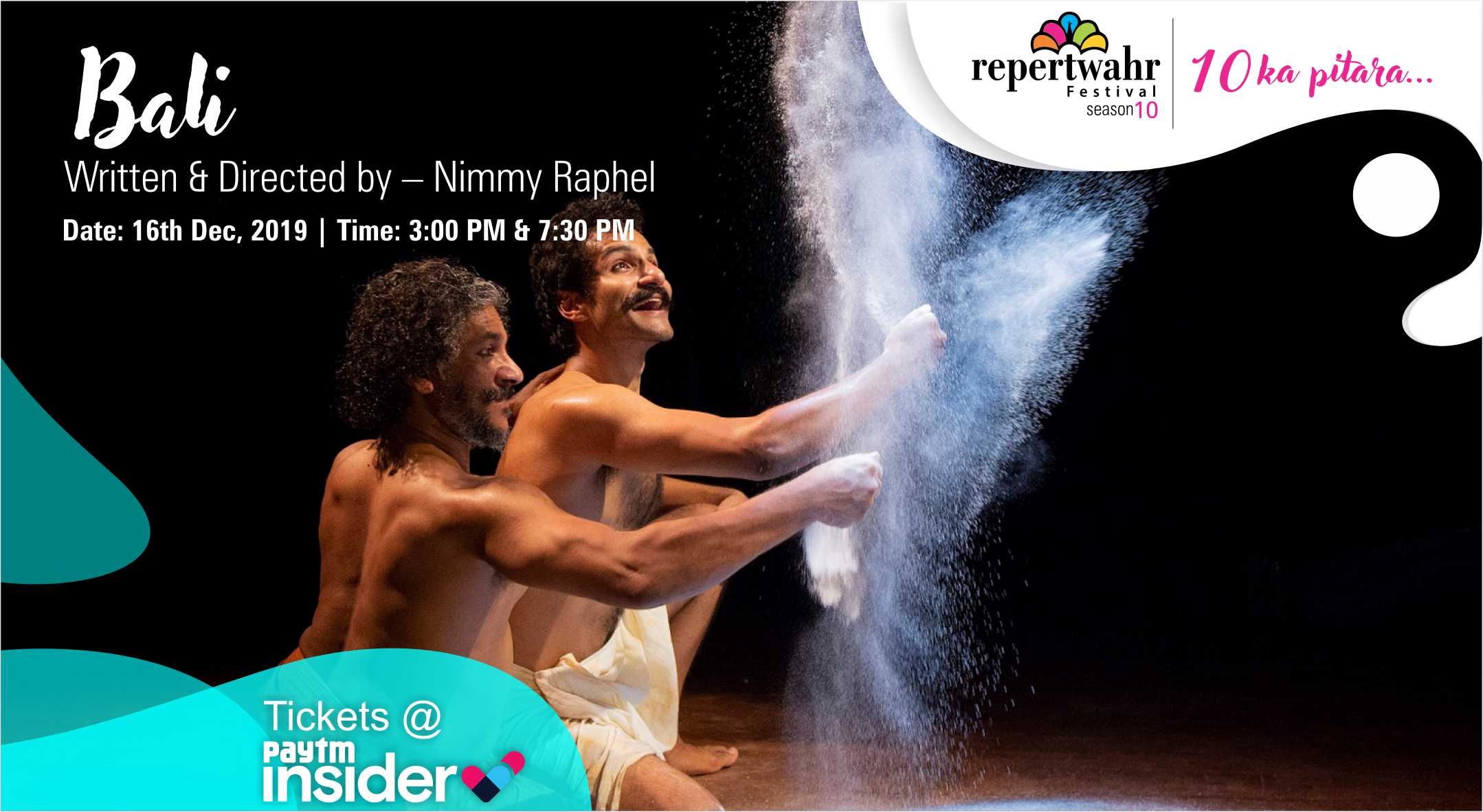 Synopsis
The Indian epics -Ramayana and Mahabharata-have shaped our country's politics, arts and culture. Its stories have been retold and its characters reimagined in many ways through various retellings, which have been a part of the literary and performative traditions in India. Each retelling has challenged the traditional narrative by subverting the dominant versions of the text to thrown light on various other interpretations. Often, these interpretations strongly reflect the writer's subjective preferences with respect to her identity and ideologies. An excerpt from the Indian epic -Ramayana, Adishakti's Bali is a retelling of the various events that lead up to the battle between Bali, the ruler of Kishkindha and Ram, the King of Ayodhya and eventually, the death of Bali. Here, the writer has tried to explore the notion of right or wrong through its various characters, while steering clear of any subjective influences. Through this play, we explore how one evaluates this notion and, how it can change when each and every character is given an opportunity to voice thoughts and opinions. The play weaves multiple stories through the point of views of Bali, Tara, Sugreeva, Angadha, Ram and Ravan and talks about how each of them make decisions and take actions based on the ethics that define their lives.
The play gives its audience a space for introspection - to take a step back and detach ourselves from our dominant ideologies and rigid identities to understand different perspectives. Will relativism answer our questions? Where do we draw the lines? We leave it to you to decide.

Play Genre : Physical
Played By - Anand Satheedran

Language - English

Duration : 70 Mins without Interval/ Age Limit : 8 Yrs and Above

Written & Directed By - Nimmy Raphel

Cast - Vinay Kumar, Arvind Rane, Ashiqa Salvan, Rijul Roy, Kiyomi Mehta
Music Show- Indian Ocean
Date - 12-12-19 Time 09:00Pm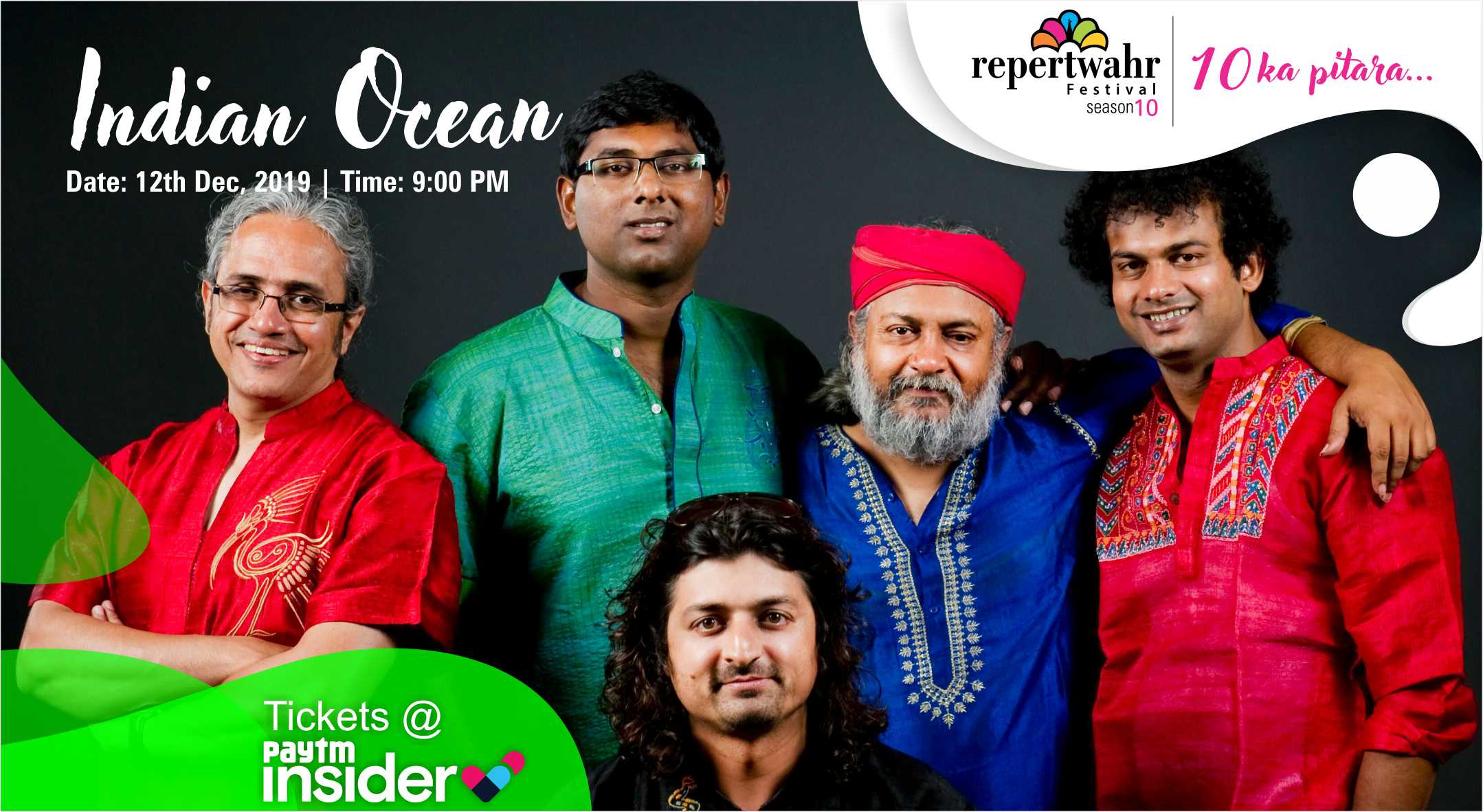 About Indian Ocean
Indian Ocean is widely regarded and one of India's foremost bands. They have been around for over two decades, and resonate a cult following with their unique sound. Some critics describe Indian Ocean's music as an amalgamation of Contemporary Rock, Indian Classical, Jazz, Folk Music and Fusion integrating themes like spiritualism, activism, environmentalism, the futility of war and mythology. The musical style of the band can be at best classified as folk and fusion music- an experimental genre, fusing raga (traditional Indian tunes) with rock music, guitars and drums, sometimes using Indian folk songs. Best described by some music critics as "Indo-rock fusion with jazz-spiced rhythms mixing shlokas, sufism, environmentalism, mythology and revolution".
When live on stage, the band is known for it's improvisations and formidable energy. They experiment with many folk instruments and styles of playing and create a fresh concoction for the listeners every time.

Genre: Folk Fusion
Band Set: Amit Kilam - Drums and Vocals, Rahul Ram - Bass Guitar and Vocals, Himanshu Joshi - Vocals, Dharmavarapu Nikhil Rao - Guitars, Tuheen Chakravorty - Tabla and percussion

Music Show- The Local Train
Date: 14th Dec, 2019
Time: 9:00 PM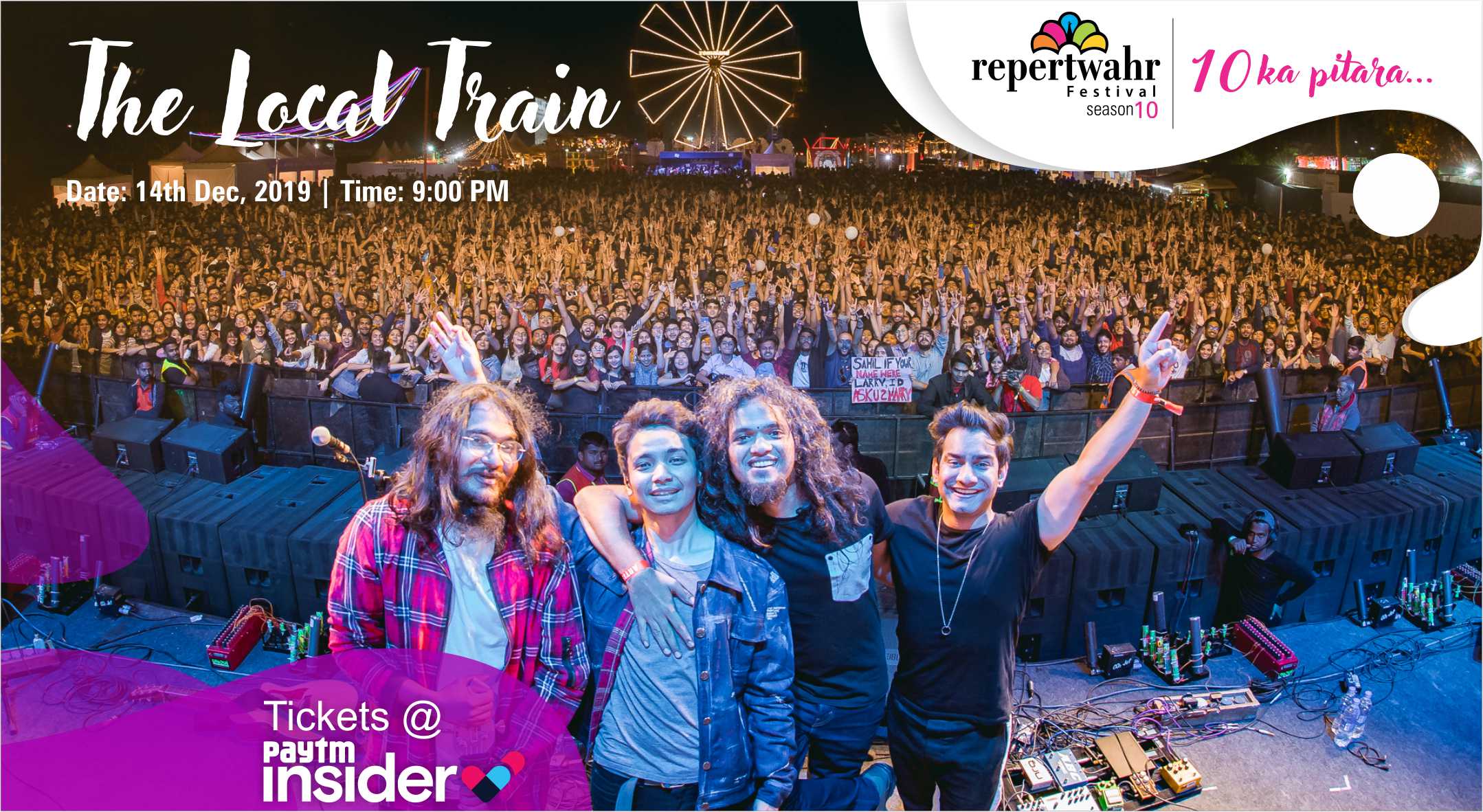 Synopsis:
The Local Train is a Hindi Rock Band from New Delhi who write and produce their own music. The band launched 4 singles over a year before releasing their debut album 'Aalas ka Pedh' in 2015. Their second album 'Vaaqif' was released in January 2018 which generated very promising sales and was one of the most streamed independent albums on Apple Music India. Post the success of their albums, TLT witnessed a huge demand for their live shows and are frequently invited to perform for their fans all over the country. The band has performed at over 135 shows in the last fifteen months with a fair mix of clubs, colleges and festivals. Their YouTube channel is one of the fastest growing channels among the independent artists of the country with 2,96,900 subscribers and over 43 million collective views on 10 official videos.

Genre: Hindi Rock

Band Member - Raman Negi, Paras Thakur, Sahil Sarin, Ramit Mehra
Music Show- Parvaaz
Date: 16th Dec, 2019
Time: 9:00 PM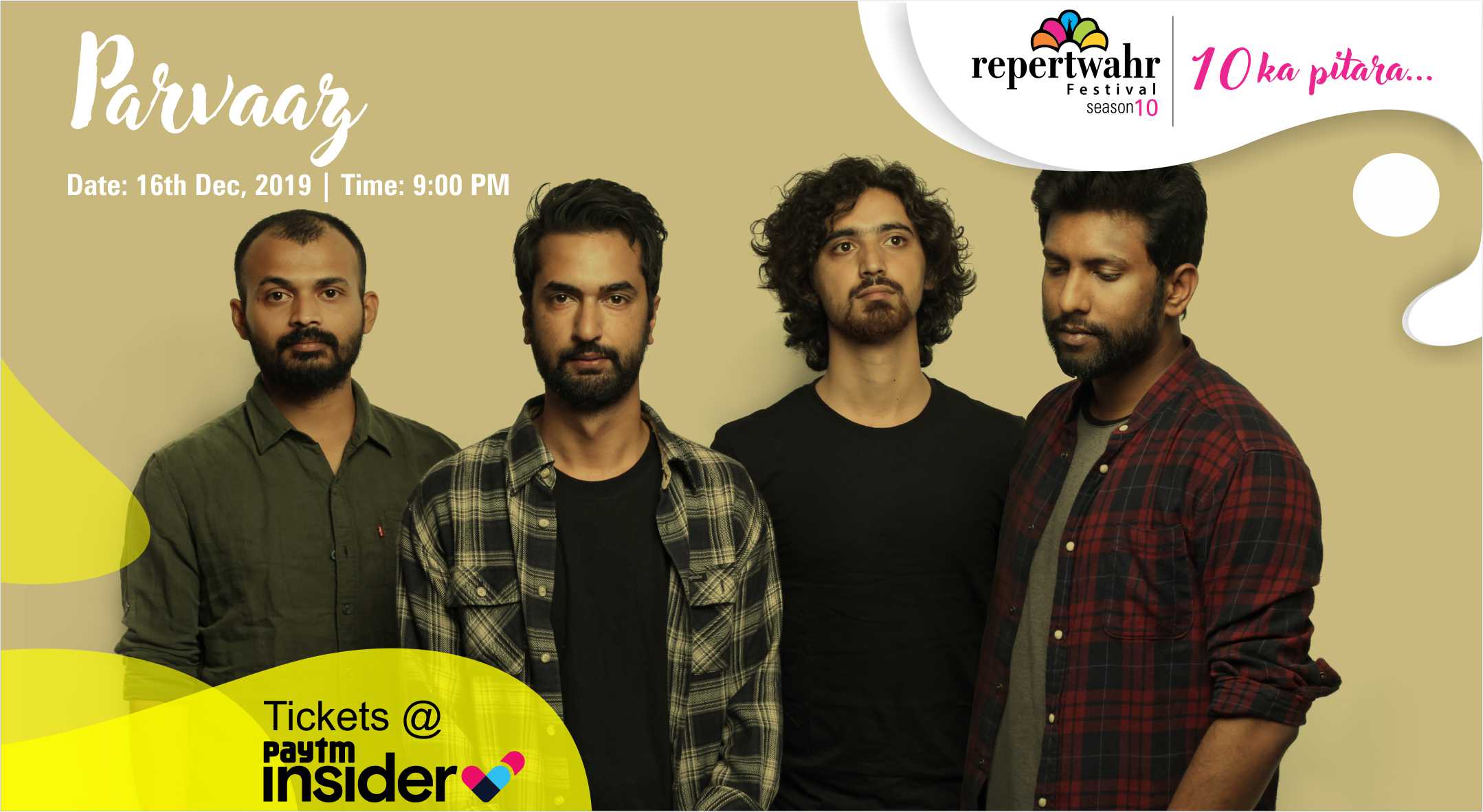 About:
"When a voice like Khalid Ahamed's leads a band, it's impossible for them to remain unsung. But beyond Ahamed's voice, there's a sonic landscape built by the instruments – Kashif Iqbal on guitars, Fidel D'Souza on the bass and Sachin Banandur on the drums. Together, they deliver a mix of progressive, psychedelic and mellow rock." – Rolling Stones India
Their music, while rooted in the best traditions of Rock, takes the listener on uninhibited flights to spaces that traverse folk, blues and psychedelia, wrapped in an ambient sound that is familiar yet elusive. Like rain, their music can sometimes make you feel emotional, sometimes reflective, can sometimes make you brood, can sometimes lift up your spirit and can leave you speechless in the middle of a conversation. Immortalising Kashmiri and Urdu poetry in psychedelic blues-rock, this band has created a world of music that no one has dared to venture into so far.

Band Set: Mir Kashif Iqbal – Lead Guitars, Khalid Ahamed – Lead Vocals
Sachin Banandur – Drums and Percussion, Fidel D'Souza – Bass

Genre: Blues, Psychedelic, Urdu Rock

Aisi Taisi Democracy
Date - 13/12/19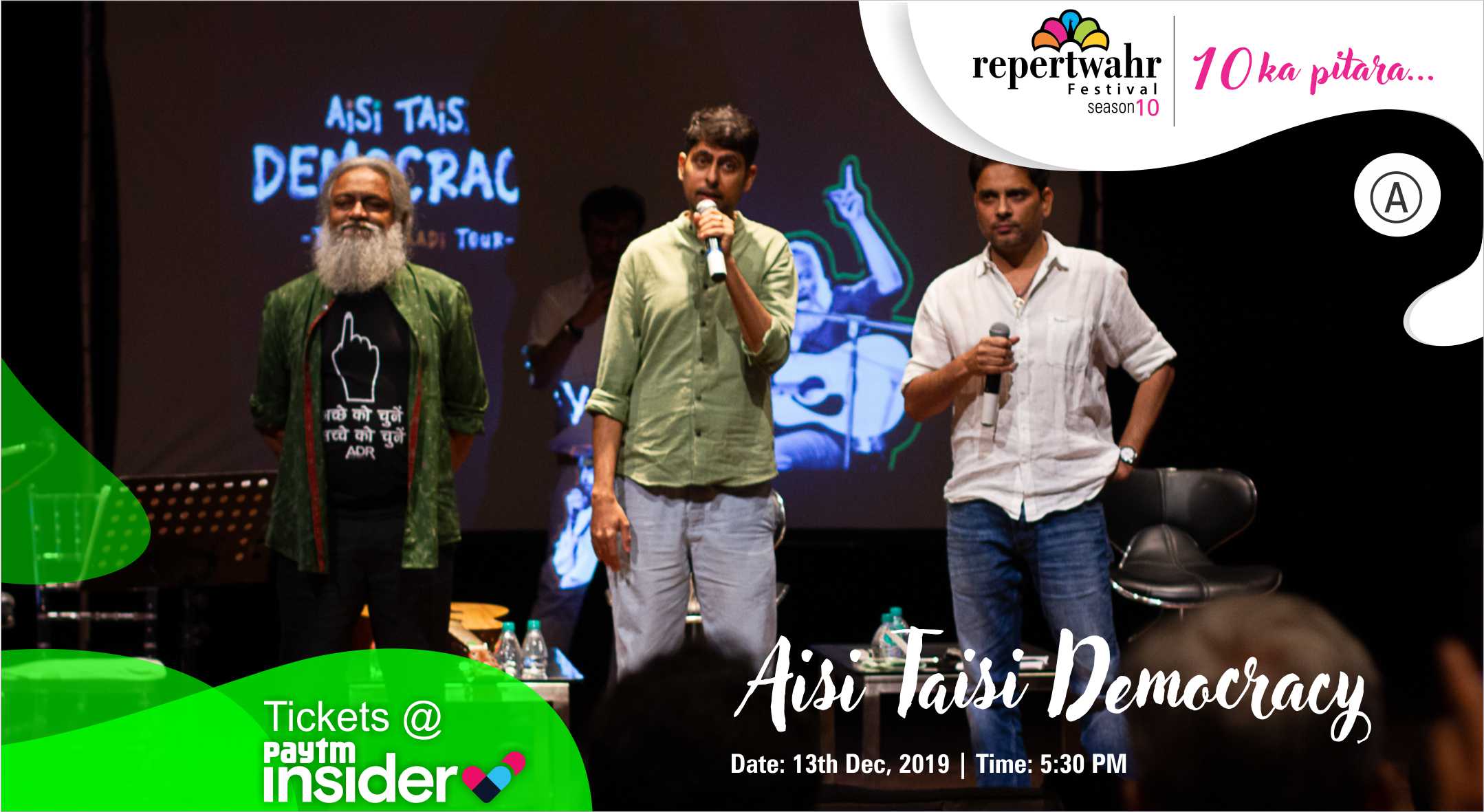 Aisi Taisi Democracy is the coming together of three prolific talents. Stand-up comedian and social-satirist Sanjay Rajoura, stand-up comedian, writer and lyricist Varun Grover and Bass Player and Vocalist of legendary band "Indian Ocean" Rahul Ram.
Except pointed barbs at all that is weird, funny, surreal, and downright doped out in our bhaarat-varsh. Politically incorrect, full of personal stories of growing up in the pre-and-post liberalization era, and a no-holds-barred look at the "Idea of India" – Aisi Taisi Democracy promises to make you laugh non-stop while raising some provoking questions.

Varun Grover, Sanjay Rajoura, Rahul Ram

Aditi Mittal
Date - 15/12/19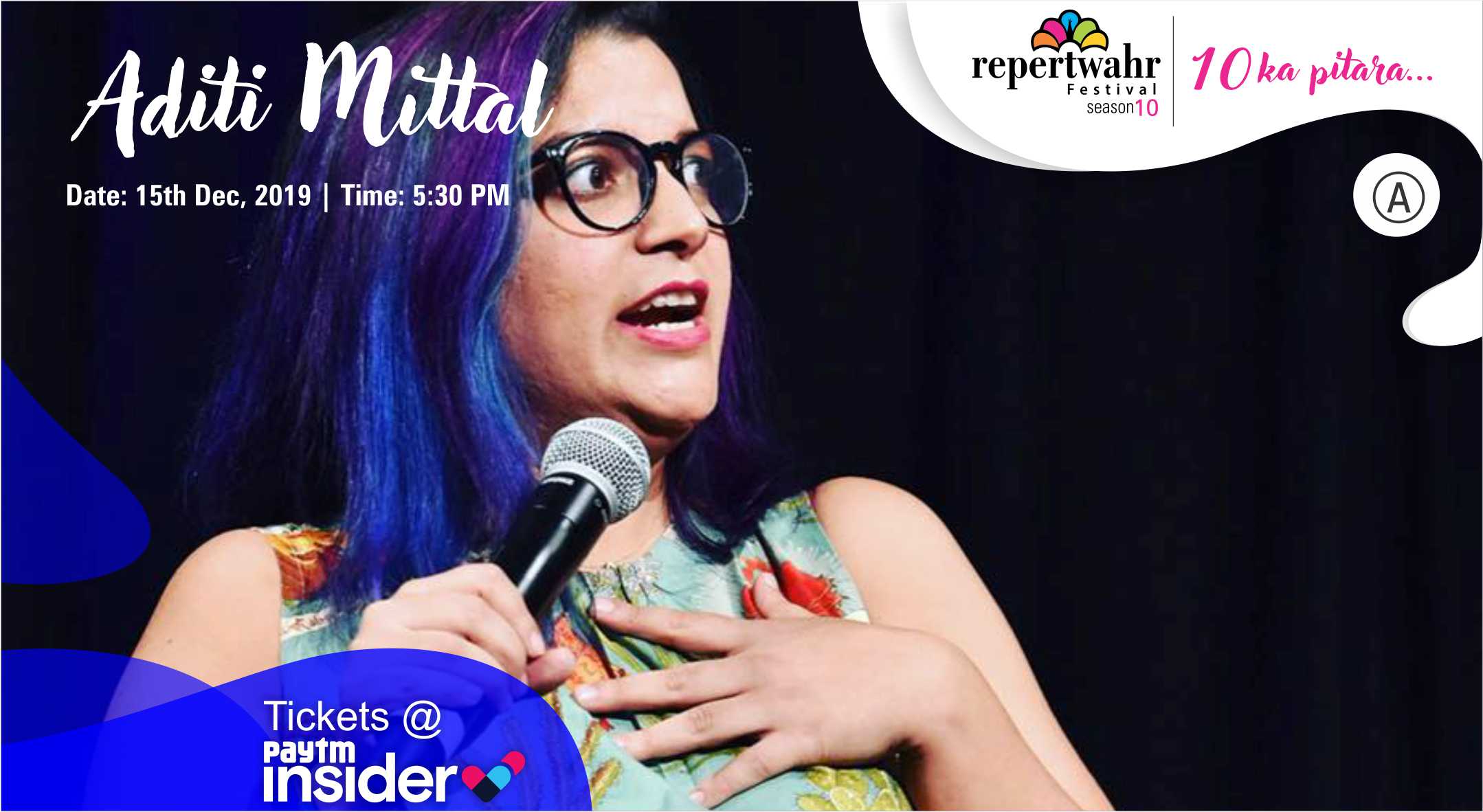 One of India's most successful and up comedian, Aditi Mittal uses laughter as a tool to further a deeper agenda - an equal world.
It's an Aditi Mittal classic: larger than life character, a social cause casually thrown in, a bright, hilarious rendition. One of the most popular faces in the Indian comedy, Aditi has used humour in many ways - to deal with personal crisis, to cheer others up, to dress up like an old woman and talk brazenly about sex - but through it all, she's had an ulterior motive; she is driven to raise awareness about social inequalities and gender bias.
Repertwahr Festival Season 10 | Line Up | 2019
Sangeet Natak Academy
Lohia Path, Vipin Khand, Gomti Nagar, Lucknow, Uttar Pradesh 226010
GET DIRECTIONS
Repertwahr Festival Season 10 - 10 ka pitara
December 12 - 16 | Multiple Timing
Sangeet Natak Academy, Lucknow
Invite your friends
and enjoy a shared experience