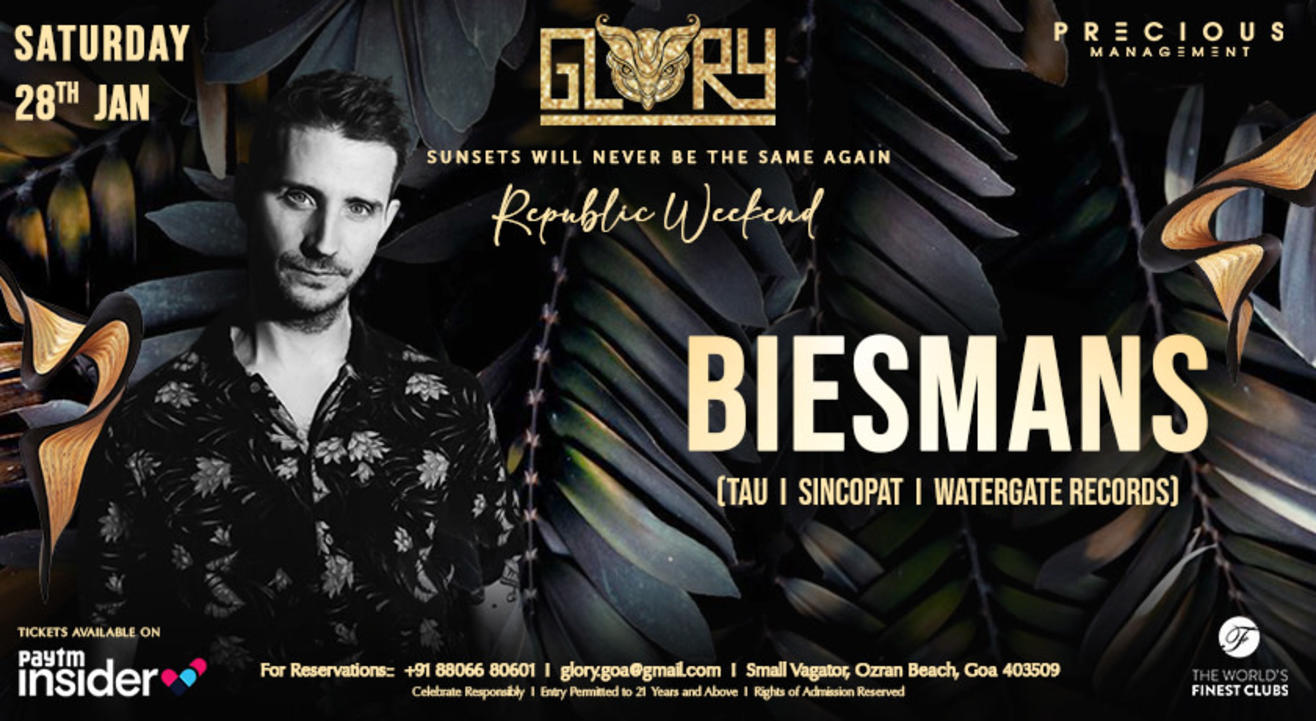 REPUBLIC WEEKEND WITH BIESMANS @ GLORY, GOA!! | 28.01.2023
Step out and enjoy this event
Event Guide
Live Performance
Enjoy a unique experience
Invite your friends
and enjoy a shared experience
REPUBLIC WEEKEND WITH BIESMANS @ GLORY, GOA!! | 28.01.2023
Step out and enjoy this event
Event Guide
Live Performance
Enjoy a unique experience
Invite your friends
and enjoy a shared experience
Event Guide
Live Performance
Enjoy a unique experience
Invite your friends
and enjoy a shared experience
WE ARE BACK AND HOW!!
Join us with Biesmans for an epic Republic weekend celebration @ Glory, Goa!!
Save the date 28.01.2023, Saturday!!
This is our first big event after the NYE and we can't wait to see you guys on the dance floor!
Born and raised in Belgium, Joris Biesmans aka Biesmans made his move to Berlin in 2013 where he started working as sound technician in one of the city's most iconic clubs, Watergate. When not tuning the club's sound system, he could be found amongst his beloved synthesizers, honing his studio craft.
Few DJ/producers are as uniquely equipped as Joris Biesmans to rock a dancefloor. Via a 25-year journey that has included formal musical training, amassing a vast collection of synths, relocating from his native Belgium to Berlin, and DJing and playing live everywhere from EXIT Festival in Serbia, to Germany's famous Fusion Festival and Pukkelpop, his home country's iconic rock/electronic festival, the Watergate resident (and former sound technician at the club) now enjoys a reputation as one of Berlin's favorite party-starters.
After wowing with his maiden album on Watergate last year, Trains, Planes and Automobiles, the label has tasked Biesmans with helming the latest installment of their mix series, Watergate 28. Composed entirely of tracks he has either produced or co-produced with artists such as Kasper Bjørke, Mathew Jonson, Dusky, and Adana Twins, the mix captures the Biesmans spirit of nostalgia-tinted, forward-thinking optimism, showcased in recent years on his releases on labels such as Running Back, TAU, Correspondant, and Disco Halal. Like his heroes Daft Punk, Laurent Garnier, and James Holden, Biesmans is a specialist in full-bodied functionalism, threaded with enough idiosyncratic quirk to leave a lasting impact.
Reflecting on his hard-won success after years of DJing and producing professionally, Biesmans is "100% behind the stuff that he puts out!
It's gonna be a whole vibe and first of the many Glory experiences of 2023!
Tickets available on Insider!
Communication for 21 yrs and above
Celebrate responsibly
All rights of admission reserved
GLORY, Goa
Small, Ozran Beach Rd, Vagator, Goa 403509, India
GET DIRECTIONS
REPUBLIC WEEKEND WITH BIESMANS @ GLORY, GOA!! | 28.01.2023
Step out and enjoy this event
Event Guide
Live Performance
Enjoy a unique experience
Invite your friends
and enjoy a shared experience