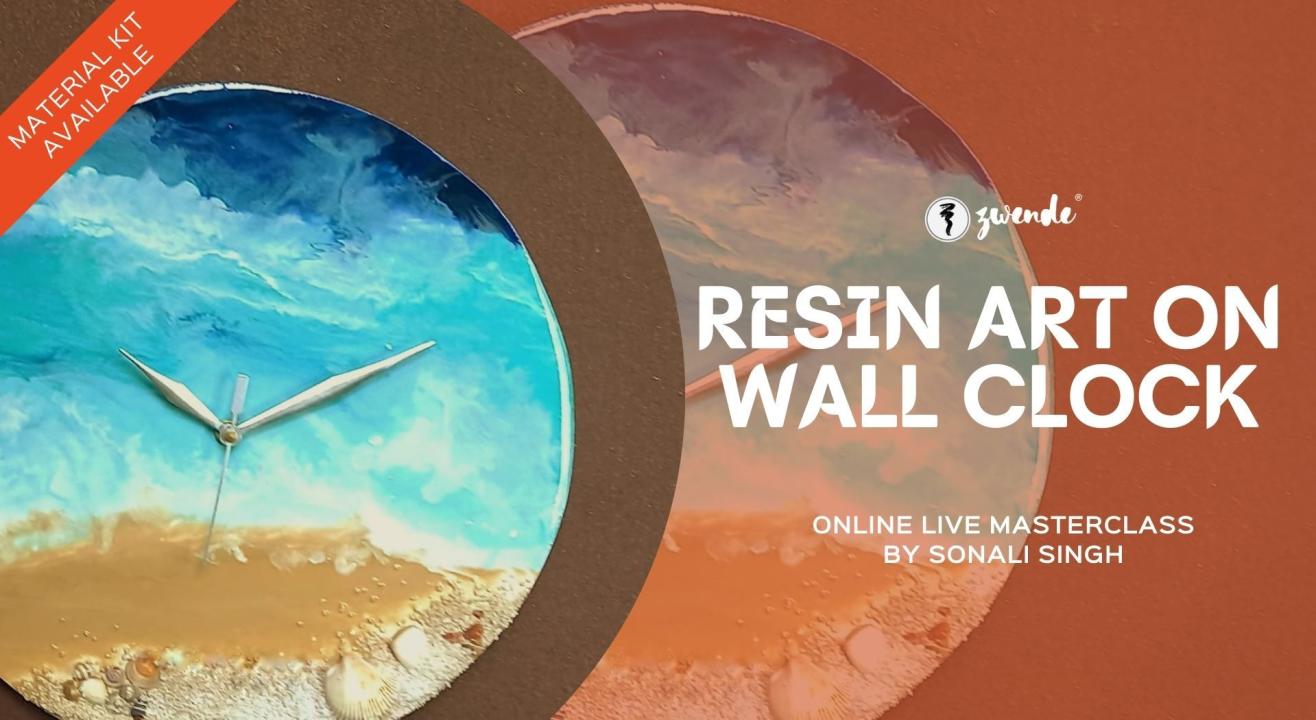 Resin Art on Wall Clock [Online Live Masterclass - Materials Kit Available]
Enjoy this event from your home
Event Guide
Masterclass
Learn from an expert
Invite your friends
and enjoy a shared experience
Event Guide
Masterclass
Learn from an expert
Invite your friends
and enjoy a shared experience
About the Event
In this masterclass, you will:
Learn to make a resin clock and experience resin art like never before!
Indulge in a unique learning experience of painting with clear resin
Work with art resin which is a high-gloss epoxy resin clear coat that creates a gorgeous, durable finish
About the artform
Resin has been used for quite a long time. Resin materials from plants have been used for everything from art supplies to wood preservation to fragrances. The earliest evidence we have of the use of resin dates back to Ancient Greece.
Flow of the masterclass
Step by step process of creating a work of art that enchants with their clarity, luminosity, brilliance, and depth
Get a glimpse of color theory
Get to make a high-gloss epoxy resin clear coat that creates a gorgeous, durable finish
Using the skills you learn from this masterclass, you could also use epoxy on wood, build your own epoxy river table, or create your own geode art with it
About the Artist
Sonali Singh Rao
@sonalisinghrao
She has always been interested in art since her childhood and being an army wife she had to travel to some of the most remote areas in India. Through all of the travel, the only thing she could take along is her love for creating art. She believes it's important to understand resin practically and make a lot of mistakes since that's the only way to learn what not to do the next time around. This is something she has told all her 1000+ students!


Materials in the kit
300gms Resin* : (225gms resin + 75gms hardener)
4 pigments - 25 g each (Ultramarine, Aquamarine, Sandstone, White)
2 QTY plastic cups for mixing
5 QTY paper cups
2 QTY big, 8 QTY small pop sticks
Pair of a nitrile glove
2 straws
Digital weighing scale
Clock base 12" dial
Clock machinery set
Other Materials Required:
Waste Cloth
Small torch or cigarette lighter or barbecue torch
* EPOKE Art Epoxy Resin is a 2 part, high gloss, transparent, crystal clear resin system which is specially designed for coating, casting, and lamination applications.


Further prospects and application of what you will be learning
Resin is a versatile medium from home decor to office decor, dinning table decor to dinning table, coffee table to side table, painting to shelves to cupboard to kitchen cabinet doors to swing, name plate to planters, you name the things and everything can be covered with resin!