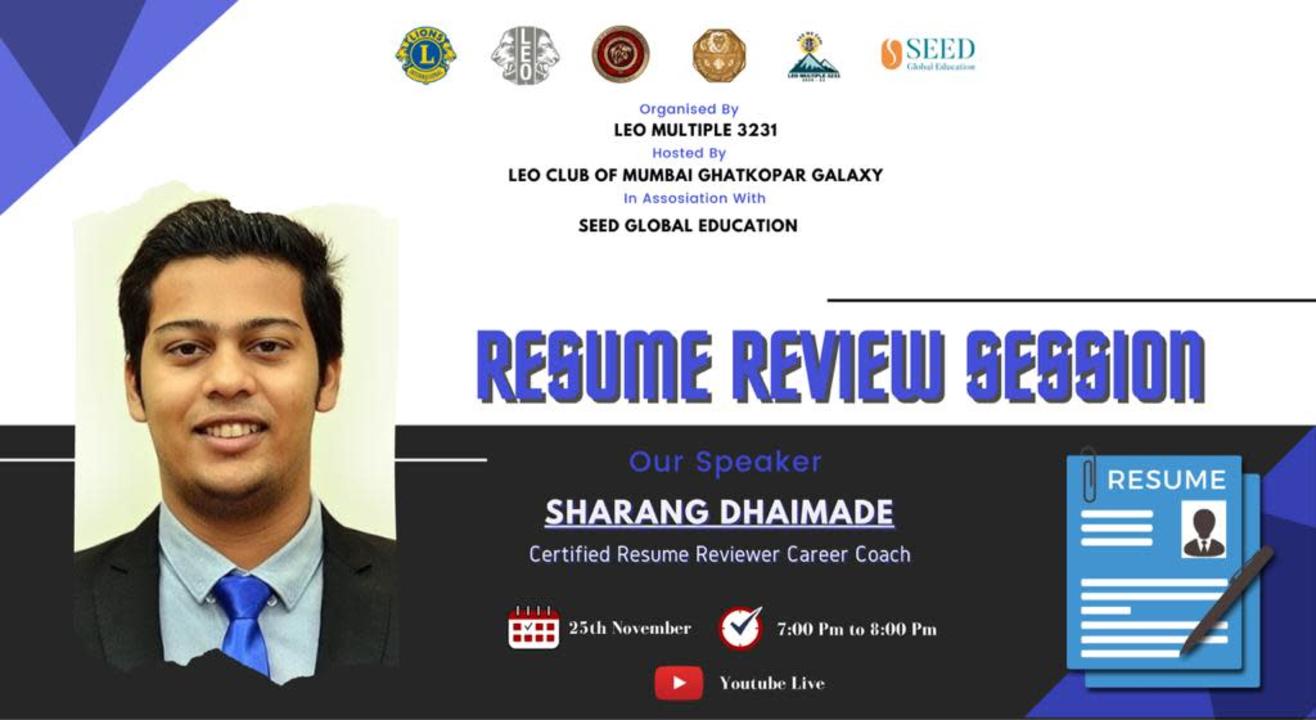 Enjoy this event from your home
Invite your friends
and enjoy a shared experience
Invite your friends
and enjoy a shared experience
About the Event
If you are looking to build a strong Resume that will help you in your job search, university applications or climb the corporate ladder, then this workshop is for you.
The Resume Review Session, organized by Leo Multiple 3231 & hosted by Leo Club of Mumbai Ghatkopar Galaxy in association with Seed Global Education, is hosted and presented by Sharang Dhaimade, a certified Resume Reviewer and a Career Coach.
Key Takeaways:
Understand common mistakes candidates make while writing resumes.
Get access to some secret tips to make your resume stand out.
View sample resumes as reference to create your own resume.
Refer to 700+ action verbs to create an impact resume.
Get an idea of the entire recruitment process from the eyes of a recruiter.
About the Workshop
The first point of contact for employers is your resume. In my 90-minute Resume building workshop, I will help attendees create a fully optimized one-page resume that would help them in the job search, climbing the corporate ladder or application to University abroad. In the workshop, we will understand the whole recruitment process, understand how to crack the applicant tracking system & ensure that your resume fits perfectly to what your career goals are. Sharang will also share some secret tips & some common mistakes that must be avoided.
About the Speaker
Sharang Dhaimade, MBA graduate, is a Career Coach & a certified Resume Reviewer from The State University of New York. With over 6 years of Higher Education experience, Sharang has been an interviewer & student counsellor at Europe's top Business School. In his career, Sharang has reviewed close to 10,000+ resumes of candidates applying to University abroad or applying for jobs are various positions. Connect with Sharang on LinkedIn.
About Leo
As the youngest members of Lions Clubs International, Leos embody the best qualities of our incredible organization. They are devoted young people who realize the power of action. Together, Leos and Lions form a powerful partnership—one of mutual respect, where Lions learn from the innovative insights of Leos, and where Leos gain access to the proven strategies of those who've successfully served the world for decades.