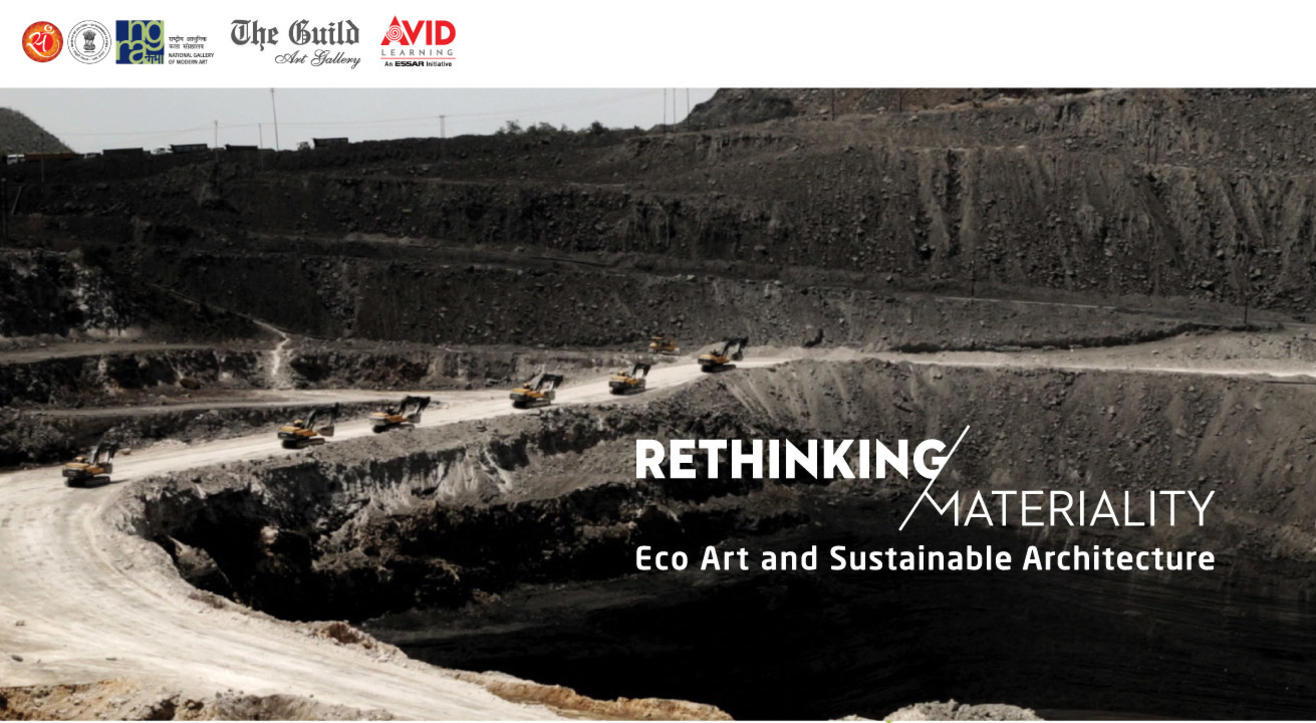 Discussion
Rethinking Materiality: Eco Art and Sustainable Architecture
The National Gallery of Modern Art, Mumbai
About
NGMA Mumbai and Ministry of Culture, Government of India in association with Avid Learning and The Guild Art Gallery present Rethinking Materiality: Eco Art and Sustainable Architecture a panel discussion around The Earth's Heart, Torn Out Navjot Altaf: A Life in Art. This exhaustive and definitive retrospective curated by Nancy Adajania celebrates the decades-long artistic journey and practice of Leading Contemporary Artist Navjot Altaf, from the 1970s till the present day.
Known as one of India's award-winning contemporary artists, Navjot's innovative multidisciplinary practice and a retrospective exhibition at the venue will provide an underlying context to this discussion with special emphasis on her environmentally conscious works.
She, along with Architect Dean D'Cruz, Multimedia Artist Ratna Gupta and Visual Artist and Illustrator Sajid Wajid Shaikh will be in conversation with Editor at ART India Abhay Sardesai.
These socially conscious, forward-thinking practitioners will speak about how sustainable architecture and the contemporary art practice and movement called "eco-art" are addressing environmental crises in imaginative and responsible ways.
Although the Eco Art movement began in the 1960s and 70s with the work of Earth Artists like Andy Goldsworthy, Richard Long and Robert Smithson, who used the earth as raw material and canvas, artists working today have begun to factor in the environment more seriously into their practice. Many artists, embracing a spirit of reinvention and evolution, have turned self-reflexive, questioning their very practice and raw materials of creativity. Early Earth Art can, in retrospect, be seen as a proto-ecological art form.
This panel will explore what it means to be a socially responsible artist and how artists of today can both critique the dominant culture while creating visions for the future and participate in viable problem-solving. Changes in lifestyle aside, artistic imaginations and talents are uniting to develop aesthetic strategies toward addressing environmental concerns and crises.
These speakers will explore the role of the Eco-Artist and how artists are expressing their support for recycling and sustainability through their artworks where they merge tradition with contemporary themes.
This panel will consider relations between artistic approaches to the environment and other forms of knowledge and practice, including scientific knowledge and social activism. These speakers will talk about how environmental art should be understood within the context of the devastating impact of human activity and issues of environmental decline and degradation.
The construction industry is one of the largest consumers of natural resources, hence there is an increasing need to design structures that have minimal environmental impacts. Arguably, India has a burgeoning market for green architecture. Over the past few decades, builders and architects have incorporated sustainable models and materials within their practices to, align their activities and interventions with Nature rather than working against the elements.
Join us for a discussion that will evaluate the role of art practices and architectural modes and materials in the context of the environmental crises of today.
Navjot Altaf
One of India's leading contemporary artists, Navjot Altaf is a major artistic voice in postcolonial Indian art, her work having been known both nationally and internationally over the last several decades. In her nearly forty-year-long practice, she has worked with painting, sculpture, installation and video. She has a diverse range of collaborators, including artists of rural origin in Bastar, the transgender community, intellectuals, activists, filmmakers, and academics. Through these collaborations, her work speaks expansively and sensitively about the socio-political conditions of the world we find ourselves in, causing one to reflect on the internal and external struggles we face whilst making meaning of our contexts, making her oeuvre resonate in today's world. She was granted an international award for Public Art Project for her work Nalpar and Pilla Gudi in 2013. The Yamuna-Elbe was another public art project by Altaf at the Yamuna in Delhi and the Elbe in Hamburg, Altaf's work has been exhibited in world-renowned institutions, galleries, universities, and biennales in Germany, USA, UK, Switzerland, China, Korea, Belgium, Japan, and Cuba as well as in institutions across India. Her work has been written about and curated by some of the art world's best, including Geeta Kapur, Ashish Rajadhyaksha, Pooja Sood, Nancy Adajania, Gayatri Sinha and others.

Ratan Gupta
Ratna Gupta is a multimedia artist who utilises a range of materials to produce her sculptures, including resin, latex, needles, wood and bronze. For her, repetition is sacred. The act of doing, over and over, what has become instinctive, is a way of unearthing new meaning, to mark the passage of time and the metamorphoses of bodies. Many of her sculptural objects, at once strange and familiar, echo this obsession with recurrence and transmutation, though her practice doesn't suggest a desire for permanence, but instead reaffirms the ephemeral. Her practice is as much about the process of making as in the finished object itself. She has shown in Goa, Mumbai and Delhi as well as internationally in cities like Paris and Brussels. Her last solo show, Everything Is Precious, was in Sakshi Gallery, Mumbai in 2018. ratna@ratnagupta.com

Sajid Wajid Shaikh
Sajid Wajid Shaikh is a Multidisciplinary artist from Bombay - India. He experiments with shape, colour and line to produce a bespoke illustration, pattern design, portraiture and typography. He takes inspiration from Music and Fine Art to create unique works, which fuse traditional drawing techniques with digital technology. Sajid's clientele includes Google, Facebook, PayPal, Yahoo, Adidas, Red Bull, Condé Nast to name a few.

Dean D'Cruz
After graduating from Sir J.J. College of Architecture, Bombay, in 1983, Dean D'Cruz joined architect Gerard Da Cunha as an assistant in Goa in 1985. Enamoured by the soft and human scale of Goa's Architecture and lifestyle he decided to stay. In 1986 he became a partner in a firm called Natural Architecture, working on cost-effective housing in a very Laurie Baker approach using waste building materials and innovative design. In 1994 he expanded the base of design work, taking on small hotels, large houses and institutional work as principal architect of Dean D'Cruz & Associates. In 2001 he co-founded Mozaic, with general collaboration between disciplines as the core ethic. Having been part of the State Level Committee for the making of the Regional Plan 2021 for Goa, his current emphasis is on urban interventions, sustainable principles and conservation.

Abhay Sardesai
Abhay Sardesai has been the Editor of ART India, the premier art magazine of India, since November 2002. Under his editorship, the magazine has developed a Culture Studies-oriented approach and has become more inter-disciplinary in its theme-based explorations. He has been a Visiting Faculty in Aesthetics at the Department of English, University of Mumbai, and has also been the Chair of Humanities, Kamla Raheja Vidyanidhi Institute of Architecture, Mumbai. He teaches at TISS and the Dr Bhau Daji Lad Mumbai City Museum. He writes in English and translates from Marathi, Konkani and Gujarati. As an associate of the research collective PUKAR, he was the Director of the Writing Across the City project which explored the inter-relationships between literature and literary cultures in the city of Mumbai. He has written widely on Art and Literature and read from his work at various places including the University of Princeton, University of Cambridge, Mumbai University, S.N.D.T. University and NGMA, among other places.
NGMA, Mumbai
The National Gallery of Modern Art (NGMA) Mumbai, Ministry of Culture, Government of India is a repository of the cultural ethos of the country and showcases the changing art forms through the passage of the last 160 years starting from about 1857 in the field of Visual and Plastic arts. The first NGMA was opened in New Delhi at the historic Jaipur House, in the presence of Prime Minister Jawaharlal Nehru and artists and art lovers on March 29, 1954. The National Gallery of Modern Art, Mumbai was opened to the public in 1996. It hosts various exhibitions and also has its own art collections comprising paintings, sculptures and graphics with a focus on Indian and International artists. It is located in the precinct of the former auditorium the Sir Cowasji Jehangir Public Hall and the Institute of Science. This architecturally marvellous building was designed and built by the famous British architect George Wittet which has been completely redesigned keeping only the facade edifice that was Public Hall. It has hosted eminent artists like K.H. Ara, F. N. Souza, Gaitonde, S.H. Raza and M.F. Hussain and contemporary artists like K.G. Subramanyam, Sudhir Patwardhan, Nalini Malini, Atul Dodiya and Sudarshan Shetty. The NGMA in Mumbai is run and administered as a subordinate office to the Ministry of Culture, Government of India, which has two branches one at Mumbai and the other at Bengaluru.

The Guild
Established in 1997, The Guild focuses on discovering, promoting and exhibiting emerging and mid-career artists. The gallery provides a platform for discursive practices, innovation and experimentation. The Guild functions as a semi-institutional space. We believe in promoting critical and rigorous practices and ideas and our programming reflects this critical practice and includes along with exhibitions, film screenings, artists' workshops, studio workshops, panels and talks. The Guild also continues to produce and publish artists' books – Navjot Altaf, Sudhir Patwardhan, K. G. Subramanyan, A. Ramachandran, T. V. Santhosh – as well as high-quality catalogues. The Guild's artists have participated in significant museum exhibitions and biennales most notably at the Tate Modern, the Astrup Fearnley Museum of Modern Art in Oslo, the Herning Kunstmuseum in Denmark, the MAXXI National Museum in Rome, the Zacheta National Gallery in Warsaw, the Newark Museum, the Centre Pompidou, the Frost Art Museum in Florida, the Fourth Moscow Biennale, the Venice Biennale, the Musee d'arte Contemporain de Lyon in France and at the Sydney Biennale in Australia. These artists have been critically acclaimed in various art journals, magazines and newspapers. The Guild also works with institutions to lend works of art for exhibitions as well as to present significant exhibitions in the institutions and Museums.

Avid Learning
Avid Learning, a public programming platform and cultural arm of the Essar Group, has conducted over 1000 programs and connected with more than 125,000 individuals since its inception in 2009. Driven by the belief that Learning Never Stops, AVID's multiple formats like Workshops, Panel Discussions, Gallery Walkthroughs, and Festival Platforms create a dynamic and interactive atmosphere that stimulates intellectual and creative growth across the fields of Culture & Heritage, Literature, Art and Innovation.
Venue
The National Gallery of Modern Art, Mumbai
The National Gallery of Modern Art, Sir Cowasji Jahangir Public Hall, M. G. Road, Fort, Mumbai – 400032.