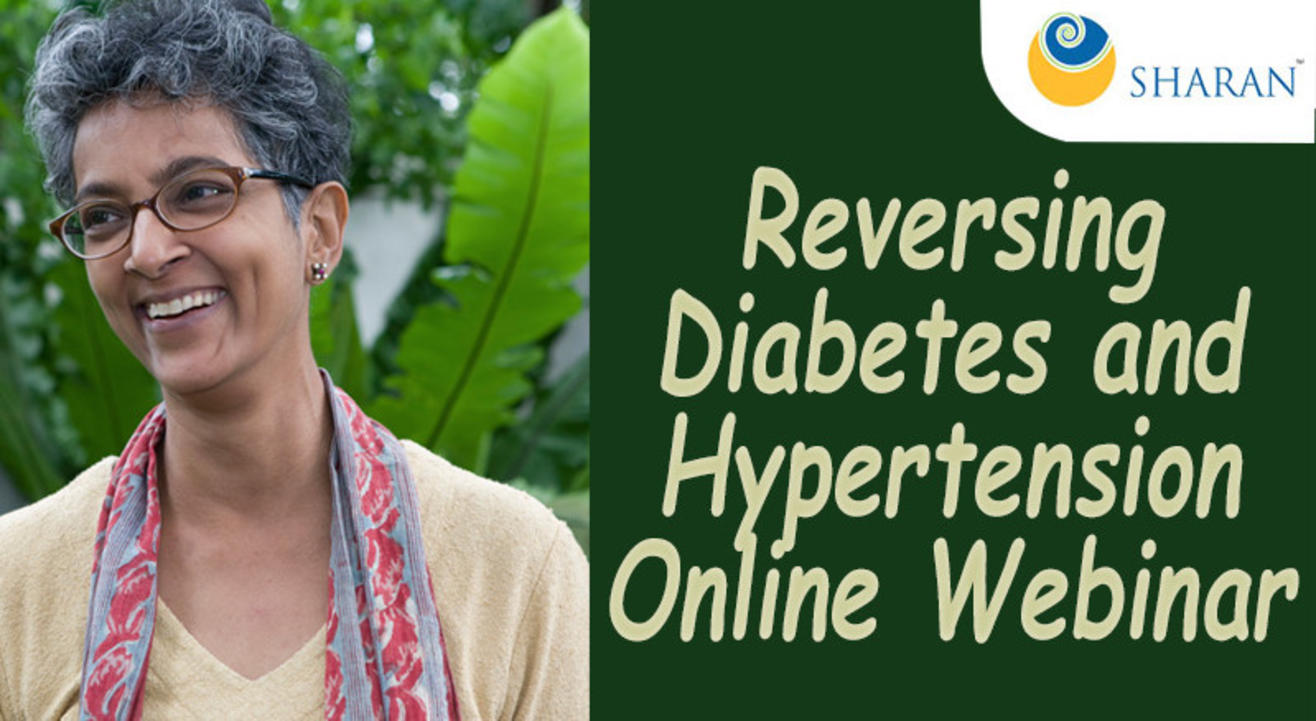 Reversing Diabetes and Hypertension Online Webinar
September 19 | 5PM - September 20 | 8PM
Invite your friends
and enjoy a shared experience
Invite your friends
and enjoy a shared experience
About the Event
Reversing diabetes and high blood pressure means going back to where you were – no more medicines, and normal lab reports.
This program is based on scientific evidence and gives you practical guidelines about the best way to eat in order to re-create health. You will understand the scientific basis for preventing and reversing type 2 and hypertension and heart disease and stroke. You will also learn about reversing type 1 diabetes and other auto-immune diseases as well as other illnesses and complications associated with diabetes and hypertension.
Many people have reduced and even stopped all medications after following the guidelines outlined in this program.
NOTE: This program does not replace consultations. You may need a doctor to help you reduce medications. After this program you will be eligible for reduced rate consultations with SHARAN consultants.
8 good reasons why you should join this program NOW to PREVENT and REVERSE Diabetes and High BP and heart disease.
1. They are reversible. These need not be a life sentence! Thousands of people have done it.
2. The food is delicious, and easy to make. The lifestyle is enjoyable.
3. You can get rid of the costs of medicines and doctors forever. Being sick costs a lot.
4. Being sick means loss of work days, low energy, reduced efficiency.
5. Both diabetes and high blood pressure have many complications – heart attacks, kidney disease, visual disturbances, and more.
6. Medicines have a lot of side effects, and are a load on the liver and kidneys.
7. The side effects of our program will be getting rid of other lifestyle diseases as well and weight loss.
8. Diabetes, hypertension and heart disease make you more susceptible to Covid-19 morbidities, so it's vital now more than ever to get rid of these once and for all.
This originally one day seminar has been converted to an online version over 2 days. What you will receive –
3.5 hours of live discussion and interactive Q&A on each day. The Day1 curriculum is mainly based on the scientific reasoning behind this, and the Day 2 curriculum is mainly based on practical considerations
An online cooking class with a one month validity
An e- booklet packed with all the important notes and information you will need to continue on your path to health
A little homework
You are welcome to join with the entire family on the same device so that everyone who eats together understands the reasons for change and how to do it.
This program will be conducted by Dr Nandita Shah, Founder of SHARAN. She is the recipient of the Nari Shakti Puraskar, the highest civilian award for women in India, by the Honourable President of India for her work in health and nutrition. She is also the author of the bestseller Reversing Diabetes in 21 Days. Watch Dr Nandita Shah speak about this in an episode of Chai with Lakshmi, see what participants are saying about her seminars or watch a few testimonials – Reversing diabetes during the 21-Day Health Retreat, reversing diabetes and hypertension despite a very active lifestyle, and reducing many medications in just 3 weeks.
You can REVERSE Diabetes & Hypertension too!
Sat 19 Sept & Sunday 20 Sept: 5 pm – 8.30 pm IST. (6.30 pm Bangkok, 3.30 pm UAE, 1.30 pm Paris, 12.30 pm UK, 7.30 am EST)
Come with a notebook, pen and open mind on both days. Family members are welcome to join you on the same device.
Registrations close on 19 Sept 12 noon IST
Note: You will receive a zoom link one day prior to the event via email. If you do not see this please check your spam and whitelist our address to avoid missing future mails by dragging it into your Primary Box
In case you do not receive the email or recipe sheets, please contact – office@sharan-india.org or call / whatsapp – +91 9769117747
Cancellation 24 hours before the event attracts full refund. No refund for cancellation on the day of the event.
Course materials & link will be sent to you the day before the event. For more information or in case you do not receive it contact: +91 97691 17747.
Detailed Program (timings approximate)
Saturday 19 Sept
16.45 – sound testing and preparation & rules for smooth flow
17.00 – 17.30 Introduction & how to reverse any disease
17.30 – 18.30 Diabetes – why it should be reversed. Symptoms, causes and treatment
18.30 – 18.40 Break
18.40 – 18.50 Q & A and discussion
18.50 – 19.50 Hypertension and Heart Disease why it should be reversed. Symptoms, causes and treatment, Q & A
19.50 -20.00 Break
20.00 – 20.30 – Explanation of our 5 point plan, where you can learn more, What to eat, Alternatives to foods
Sunday 20 Sept
16.45 – sound testing and preparation.
17.00 – 17.30 Summary of yesterday's session and homework, Q & A
17.30 – 18.30 Nutrition – fat, protein, calcium, iron, vitamin B12 and D
18.30 – 18.40 Break
18.40 – 18.50 Q & A & discussion
18.50 – 19.50 Challenges and how to overcome them, Steps to take to get well
19.50 – 20.00 pm Break
20.00 – 20.30 – steps to take to get well, Q & A, how SHARAN can support you