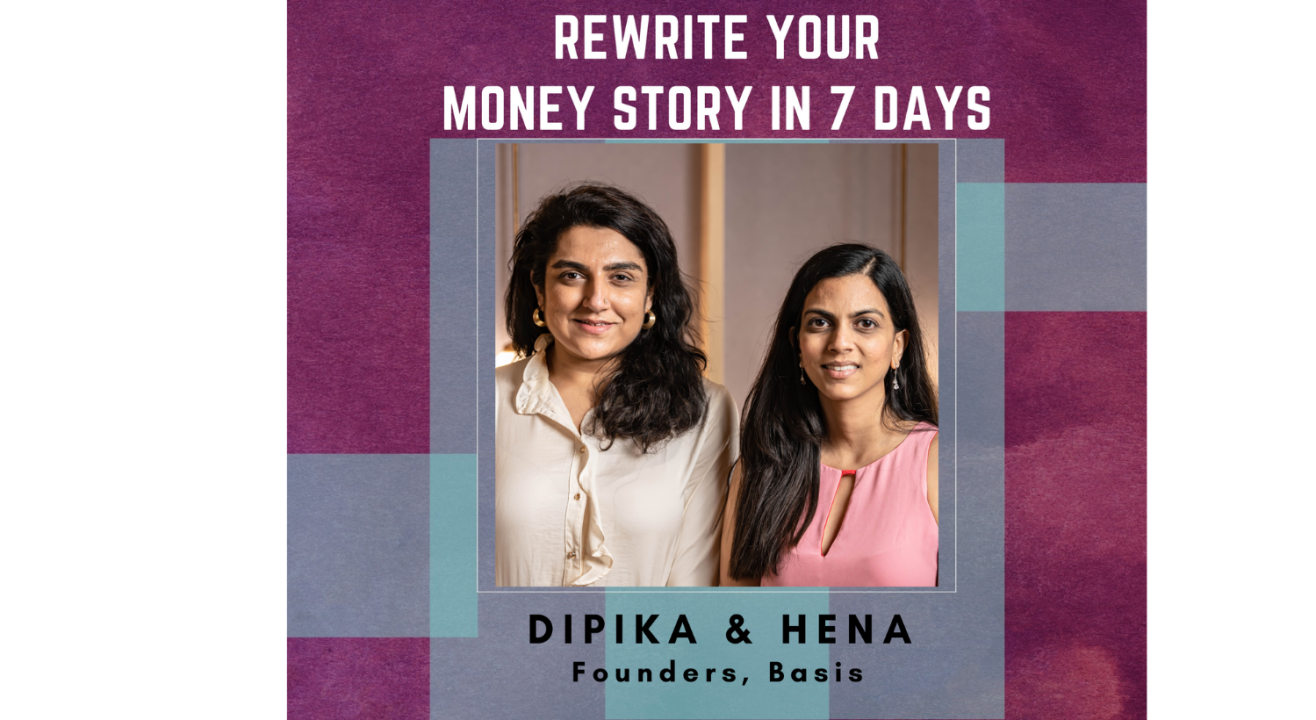 Event Guide
For Age(s)
Family Friendly
Masterclass
Learn from an expert
Invite your friends
and enjoy a shared experience
Event Guide
For Age(s)
Family Friendly
Masterclass
Learn from an expert
Invite your friends
and enjoy a shared experience
Event Guide
For Age(s)
Family Friendly
Masterclass
Learn from an expert
Invite your friends
and enjoy a shared experience
MASTERCLASS on Rewrite Your Money Story
One of the most important things you can do to improve your financial situation in a big way is to understand your money story. It's important to identify your existing relationship with money—what you are saying about money, how you feel about it, what you believe about it, and how you use, save, invest, and grow it.
All this and much, much more in this unique course led by Dipika Jaikishan and Hena Mehta, Founders of Basis - a platform that helps people with all things money. Let's get started - the time is now!
THE COURSE COVERS
How to save your money.
How to invest your savings to make money grow.
The right kinds of Life and Health Insurance.
How to know what money instruments are the best options.
How to plan for your short, mid, and long term money goals.
How to plan for your retirement.
The do's and don'ts along with daily habits that will keep you in good stead.
How to make your money work for YOU.
ABOUT THE COACH
Dipika Jaikishan and Hena Mehta are the Founders of Basis - an interactive app that helps people with all things money.
DIPIKA: Co-founder and COO at Basis, she has spent over a decade in the personal finance industry. After her Bachelors in Business Management from the Center for Management Studies, Bangalore University, Dipika worked with financial planning firms such as International Money Matters and went on to have a leadership role with Fisdom, a wealth management technology startup. Dipika has managed portfolios of over 100 Cr in value and has conducted over 1200+ financial awareness conversations impacting 3 lakh+ individuals across companies.
HENA: Founder & CEO of Basis, Hena garnered vast experience in the finance industry working at Goldman Sachs, Ezetap and Square. Hena has 10+ years' experience in FinTech in software engineering and product management roles in the US and in India. She is also the founder of Lean In Bangalore (affiliated with and recognized by Sheryl Sandberg's Lean In Foundation). Hena has an MBA from The Wharton School of Management and a Computer Science Engineering degree from UPenn.
Event Guide
For Age(s)
Family Friendly
Masterclass
Learn from an expert
Invite your friends
and enjoy a shared experience