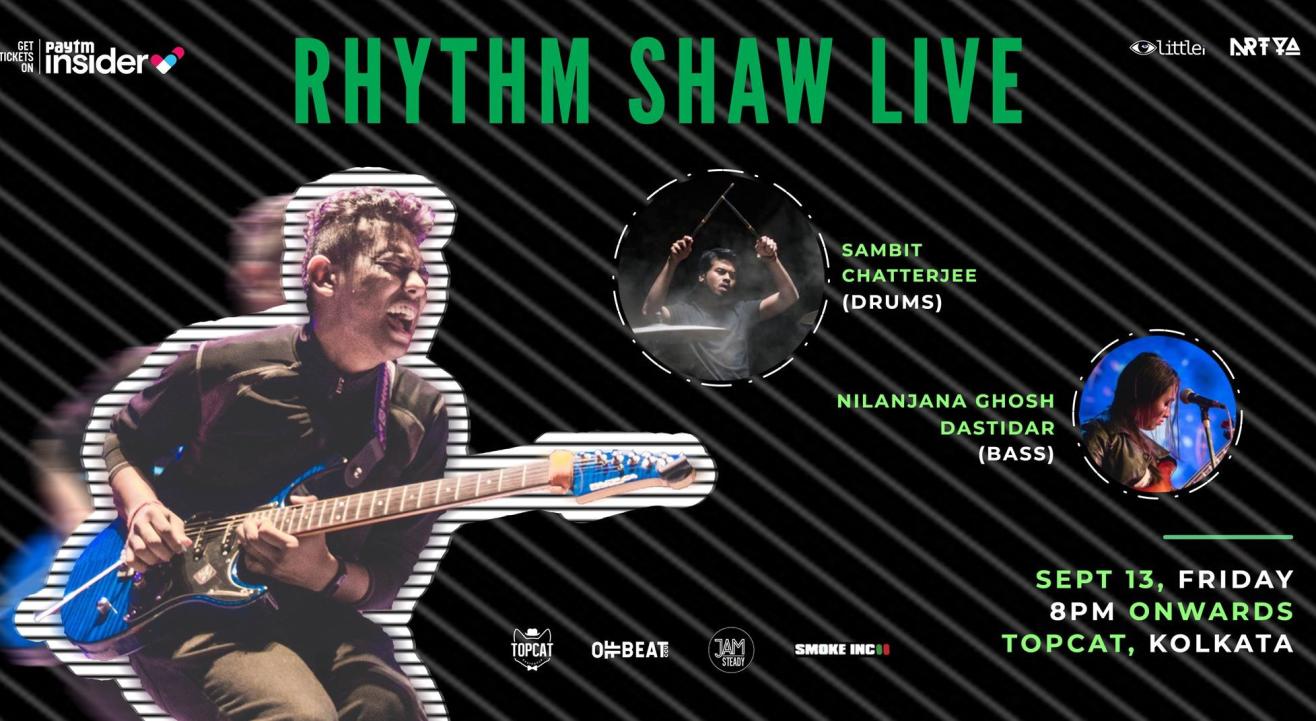 Rhythm Shaw Live at TopCat!
Invite your friends
and enjoy a shared experience
Rhythm Shaw Live at TopCat!
Invite your friends
and enjoy a shared experience
Invite your friends
and enjoy a shared experience
Rhythm Shaw (Guitar) :
Starting his musical journey at the age of 3, Rhythm Shaw is a multi-instrumentalist who has been at the frontier of innovation in a diverse soundscape. With the guitar being his primary instrument, Rhythm traverses between jazz, metal and progressive rock and a multitude of genres. Having performed with legendary musicians like A.R. Rahman, Gino Banks and Zakir Hussain, his allure has enchanted and enthralled audiences worldwide. Rhythm's solo acoustic album 'Opening Act' was released in 2015, under the German Label, Acoustic Music Records which is owned by the German guitar luminary, Peter Finger. He has also regularly toured Europe and has also performed in South America.
Sambit Chatterjee (Drums) :
A contagious smile, a clutch of ruffled hair and a pair of gifted hands & legs added with supreme musicality are the prominent features of drummer SAMBIT CHATTERJEE — a rising star in the world of music. This is what The Telegraph had to say when he was being interviewed as one of the upcoming teen drummers from India. Its been almost a decade that Sambit has been playing drums, having taken tabla classes from his father Pt. Subhen Chatterjee , Sambit has now branched out, trying to find his sound. He considers Ranjit Barot of be one of his mentors now. He has been endorsing some of the leading music brands of the world now like MEINL Cymbals / EVANS Drum Heads/ MusicNomad Drum Care equipment and has been playing and touring the world for a while now. He is playing with some of the leading indie bands in the circuit like What Escapes Me, The Ganesh Talkies, aswekeepsearching , Karma - Bandish Fusion, Generation ft. Mohini Dey / Esani Dey & he has also played with eminent classical musicians like grammy winning Pt. Vishwa Mohan Bhatt / Pt. Kumar Bose / Ust. Taufiq Qureshi to name a few.
Nilanjana Ghosh Dastidar (Bass Guitar) :
Nilanjana is a 23 years old young lady, coming from a small town named Bandel. Her journey as a singer started at the age of 5 since her first annual school programme. She is vocally trained in Indian Classical Music under the guidance of Dr. Shubhadeep Nag. She has been a participant in Zee Bangla, Sa Re Ga Ma Pa, 2015 and was able to achieve the position of top 5.
But things took turn as she started to learn the bass guitar. She has always had this crazy fascination for the insturment but never really thought about learning it until 3 years back. Her biggest inspiration in this field has always been her father, who is a bassist himself, Jaco Pastorius, Melvin lee Davis, also Mohini Dey and the list goes on. She says that playing bass guitar has made her who she really is today, because she does it for love and passion and that's what music really is. She is indeed new to this field of playing, so she is gathering experiences of all kinds to excel in it, as much as possible for her own passion. Playing the bass and singing along with it are her current experiments of exploring the new boundaries of music.
TopCat
36/F, Topsia Rd, Topsia, Kolkata, West Bengal 700039
GET DIRECTIONS
Rhythm Shaw Live at TopCat!
Invite your friends
and enjoy a shared experience